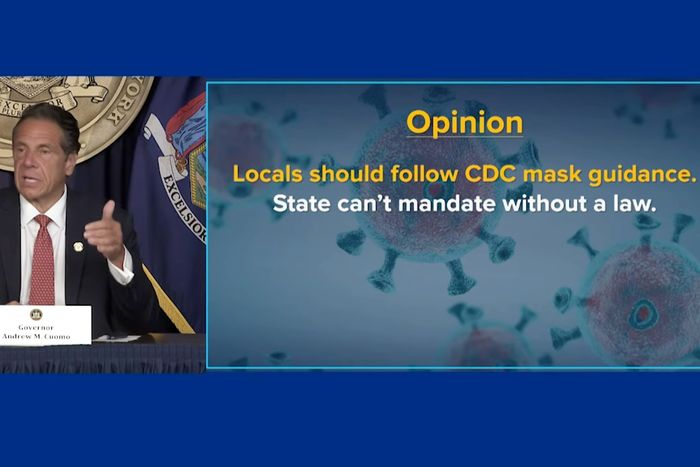 Photo: Governor Andrew M. Cuomo/YouTube
In a press conference today, New York governor Andrew Cuomo urged private businesses to mandate vaccination for employees and customers alike. (Additionally, he asked local governments to follow CDC guidance for masks, saying the state can't mandate one if it's not law.) The governor also issued a vaccine mandate for employees of the MTA and Port Authority, saying they will have to be vaccinated by Labor Day or get tested weekly for COVID-19. Last Wednesday, Cuomo announced all state employees will have to get vaccinated on the same timeline, a policy some unions have pushed back against. New York City mayor Bill de Blasio announced a new vaccine requirement mandating every new city employee must provide proof of vaccination.
Cuomo is joining an increasingly louder chorus of officials calling for vaccine requirements, as the country experiences another wave of coronavirus cases. (The seven-day average is at its highest since February 17, according to New York Times data, while deaths remain far below those during the winter surge.) Some restaurant and bar owners required proof of vaccine when they reopened for dining or expanded service as New York eased restrictions, including Cervo's, Llama San, Llama Inn, and Evil Twin Brewing's Dumbo location. Others have cited concerns about pushback from customers; Evil Twin's owner told Eater that hate messages and threats of lawsuit were received online. In Patchogue, Long Island, Newsday reports, Toast Coffeehouse manager Melissa Reinheimer says, "We don't think it's right to tell people what to do due to their medical choice," and anyone is welcome regardless of vaccine status.