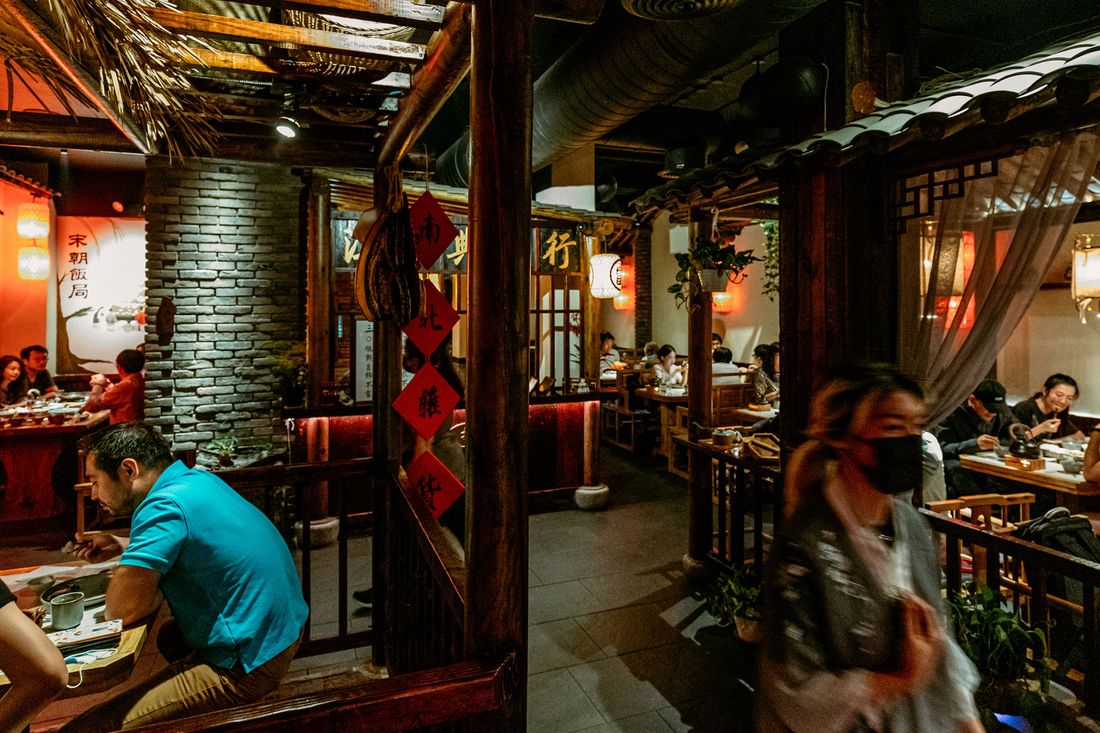 CheLi is designed to evoke a rural village in China.
Photo: DeSean McClinton-Holland
Plenty of restaurants closed during the great plague year, of course, but plenty opened, too. While most of us were slumbering on our couches in a Zoom-addled stupor, the irrepressible spirit of the dining world bubbled endlessly on just below the dark surface of things. Menus were composed; spaces leased; plans that had been hatched months, years, and even decades earlier inched forward. As dining sheds sprouted up on the sidewalks last summer, brick-and-mortar operations slowly began to open too. They opened in empty hotel lobbies (Vestry) and empty office towers (Le Pavillon). They opened in Brooklyn (Xilonen, Francie) and in different corners of the Bronx (Hudson Smokehouse), and now, as we emerge from our collective slumber, there are suddenly all sorts of new and unfamiliar places to try — many of which appear to have dropped, fully formed, out of the sky.
At least that's how it appeared to me a few weeks back, when I wiped the sleep from my eyes and wandered over on a steamy summer evening to try to secure a table at the newish Shanghainese restaurant CheLi, which opened last fall among the jumble of cafés and ramen shacks on St. Marks Place in the East Village. They wouldn't be able to seat us for a while, I was politely told, and scanning the buzzing room, you could see why. Whole families — including doting grandparents and babies in strollers — crowded around the tables. The owner, a restaurant group called DaShan, has built the space to resemble a quaint Chinese village, complete with carved wooden rooftops and paper lanterns hanging from bamboo rafters. And with the exception of the bustling, competent wait staff, most of the people in the room were conversing in Mandarin and even Shanghainese.
"This place is authentic, Dad," said one of my daughters, who is qualified to know, having made the trip from Shanghai out to a few of the famous "water towns" that stretch along the rivers and canals leading toward the old imperial city of Hangzhou, a place famous for its pagoda temples and expansive lakes. This is the land of Hu-style, Shanghai-region cuisine, which, as any Shanghainese gourmet will likely tell you, is a subtler, sweeter, slightly more delicate version of the kind of cooking that you'll find farther north or in the country's fiery, ma la–pepper–loving interior. The specialties include dishes like xiao long bao (soup dumplings), freshwater eel and fish dishes, and anything touched with the local Shaoxing wine, many of which are faithfully reproduced here by the chef, Qiling Wang, who grew up outside Shanghai, and his wife, Fang Fang, who conjures up the restaurant's excellent desserts.
We began with the perfectly steamed, perfectly weighted soup dumplings, of course, which you can get with an exotic infusion of black truffles but which worked best with the usual stuffings of pork and crab. I could have eaten them all night, to be honest, but duty called us to move on to other appetizer creations, like the crunchy-bottomed "triple crisp" pork-and-scallion dumplings (excellent), little soy-lacquered strips of smoked fish (ditto), and a mound of rice topped with uni, which our server poured with a steamy pot of pu'erh tea. There were also tasty little stacks of sweet-and-sour riblets and cool, fresh cockles doused in fierce amounts of chile oil, although nothing encapsulated the chef's particular sense of style quite like my order of wine-soaked Atlantic blue crab, which was poached in Shaoxing wine like that Shanghai delicacy hairy crab and served cold on the plate with a scattering of flower petals.
Wang belongs to a new generation of chefs around town that grew up in the dynamic, evolving world of food and restaurants in China, where the familiar old silos of regional cooking are being reworked in elaborate and innovative ways. As my colleague Robert Sietsema has pointed out, Wang has a habit of dousing his soups and stews with nontraditional, non-Chinese ingredients like uni and morel mushrooms, and if you call for a helping of the aromatic stewed pork belly, you'll find that it's folded, not unpleasantly, with little marble-size boiled quail eggs. There are two varieties of Atlantic lobster on the menu (tossed with a special garlic-butter sauce and a three-alarm "spicy" version); a tender, herbaceous, equally spicy Hunan beef; and diced chicken with mushrooms spooned into lettuce cups at tableside with an unorthodox garnish of popped "rice crispies."
"We haven't even scratched the surface of the menu here," my daughter said, as we worked our happy way through these excellent dishes on our most recent visit to CheLi, and of course she was right. There were stacks of crispy eels, prawns flavored with more black truffles, crab stews mingled with a substance called "peach resin," and a $32 dish somewhat menacingly described as "Qianlong's Favorite Fish Head." Chef Fang Fang's desserts can be sampled in one sitting, however, and if you're a fan of steamed buns, or bowls of sweetened congee, or soupy little dumplings stuffed with black sesame or red dates, they're worth the price of admission. All of these delicacies have their charms, but if you just get one, make it the great, pillow-size Song Dynasty steamed bun, which is served with a honeyed dipping sauce and stamped with a red seal, as though it has just emerged from some grand imperial kitchen.