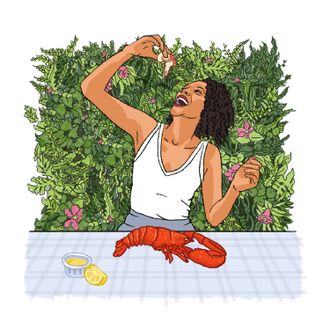 Illustration: Margalit Cutler
After more than a year of pandemic living, summer 2021 was predicted to be an explosion of fun, flirty chaos. But in the midst of celebration and reconnection, where is the space to process? Is there room to do both? As it turns out, yes. 
One thing I've come to realize as the weather warms is that my personal favorite summertime activity — eating lobster — can also serve as an effective meditative practice. In this grounding exercise, you may achieve inner calm, and more importantly, you will get to eat lobster.