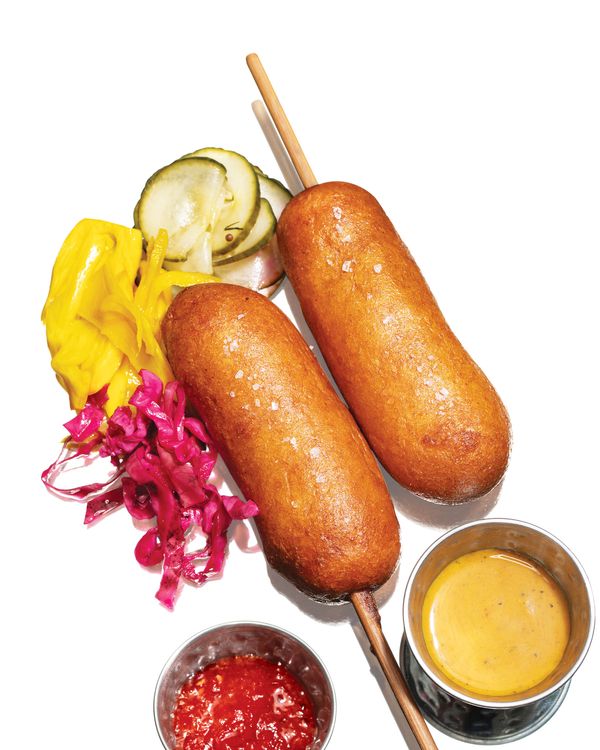 The andouille-sausage corn dog at Sidney's Five is portioned for sharing.
Photo: Melissa Hom
To hear David Lowenstein tell it, the idea for the andouille-sausage corn dog on the bar-snack menu of his new East Village restaurant, Sidney's Five, was hatched long before the current Korean-corn-dog craze. It was back during the dark days of last summer, when business at his midtown sandwich shop Pickler & Co had slowed to a trickle and he and his chef friend Edie Ugot (late of the Breslin and the Spotted Pig) began plotting the quirky, cook-what-we-like-to-eat restaurant of their dreams. Their take on the corn dog — andouille sausage; buttermilk-based cornmeal batter; pepper jelly, Carolina-style mustard sauce, and pickles on the side — gives the state-fair staple a superb sweet-and-spicy southern flair. It's a different animal from the proliferating Korean corn dog, which, nomenclature notwithstanding, is battered with rice and/or wheat flour and focuses so much attention on what can be applied to the shell (sweet-potato cubes, crunchy dried ramen, Cheetos dust, and bean powder, just for starters) that the inner wiener shrinks in significance — sometimes, as in the case of the Instagram-popular melted-cheese dog, to the point of disappearing completely.
For her part, Ugot encountered a few obstacles on the road to ultimate corn-dog success. Before she mastered the delicate art of submerging and twirling the sausages in batter, Ugot says, "everyone had to eat, like, 20 one day until we got the ratios right." The result is plump and golden, speckled with sea salt, nostalgic but not kitschy — much like the rest of the eclectic menu, which will expand as the kitchen staffs up to emphasize seafood like fish and chips and a pastrami-cured-arctic-char Reuben. The two other partners, former Union Square Cafe bartenders Walker Chambliss and Kai Woo, strive for a similar balance of high and low with a drinks list that includes five takes on the martini and one guava-coconut-daiquiri slushie.