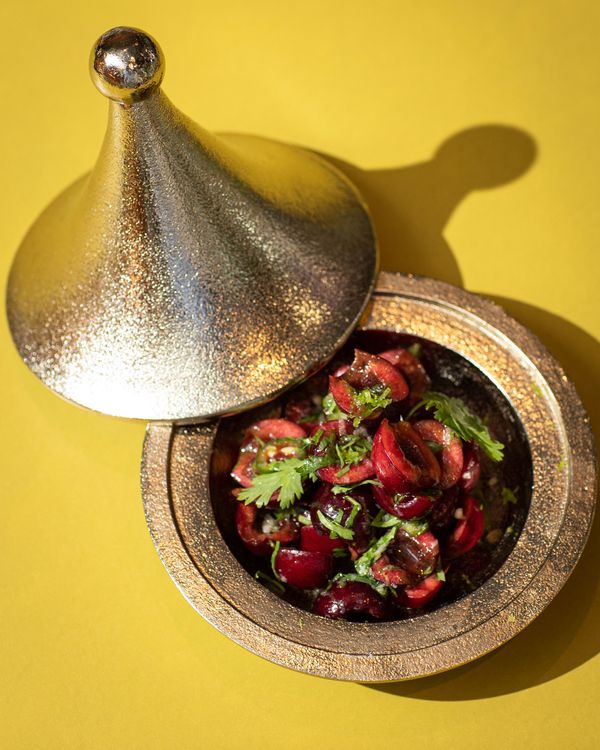 Summer cherries at Shukette.
Photo: Clay Williams
There are sweet cherries. There are sour cherries. And now, thanks to Ayesha Nurdjaja, chef at Chelsea's new Middle Eastern meze and grill house Shukette, there are spicy cherries in the form of a simple summer salad that asks you to look at the pie filling and Manhattan garnish in a new light. Although cherries have long graced Persian pilafs and platters of roast meats, they seldom get their own savory spotlight, as they do here, boldly seasoned with serrano chiles, cilantro, garlic, salt, and lime. But they should: The combination evokes the Mexican art of dusting things like jicama and mango with a tongue-blasting mixture of chile, salt, and lime (a.k.a. Tajín in packaged form). Nurdjaja got the brilliant idea not on a trip south of the border but on a preopening R&D jaunt to Israel, where she was served a fruit salad in a Tel Aviv restaurant. It also contained apricots and baby lettuces, she remembers, but she kept going back to the cherries, eating each one with a revelatory bite of cilantro. "I kept thinking, I wish these other components were not here," she says. "So I deconstructed somebody else's salad." Her spiced-up version, made from South Jersey and Finger Lakes fruit, will be available as long as the cherries are ripe and sweet — and, ultimately, hot.
230 Ninth Ave., at 24th St.; shukettenyc.com