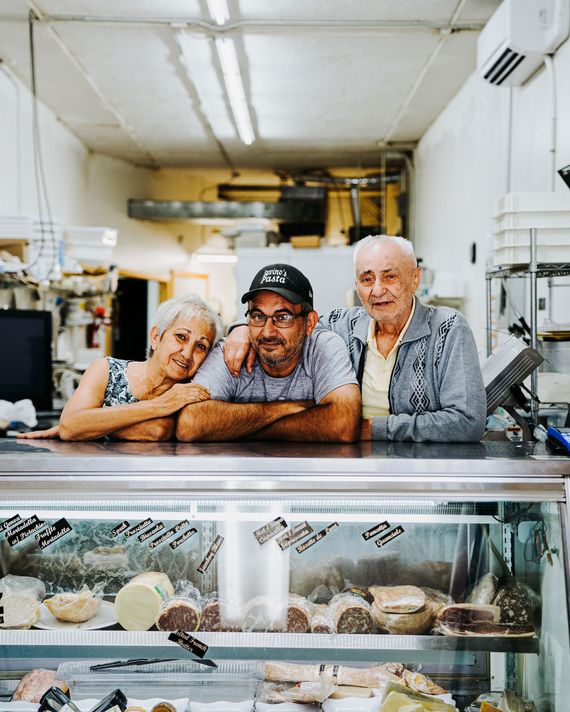 The Savino family inside the Williamsburg pasta shop they've run since 2003.
Photo: Janice Chung
Cono Savino does not hold back when discussing the effects that the pandemic had on his family business, Savino's Quality Pasta in Williamsburg. "I'm gonna say it my way," he begins. "It all basically went to shit."
Savino's, which Cono runs with his parents, Frank and Josephine, has been open continuously since 2003, selling an array of fresh cut-to-order pasta, homemade sauce, and Italian provisions. It's one of a handful of old-school Italian shops in a neighborhood that used to be full of them. Cono was gutted when, in March 2020, he had to close. Crouched underneath an industrial pasta-making machine that needs some work — "I fix everything myself," Cono says — the second-generation operator explains that his father had a health situation, and that he realized it wouldn't be a good idea to be out among the public during a pandemic while also helping care for his dad. So the store remained closed until Frank recuperated this past November. "There were rumors around the neighborhood that I wasn't gonna do this anymore, bah-bah-bah," says Cono, patting flour from his hands.
When they did open back up, the store was struggling: "The place turned into a shithole, pardon the phrase." The stress of it all started to take a toll on Cono, to the point where his neighbors began to notice. "Cono's an Italian American, so I'm used to him screaming a bit, right?" says the visual artist Julien Gardair, a longtime tenant of the building that houses Savino's and whose studio shares a wall with the shop. One day, he overheard an argument Cono was having with a delivery worker. "This sounded different. I said to Cono, 'Is everything okay?'" Gardair motions that Savino solemnly shook his head no.
Gardair — who was born in Versailles, grew up in the suburbs of Paris, and once designed a rug that now sits in France's Élysée Palace — wanted to help. At first, his ideas were simple, like launching an Instagram and updating the signage. But during a call with his mother back in the French village of Cournonterral, she suggested something else entirely. "She said, 'You know, France and Italy aren't too far away …'" Gardair remembers. Suggesting an incorporation of French products was certainly an interesting prospect, but Gardair thought it might be difficult to convince the Savinos. He broached it regardless, and Cono was into it: "At that point I said, 'Whatever the fuck you think!'"
So, alongside canned scungilli and Josephine's homemade meatballs, the store now sells an array of French staples. La Perruche brown sugar, Filet Bleu Petit Beurre biscuits, and even a béarnaise ravioli have been added to its shelves. "You wouldn't believe the number of French people living here," Cono says from behind the counter, wearing his trademark "Pasta Maker" cap. "I was left dumbfounded."
While I'm there, a customer walks in and asks about the Niçoise olives, which come, of course, from Nice, the coastal French city close to the border of northern Italy. Cono is indifferent: "How do they taste? I don't know. I've tried them, but they're not my cup of tea." Cono says that a lot when people ask about the new curiosités in the shop.
"I'm French and some French person recommended me coming in," says a customer named Agathe de Pins. "But today I only got Italian stuff, like lobster ravioli and Pecorino." Nevertheless, de Pins was impressed with the selection. "My family has a house in Brittany, and they had the same brand of salt," de Pins explains, pointing to some Le Guerandais fleur de sel. "You never see that over here."
The new products do tend to surprise a smattering of regular customers, however. "Some Italians ask me to this day, 'Did you rent it out? What's with the new stuff?'" Cono explains between puffs of Marlboro Reds during a smoke break. "I'm like, 'First of all, that's none of your fucking business.'"
Ah, there's that obstinate Italian reputation. (I personally remember a cousin who'd occasionally cook for my elderly Aunt Jennie. He had zero leeway when it came to making Italian classics, lest he face her scorn. Fed up, one day he sculpted square meatballs out of spite; she was horrified.) Marie Gallo, a longtime resident who was born in a house on the corner and went to elementary school across the street, noticed the French incursion at Savino's after spotting a homemade white-wine sauce for sale. "Everybody has to eat, but you should have the traditional Italian stuff." Then again, Gallo is desensitized to the changes in her old neighborhood. "I'm beyond that, I'm so far beyond the changes," she says. "Just as long as people respect each other."
Plenty of customers, though, appreciate the expanded selection. So, too, does Cono's dad Frank. "He says, 'As long as you're doing good, I don't care!' —  I almost had a heart attack," Cono recalls. "But it's as long as you don't leave the roots. If you can do Italian-French, Italian-Japanese, as long as it has that base." (And what about Cono's mother? "With my mom, it gets difficult," he concedes. "She's more traditional.")
Once the afternoon rush dissipates, Cono takes a breather on a bench outside. Gardair meets him, a cup of ricotta in one hand and a can of Clément Faugier chestnut spread in the other. He explains the spread is a quintessential part of a French pantry. "I want you to try," he says to Cono, who looks skeptical. "It's sweet, you're going to like it. Dab a little bit, don't be scared."
Cono gives the spread a taste. "Oh, that's good!" Gardair lights up with utter joy. That is, until Savino swirls some of the spread directly into the ricotta, and Gardair winces. "Oh, I don't usually mix it," he says before catching himself. "Now I'm getting really French!"
Cono goes for another spoonful anyway. "I like it better like that."