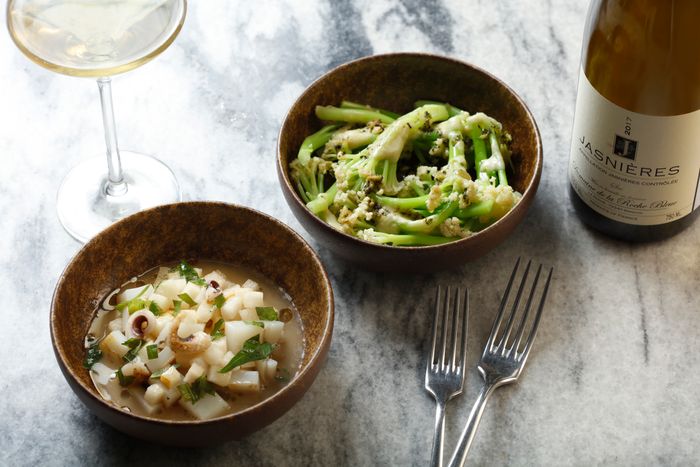 Chef Diego Moya's cooking often made great use of overlooked ingredients.
Photo: Melissa Hom
Racines, the underrated Tribeca wine bar, will close on July 30, though not necessarily for reasons you'd immediately suspect: The restaurant's chef Diego Moya, the fourth to run the kitchen, is leaving after two and a half years to spend some time focusing on his newborn child. According to a press release shared by general manager Jared David, the owners "have concluded that the idea of a fifth culinary team for 'Racines NY' specifically is exhausting." Moya says he doesn't have much to add, and that he was just taking some family time. "I've seen so many friends rush back to work," he explains. "Didn't want to do that."
A Paris import, Racines opened in 2014 with Parisian chef Frédéric Duca, at a time when places inspired by French neo-bistros started cropping up in New York. After Duca left the restaurant, the owners of Racines brought on the chef Eric Korsh, who resigned after a report detailing allegations of sexual harassment at a previous job. Moya came on in 2019, bringing the style of vegetable-centric food that gained him attention at his short-lived restaurant Hemlock: dishes like braised Sonora beans with charred cabbage and chamomile and grilled quail with onion confit and cognac jus. (On his Instagram, he regularly spotlighted contributions from his cooks, name-checking them whenever sharing the dishes.)
Fans of Moya's cooking at Racines will get another chance to eat his food during the restaurant's last week, when he'll temporarily return from parental leave. After July 30, the owners say they'll focus on turning the space into a new restaurant, which they aim to open by the end of the year.