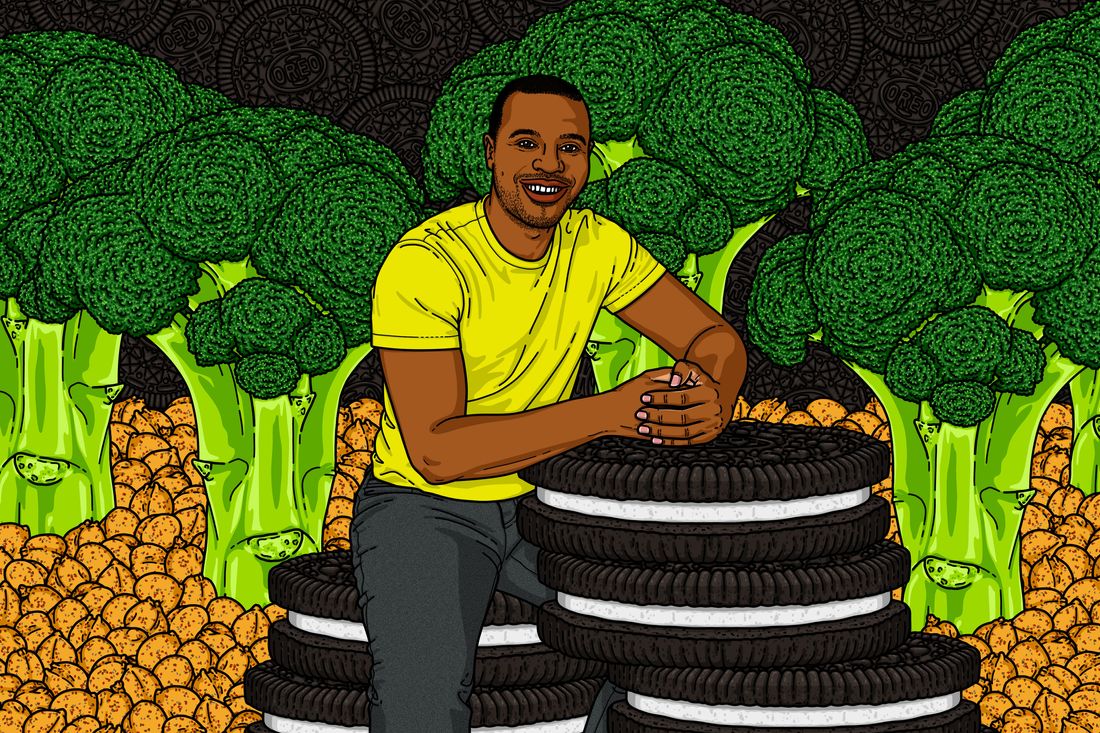 Jabari Brisport in a field of broccoli.
Illustration: Eliana Rodgers
When he was a kid growing up in Prospect Heights, State Senator Jabari Brisport, a socialist and vegan actor turned math teacher, didn't have political ambitions. But in 2016, he found himself engulfed by the Bernie Sanders campaign. "I felt the Bern really hard," he recalls. A year later, he was running for office (City Council on the Green Party ticket), and this January, after a successful, socially distanced campaign, Brisport took office representing State Senate District 25 in Brooklyn. With the State Legislature out of session, he spent the week at home in Bed-Stuy taking advantage of the neighborhood's smoothie offerings and making the absolute most of his leftover rice.
Thursday, July 8
I wake up around six. I'm an early riser. I was forced to be because I was a public schoolteacher for several years. And then once I switched over to politics, I figured it was a good habit to keep.
I started off with a tour of some NYCHA developments in the district to talk about the need for affordable housing. It was me, Assemblymember Marcela Mitaynes, Senator Chuck Schumer, Congresswoman Nydia Velázquez, and our team, then some local community leaders.
I didn't eat much before I went, just a chocolate protein shake. I work out a lot, so I usually end up having at least one shake a day. A lot of vegan protein powders suck, but this one — it's called Rawfusion — is supersmooth. I think it's based on pea protein?
Then I went back home for a bunch of Zoom meetings. Definitely more than half of my life is Zoom meetings these days. So I had some internal meetings with my team to check in on and prep for some interviews and to talk about ERAP, which is a rental-assistance program in New York. And also I had to check in with a constituent whose son was a victim of police violence — she's looking for options. In between those, I had a little leftover breakfast taco from the other day from Warude in Bed-Stuy. It's a sad story: My boyfriend and I were at Nagle's Bagels, where we go a lot, but we found out their bagels have an egg wash on them. So when I learned that, I went across the street and got the breakfast taco. I don't know what I'm going to do — maybe I'll talk to them. Why have tofu cream cheese if you're not going to have a vegan bagel? I don't know.
To break up the Zooms, I grabbed some chocolate-chip cookies. My boyfriend's mom made them when we were visiting their place, and we froze them and I was hot. They're a frozen treat. I ate three.
My guiltiest pleasure is Oreo cookies. I get a kind of sick joy out of telling people they're vegan and watching them say, like, "Wait — what's the cream made out of?" I explain that it's just vanilla, sugar, oil, and a bunch of things you probably can't pronounce. No dairy! They're like, "What? Ew." And I'm like, "But they're delicious." On campaigns, I think I've gained weight just stress-eating Oreos in the last few weeks.
Work wrapped up around five, and since I was off for the rest of the night, my boyfriend and I got Chinese delivered. It's a local place called Wonderful Asian Restaurant, and it is wonderful. I got General Tso's tofu with white rice and broccoli. I always get extra broccoli. I just really enjoy the crunch.
My boyfriend just turned me on to Stranger Things, so we watched some of that while we ate. It's good! I'm a huge chicken — I get spooked easily — so I was hesitant. But it's actually not that scary.
The rest of the evening was a blur. I think I fell asleep after a few episodes?
Friday, July 9
Got up and worked out but no protein shake.
Then I had another Zoom meeting and ate leftover Chinese. I'm very pro-leftovers. My boyfriend never finishes his food, so I just keep that in mind and plan accordingly.
Back to Zoom for the afternoon, then I headed out to the field for a bit, walking in the neighborhood, steeled by my frozen cookies. I hit a few different spots.
The chair of the local community board in Bed-Stuy likes to play chess on Friday afternoons, so I stopped by there. I just watched; I haven't played since I was a kid. And then on my way to a victory party for Darlene Mealy — she's a newly elected councilwoman whose district overlaps with mine — I ran into a local event hosted by the business-improvement district in Bed-Stuy, a drawing class out in the streets, so I got to check in with them, too.
I got home around eight or nine and started cooking more leftovers: a ton of mixed vegetables and rice from the Chinese food, plus some vegan chicken, which I technically ate by myself because my boyfriend and his work friend had already eaten, but they were there.
We just hung out, although at some point I made a spiked hot-chocolate drink I do sometimes. This one was spiked cold chocolate, though, because I was hot. My recipe is: I dump some Hershey's syrup into almond milk and then pour a little whiskey or amaretto in it and have a good time. I also just got some of that vegan Baileys, Baileys Almande. It's so creamy and good. It's not in every liquor store, but when I see it, I grab it.
Saturday, July 10
Saturdays are yoga days. Right now, I've been doing these YouTube yoga videos from this couple called Breathe and Flow.
I had a sit-down meeting with a newly elected councilman named Chi Ossé in my district who's representing Bed-Stuy and northern Crown Heights. We went to BKLYN Blend, which is my go-to hangout spot for meetings in Bed-Stuy. It's good shakes, it's healthy food, it's Black owned, and it's near my house. I usually get the Prospect Park Power, which is strawberry, banana, and some other stuff, but lately I've been getting the Fulton Street, which is a blueberry–peanut-butter situation. Anyway, it was a very fruitful conversation.
After that, I ran over to Red Hook, on the other side of my district, for a community barbecue, but I only got a chance to say hi and shake hands and help set up before I had to run back to Bed-Stuy for another meeting with Darlene Mealy.
I met her at a vegan spot called Greedi Kitchen. We just had a great chat about our shared priorities, what we want for our districts, and we just went to town. We shared some cauliflower bites and then I had a watermelon-arugula salad with chick'n and a virgin Paloma — I still had to do a little more traveling — and we both had some vegan banana pudding for dessert.
And that wrapped my meetings for Saturday. I'd promised to make appearances at a few social events that night, so I went home to take a little nap and ended up falling asleep for two hours.
When I eventually woke up, I bounced around to a few different events, starting with a barbecue my old roommate was hosting, at which I ate nothing. From there, I had dinner plans with another group of friends at Next Level Burger, which is one of my favorite spots in Brooklyn.
I have this group of male friends who just hang out and eat vegan food together. It's just like bonding, just a bunch of vegan dudes. I don't even know how we all know each other — I think through social media? At some point, we all started saying maybe we can try and find time periodically to all hang out and get some greasy vegan grub and talk smack. I got the hot dog with sauerkraut and jalapeños and a strawberry milkshake. Then it was on to a joint birthday party on a rooftop in Bushwick — two friends from DSA — where I lucked out and got the last slice of vegan pizza.
Sunday, July 11
I had a lazy Sunday — just vegging out, watching Stargate SG-1, playing games on my phone.
For dinner, my boyfriend and I cooked together: a quinoa salad with cucumber and tomato, a nice little appetizer, and then penne with veggie crumbles in red sauce and some faux Parmesan. For dessert, we experimented with this banana cream pie. It was, like, a walnut–coconut-oil base for the crust and then some bananas, and for the cream, my boyfriend did something with the cream from a can of coconut milk and some sugar. It was … well, he put a lot of love into it.