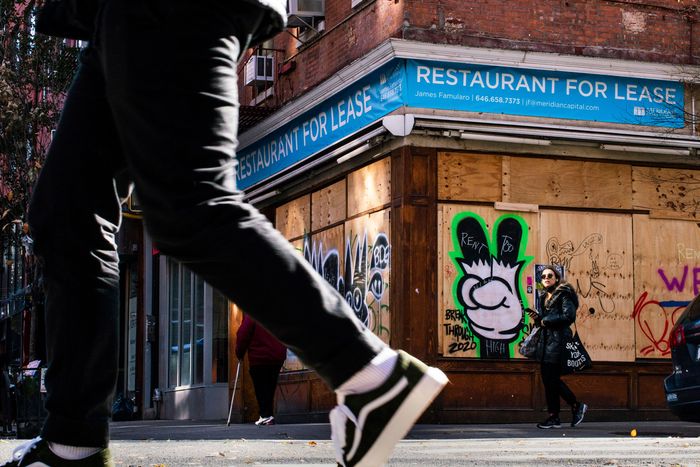 Photo: Eduardo MunozAlvarez/VIEW press/Corbis via Getty Images
The Small Business Administration's Restaurant Revitalization Fund was supposed to be a lifeline for pandemic-ravaged restaurants. Part of the Biden administration's $1.9 trillion American Rescue Plan, the fund set aside $28.6 billion in grant money to keep restaurants afloat. "Independent restaurants lobbied hard for targeted economic relief," the Washington Post announced in March. "Now, they're finally getting it."
But new reports indicate that, in fact, more than 250,000 restaurants that applied for relief did not receive it, and now the fund is shutting down because it's out of money.
So, what went wrong?
The problems are twofold. The first is obvious: $28.6 billion, while a stunning figure, was never going to be enough to go around. The New York Times breaks down the numbers: More than 370,000 business owners applied for funds. Had they all gotten in, the total bill would have topped $75 billion — almost three times the available amount. So, they didn't. Less than a third of applicants — 105,000 restaurants — were approved for grants, averaging a little over $272,000 per restaurant.
Okay, so there wasn't enough money to go around — what else is new?Well, then it got more complicated. Originally, Congress had ordered the SBA to prioritize funding for businesses owned by women, people of color, and military veterans. But, as Eater reports, within weeks, the agency was already flooded with applications — 303,000 business owners had applied as of May 18, and total requests for funding exceeded $69 billion. More than half of those applicants — 57 percent — were members of priority groups. The SBA also said it had already approved about 38,000 applications, allocating $6 billion in funds. All of the initial grant recipients belonged to priority groups.
Is that bad?
According to the restaurant owners filing lawsuits, yes. It was now even clearer that there would not be enough money to go around, and some restaurant owners — who did not qualify for prioritization — began to argue that the system for allocating resources was discriminatory. An owner of a bar and grill in Tennessee, for example, told the Times that because he's white and male, he'd "been pushed to the back of the line." A Texas lawsuit — filed by a right-wing advocacy group founded by former Trump adviser Stephen Miller and ex-Trump chief of staff Mark Meadows — alleged the government was "actively and invidiously discriminating against American citizens solely based upon their race and sex." The lawsuits worked. Federal judges ruled that the aggrieved owners were likely to successfully prove that the SBA's policy indeed violated the Constitution's equal-protection clause, the Times explains, and so the SBA dropped the policy.
Going forward, you mean?
No. The Times reports the SBA also "rescinded the awards of nearly 3,000 priority applicants who had been told they would receive grants."
One of those people was Bob Freeman, who owns Buena Vista Cafe in San Francisco and applied as a veteran. His grant was approved on May 28. Then, on June 12, he got an email that actually, it wasn't. "The SBA is not able to pay 2,965 priority applicants — including yourself — who were previously approved and notified of their approval," the email said. "SBA will not pay these claims because the legal conclusions in these court rulings would preclude payment." Freeman told Eater he wondered if he'd have been better off in the end had he not applied as a priority applicant — although, as Eater points out, it's not clear that would have helped: Fundamentally, there still isn't enough money.
Is that it?
No. The abrupt end of the prioritization policy has led to what the Times says is an "unknown number" of grants having been pulled because of bureaucratic "errors," which now can't be corrected because the policy has changed.
One New Orleans bar owner who talked to the Times said her grant had been revoked because her bank had rejected the deposit, claiming it had been improperly coded as being for a savings account, when her business only had checking. She filed a correction, but when the SBA eventually responded, it was to say that because of the lawsuit, the money would not be redistributed "at this time."
The owner of a pair of Brooklyn cafés reported a similar experience: She was approved for grants for both of her locations, and while one came through, the other did not. When she called, she was reassured the money was delayed but would arrive. Then, she, too, got the email: Her grant had been revoked because her application had an "invalid industry flag" and would now be canceled because of the lawsuits.
So what happens now?
For owners who were expecting funds that aren't coming, the situation is bleak: "I'm not sure I can continue without this money," said the New Orleans bar owner. Capacity limits may be lifting, but without more funding, owners worry they may not be able to hire enough staff to keep up.
In mid-June, the same bipartisan group that pushed for the initial Restaurant Revitalization Fund introduced legislation for another $60 billion round of funding — enough to fund all the restaurants that initially applied. Whether it will pass, though, remains unclear. In the meantime, many restaurant owners will be left to continue on as they have been throughout the pandemic, wondering how their government failed them in so many new and different ways.