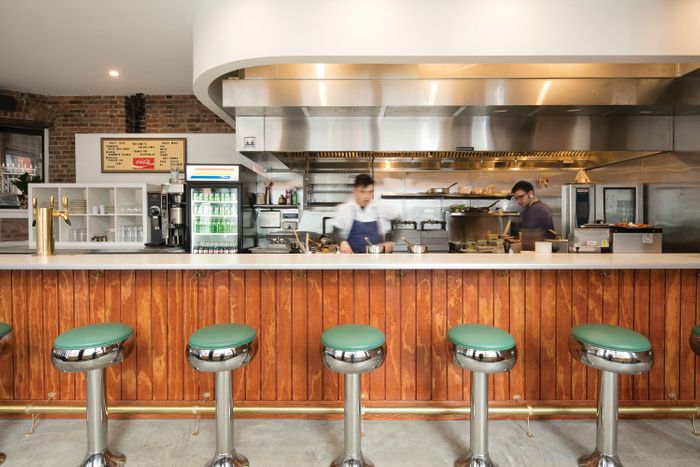 Golden Diner's Sam Yoo in the kitchen.
Photo: Melissa Hom
The Lower East Side restaurant Golden Diner has managed to stay open throughout the pandemic, but now owner Sam Yoo has been forced to temporarily close. On Friday, a fire broke out at the restaurant as a result of a machinery explosion, and Yoo says it will likely be a couple weeks before they're able to start serving food again. This week, he announced that he'd launched a Fire Fund — "literally, we had a fire" — to help cover his employees' wages and to help pay for the costs of repairs. As of now, the fund has raised a little over $13,000.
"I'm just trying to figure out how much the insurance will cover, looking at my limits I think the max is about a week," he says. "But I have every intention to take care of my staff as best as I can while they are, not by their choice, unable to work." (As the insurance claim is still being processed, Yoo asked not to go into specific detail about the damage.)
Golden Diner opened in 2019, and its updated take on diner staples — matcha-infused coffee cake, tuna melts stacked with crisp potato chips, pancakes topped with maple-honey butter — quickly found fans. And, as the Underground Gourmet wrote in its review, "what really makes Golden Diner a diner is that intangible spirit of egalitarian bonhomie you look for in a joint like this. It's that home-away-from-home quality. Even if it's your first time there, you feel like a regular."
An incident like is always bad news, but it comes at a particularly bad time for Golden Diner: After a long year of lockdown, during which many businesses scraped by, summer and the vaccine rollout have afforded a chance to welcome back customers.
"It's gonna hurt. Just like the pandemic, just like opening a restaurant in New York City, it's another hurdle that you have to get through," Yoo explains. "All my staff was going strong. Business was good, I had no complaints. We were at a point where we were figuring out how to keep up."
If you would like to, you can donate to Golden Diner's Fire Fund here.