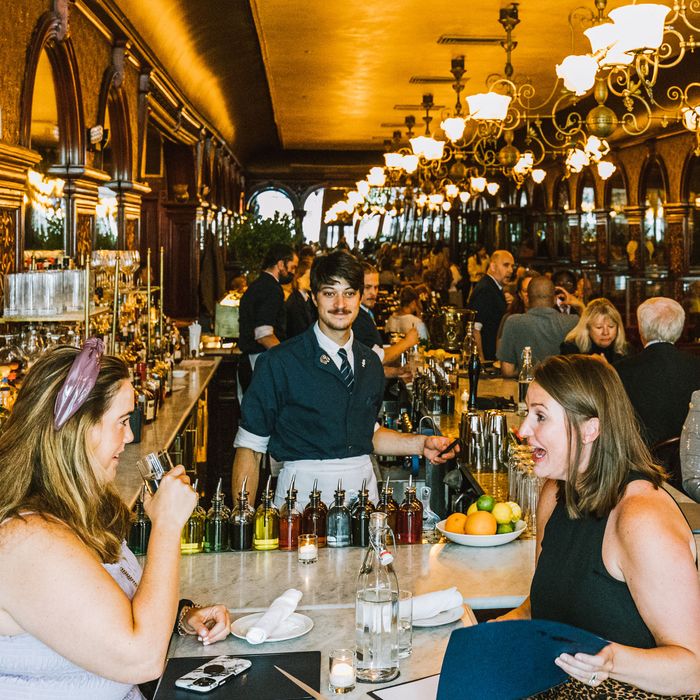 After a long wait, a Brooklyn landmark is back.
Photo: DeSean McClinton-Holland
In a town filled with old and venerable dining institutions, Gage & Tollner, which began life as an oyster house near the Brooklyn waterfront in 1879, is one of the oldest and most venerable. The dark-toned, beer-hall-style dining room on Fulton Street was also one of the earliest landmarked interiors in the city (only the New York Public Library and Grant's Tomb came before it). The original owners sold out in 1911, which is a good run for any restaurateur, but according to the restaurant's informative, museum-quality website, Eugene Tollner kept up his daily rounds for years before dying on the way to work at the age of 85. Edna Lewis famously ran the kitchen there during the late 1980s, and thanks to a series of diligent owners, the rituals of the place survived — oysters and clam-belly broil, beefsteaks with all the trimmings, ice cream for dessert — the way they do in an old church as the neighborhood changes around it.
For a decade or so during the early aughts, the space fell on hard times (the long railroad room was occupied by an Arby's at one point), but a couple of years back, a confederation of seasoned local restaurateurs — St. John Frizell of the Red Hook bar Fort Defiance, and Ben Schneider and chef Sohui Kim, who run Insa in Gowanus — decided to bring the room and its rituals back to life. With the help of an eclectic collection of investors (the bewhiskered cocktail scholar David Wondrich is one), they polished up the vintage gaslight chandeliers and giant hat hooks and replaced the ceiling with Venetian plaster. They restored the antique revolving door out front, enlivened the spaces between the cherry-wood-trimmed mirrors with an embroidered Gilded Age wall-covering design of golden fruit, and set up rows of mahogany tables and dark cane furniture, just like in the old days.
Located in an ancient brownstone building on a mostly empty stretch of Fulton Street, the meticulously realized result, which was finally unveiled in April after a long COVID delay, feels like a kind of marvel. At a time when so many of the city's great restaurants and bars have closed for good, here's one that has returned from the dead, and although it's filled with quirky, comforting echoes of the past (you'll find a '70s-era pay phone next to the bar), the convivial room bustles with a sense of promise and even innovation. I'm pretty sure there weren't seven styles of martini available at the original restaurant, or a smooth version of the classic Rob Roy (Frizell and his team mix it with a slug of Glenlivet), and if you call for an order of the chef's signature clams Kimsino, you'll find that the baked clams are brightened, not unpleasantly, with bits of chopped kimchee.
Kim does an artful job of mixing these postmodern touches into a traditional chophouse menu that is filled, as someone at my table remarked, with all sorts of things that look good to eat. For big spenders, these include a variety of iced seafood options to start (chilled lobster, caviar, oysters by the dozen), platters of mossy-green oysters Rockefeller served five to a plate for $24, and an excellent crab cake set in a pool of lemon aïoli with the yolk of a single barely poached egg. There are also several well-constructed salads to choose from (get the creamy, anchovy-rich Caesar), a fine pot of chicken-liver pâté folded with walnuts, raisins, and plenty of schmaltz, and an opulent bowl of that old Low Country favorite, she-crab soup, laced with crab roe and cream and served with a little boat of sherry on the side.
Edna Lewis favored a slightly more classic brand of country cooking during her time at Gage & Tollner (pan-fried quail, bowls of catfish stew), which may be why you can get a proper basket of fried chicken here (milk brined and dusted in cornmeal), along with more traditional comfort-food favorites, such as helpings of roast chicken breast (with buttermilk mashed potatoes), baked head-on sea bass, and a saucer-size pork pie large enough to feed a family of four. The requisite steaks and chops are plenty large too, and if you wish to splurge on just one of them, I recommend the grandiose, well-charred bone-in rib eye, which is priced by the ounce but still ends up costing roughly a third less than the obsessively aged gourmet côtes de boeuf that are all the rage at the grand dining palaces across the river.
Like the older versions of Gage & Tollner, the new one has a pleasingly local flavor to it. On the evenings I dropped in, the room was filled with gossiping Brooklyn newspaper people, solitary gentlemen enjoying their chicken dinners at the bar, and groups of alte kakers shuffling to and fro in giant orthotic sneakers with their crinkly paper masks still dangling from their chins. The artfully pleasing, unfussy desserts, by the noted Kings County baker and pastry chef Caroline Schiff, seem designed with this crowd in mind. You can order simple scoops of ice cream piled in frosty bowls and assorted cheeses served with "seasonal" jams. There are excellent ready-made cakes and tarts (get the chocolate torte with caramel), and if you're in a celebratory mood, there's a stout, nonflammable version of that old 19th-century favorite, baked Alaska, which is as big as a hatbox and crusted with great waves of meringue.