The owners of Harlem's Dulcería will expand to offer a savory menu with items like this scallop gratin.
Photo: Melissa Hom
Inside the Harlem bakery Dulcería, Marco Matheu is talking about the wonders of manjar, a Chilean confection prepared by heating sugar and milk for several hours. "It's not dulce de leche," he explains. "Manjar has a much smokier taste. It's less sweet, and it's creamier, smoother." He says his customers often mistake it for straightforward caramel. "It is the heart of Chile's baking tradition, and it arose out of convents," Matheu adds. "I tell clients this is a divine creation."
Matheu, a Chilean-Brazilian designer, opened Dulcería in 2019 with his Chilean partner and husband, Daniel Minzer, in part to help expand the limited presence of Chilean cuisine in New York. They started with a bakery, Matheu says, because "I have a serious sweet tooth."
Their narrow brick-walled space on Frederick Douglass Boulevard, in the neighborhood where the couple has lived for six years, quickly turned heads thanks in part to the undeniable allure of their traditional manjar.
Chilean pastries highlight a range of influences, especially French and Spanish, which are reflected in recipes like alfajores. There are numerous variations of this delicate sugar cookie across Latin America, but what distinguishes the Chilean version is the smoky manjar filling and the use of local ingredients like lucuma, an Andean fruit with a subtly sweet flavor that's often likened to vanilla.
Other specialities at Dulcería include the torta mil hojas (like a French mille-feuille filled with manjar), brazo de reina (a sponge cake made with manjar and coconut milk and dipped in cognac); and chilenitos, a manjar-filled biscuit covered in powdered sugar. The bakery also offers a limited range of grocery products, such as honey from Easter Island and Patagonia; merkén, a spicy condiment from Chile's snowy Araucanía region; olives from the Azapa Valley; and salt from the Atacama Desert.
Dulcería's neighbors had just started to catch on to the bakery's charms when, three months after opening, the pandemic arrived. But instead of paralyzing the business, the pandemic boosted locals' demand for takeout and delivery, turning Dulcería into a neighborhood favorite. Now the couple is capitalizing on their success and expanding to showcase another aspect of Chilean food that Minzer says remains underappreciated in America: the country's wine. He knew from trips home that wonderful wines exist in Chile, though he could never find any here. "I wondered why," Minzer says. "Young winemakers have been revolutionizing the Chilean wine industry."
So next month, the couple will open Enoteca tapas bar, for which they have partnered with Rafael Cervantes, an ex-banker born in Mexico. The restaurant consists of an interior patio and a sidewalk terrace decorated with gardenias, cardinal flowers, and hibiscus.
The menu currently features nearly 40 wines, with an emphasis on Chilean varietals like Cabernet Sauvignon and País as well as blends with garnacha and carignan grapes.
The team will offer ten different tapas presented as separate plates or as flights of three items, some of which spotlight pan-Latin treatments: a trio of meatballs, for example, includes a Chilean albóndiga (ground meat rolled with rice, eggs, and herbs), an albóndiga Vasca (inspired by Basque cuisine), and a Brazilian version stuffed with a mild, ricottalike cheese. Enoteca will also serve a "corn trilogy" that incorporates a Mexican tamale, a Chilean humita (which, like a tamale, is made from corn paste and steamed inside a husk), and a pamonha, which is made with a sweeter Brazilian corn. Chilean coastal cuisine will figure prominently in the menu: There are clams called machas, which are baked with Parmesan cheese; oysters prepared with a crab gratin; and garlic prawns. Finally, Matheu plans to serve cochayuyo, a seaweed dish that's native to southern Chile.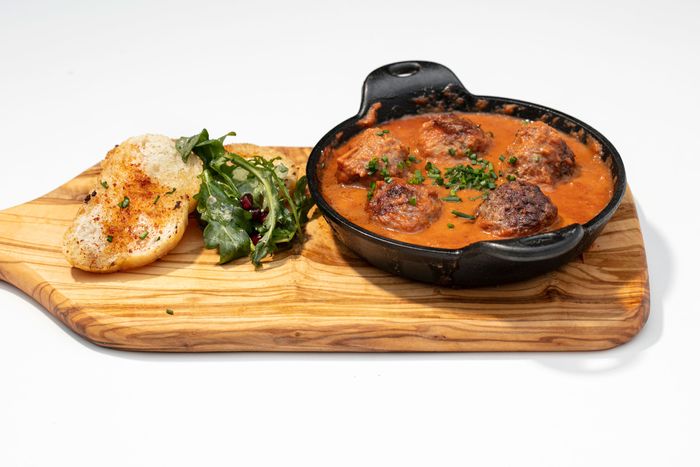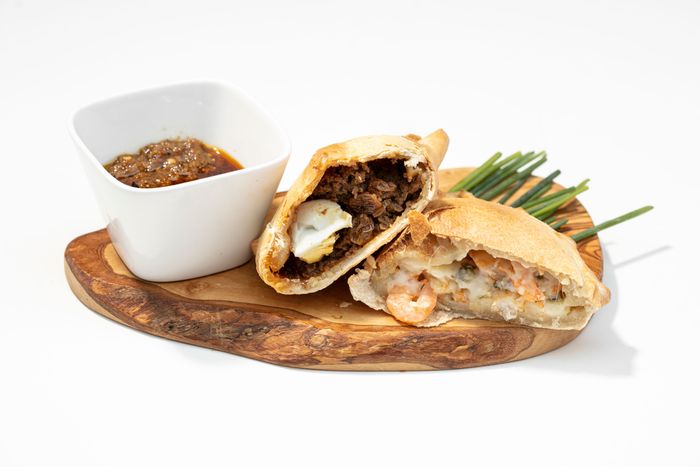 "I wanted for Chileans to feel at home the second they walk in," says Mantheu — but Minzer clarifies that the target audience is not Chileans. It's everyone.
"You have to be nice, to be Latino. I want warm service," Matheu says. "Since my English is not as good as Daniel's, when I can't explain something, I say to the guest, 'Look, try it,' and I put a spoonful in their mouth."
For them, the businesses offer a chance to combine the cultures of their two homes. "New York awakens in you that desire," Matheu says, "to want to do everything always better."