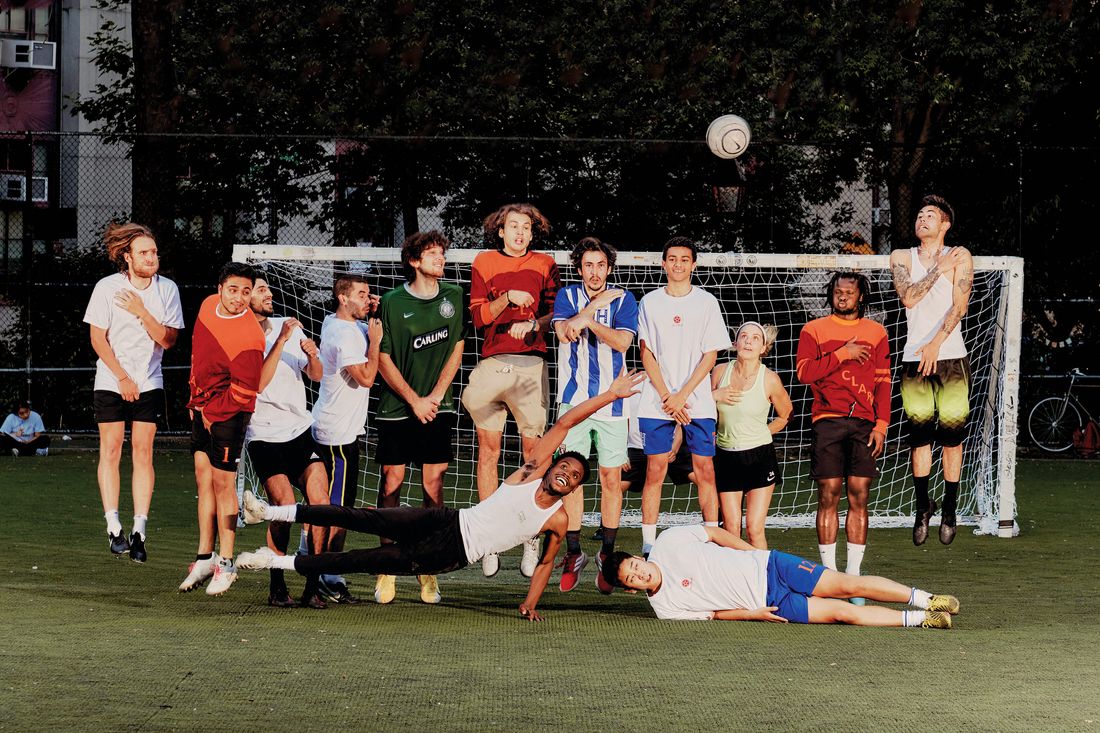 Top row (from left):
Max Aken-Tyers, Melvin Lopez, Kamal Sabar, Alejandro Fernández, Jonathan Hafler, Misha Zaccaroni Luczkiw, Andrés Fernández, Karim Sabry, Charlotte Williams, Jethro Dede, and Noah Drysdale. Bottom row: Malkam Saunds and Yudai Kanayama. Not pictured: Zalmai Levrat and Keisuke Asano.
Photo: Victor Llorente
Last October, architecture student Zalmai Levrat approached restaurateur Yudai Kanayama with a proposal. He had been dining regularly at Kanayama's new Chinatown Hokkaido restaurant, Dr. Clark, and the two had bonded over a love of soccer. Levrat's idea: If he could get a team together, would Kanayama sponsor a Dr. Clark Football Club? They struck a deal — Levrat would build a roster, and Kanayama would handle team and league fees.
Levrat hit the phones, signing up the best soccer players he knew; he had grown up playing on the Lower East Side, and he and his friends (many of whom have been on professional teams in Europe and the U.S.) often played pickup games. His father was brought in as coach. Kanayama had access to an empty apartment and offered it up as a clubhouse for the team to shower and change in. Practices were scheduled at least twice a week, and the team signed up for the Bowery Championship League. A few of the players went to a jersey store in Bushwick and bought knockoff Honduras shirts, which they screen-printed with an FC Clark badge. Kanayama also enlisted the fashion designer Emily Bode to make custom red and orange F.C. Clark sweaters for all of the players, with their nicknames and numbers stitched on the back. For Kanayama, who plays on the squad, the team represented the values of the restaurant, which meant it had to play well. So he created an incentive: After every victory, players would come straight back to Dr. Clark for a free dinner.
The squad played their first official game in March, and quickly started acting like a team on top of looking like one — breaking out in disagreements after losses and gathering at the clubhouse to eat together and watch highlights. The work paid off. In June, FC Clark lifted its league's championship trophy.
As the players were improving on the field, a funny thing was happening off it: The hype surrounding the restaurant was spreading to the team as people heard about FC Clark through Instagram and while dining. A player was recognized by a stranger following a tennis game. Applicants for restaurant jobs began to ask Kanayama during interviews if they would get the exclusive Bode-designed team swag (the surest way, he says, not to get hired). Downtown fashion brand Kim Shui started a rival team just to play Dr. Clark's — Shui's team, a hastily assembled crew of models, influencers, and fashion-industry people (some of whom used to play pro), lost the match.
So far, the players appear unfazed by attention; their focus, for now, is improving the team. Kanayama has just ordered a fancy Veo camera from Denmark, which will let the team film their games from 25 feet in the air to be analyzed afterwards. Today, FC Clark is looking into joining the Cosmopolitan Soccer League, one of the oldest leagues in the U.S., which would mean a higher level of competition. At a practice in late June, a special guest appeared: Efraín Juárez, who started for Mexico in the 2010 World Cup and is currently the assistant coach of New York City FC. In April, Juárez ate at Dr. Clark for his wedding anniversary and kept returning to talk soccer with Kanayama. When Juárez said he would like to come to a practice, Kanayama thanked him for the offer, calling him "Coach." "What do you mean 'Coach'?" Juárez responded. "I'm playing!"