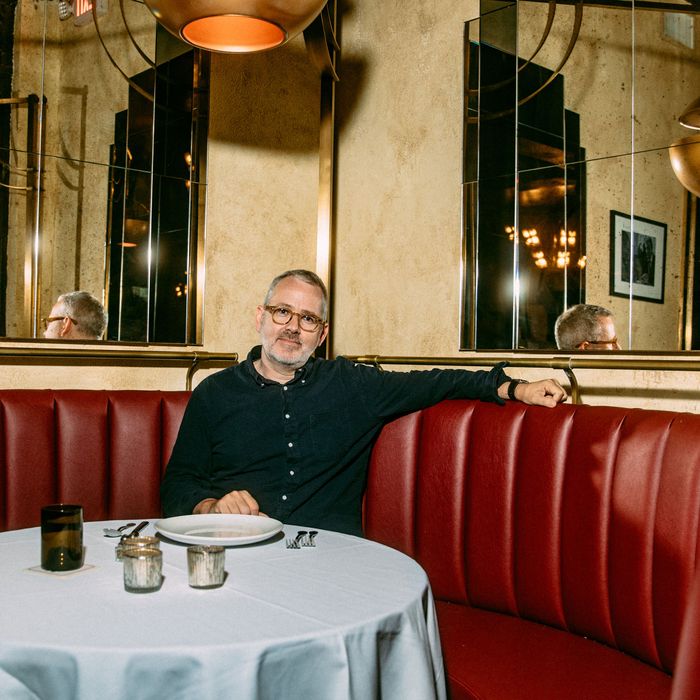 Morgan Neville is the director of
Roadrunner
, which will be released this week.
Photo: DeSean McClinton-Holland
This article was featured in One Great Story, New York's reading recommendation newsletter. Sign up here to get it nightly
The sky hangs low, and dark clouds are bunched up angrily over midtown. The phones of New Yorkers buzz and ring ominously in unison. Either a child was recently kidnapped or we are in for a deluge. On 28th and Park, a team of black-clad servers and stressed-out PR people are putting the finishing touches on a three-day reincarnation of Brasserie Les Halles, the restaurant most famous for its former chef, Anthony Bourdain, who chronicled his time there in his 2000 best-seller, Kitchen Confidential. Though the restaurant closed in 2016, for one weekend the steak-frites will fly out of the kitchen once more, in order to help celebrate the release of Roadrunner, the new documentary about Bourdain's life by Morgan Neville.
Neville himself pushes through the doors just as the skies let loose. He slips off his raincoat and smoothly settles into a corner booth. Neville — whose previous work includes the documentaries 20 Feet to Stardom; Won't You Be My Neighbor?, about Fred Rogers; Search and Destroy: Iggy Pop and the Stooges' Raw Power; and the Netflix show Ugly Delicious, with David Chang — is an upbeat guy. He's chipper and, like his gray hair and beard, neat-o keen. There's something of a boy's eager enthusiasm about him, which, on one hand, makes him a funny Boswell for the brooding Bourdain. But, on the other hand, maybe that's why he's perfect for the job. Darkness needs light to penetrate it, and light relies on darkness to define it. And anyway, as Neville says, it wasn't that Bourdain was a jaded Rick Blaine, in whom passion was suffocated by layers of protective cynicism. Instead, "Tony gave a fuck about everything," says Neville. "That was his problem. Guys like Iggy Pop and Keith Richards, two of Tony's heroes, survived because they reached this zen of like really not giving a fuck. But Tony would constantly say, 'I'm going back to my room to Google my name.'"
A pair of negronis appear on the table, each with a swizzle stick promoting the online-reservation platform Resy, which is sponsoring this Les Halles pop-up. "Tony loved negronis," says Neville happily, sipping his as the rain pelts the pavement outside. Though Neville never met Bourdain in person, he says, "I spent most of quarantine hanging out with Tony, around the world, watching tons and tons of material." Just like Fred Rogers, Bourdain's life was exhaustively chronicled. This, for a documentarian, means both an embarrassment of riches and a certain terrifying liberation from reality. "The facts are available to the historian … like fish in the fishmonger's slab," E.H. Carr once wrote. "The historian collects them, takes them home, and cooks and serves them in whatever style appeals to him."
Neville and his team drew from 60 hours of an unreleased documentary to which Neville had access and literally months' worth of footage from the shows A Cook's Tour, the Layover, No Reservations, and Parts Unknown. Then there were the hours and hours of narration: "Tony's voice was so integral to so many people's experience of him," says Neville, who had access to all of Bourdain's voice-over audio. "I actually made a 500-page book of it, organized by subject: childhood, addiction, mental health." And, the first words of the film are indeed Bourdain's: "It is considered useful and enlightening and therapeutic to think about death for a few minutes a day."
Fries arrive, crisp, salty, and jammed into a brown-paper cone. As much as I'd like to talk about the choice of documentary's music ("The soundtrack are all Tony's favorite songs," Neville explains), or the similarities between Mister Rogers and Tony Bourdain ("Personality-wise, they cannot be more different, but both were deeply moral people using television as a tool to show how we're all connected"), the subject of Bourdain's death comes up quickly. When a person dies by suicide, it seems every detail of her or his life becomes either evidence of suicide's inevitability, or fodder for the resigned ignorance of the unknowable soul. But both narratives collapse and turn suicide into the magnetic end to which all the facts of a person's life become aligned.
What Neville makes clear in Roadrunner is that for the person, even as they live, suicide can feel like an inevitability. It's as if, as the rest of the world is walking on firm ground, they're walking a narrow rickety bridge over a deep chasm. It's only a matter of time before the struts give way. And Bourdain frequently joked about killing himself, something Neville shows but briefly. "We had a montage of about 15 suicide jokes, but we had to cut them," Neville reveals. "We made our point."
In the film, many of those closest to Bourdain are shown in various states of emotional undress and self-reproach. (The musician David Berman, who died by suicide 2019, once sang, "When the dying's finally done and the suffering subsides / All the suffering gets done by the ones we leave behind.") For those who knew Bourdain well, those who knew him a little (like me), and those who knew him only through his work, his passing is still so painful to contemplate that most of us just haven't. Liberating Tony from that shroud was part of Neville's motivation. "I made the film to get people to start to see him as a person again," the filmmaker says. "The point was not to fix anything, but to get people unstuck."
Nevertheless, the film's back third does chronicle Bourdain's descent, which ended on June 8, 2018, in a hotel room in Alsace, while working on an episode of Parts Unknown. A few days earlier, an Italian tabloid had published photos of a French journalist named Hugo Clément kissing and embracing Asia Argento, the filmmaker with whom Bourdain was enmeshed in a tempestuous relationship. When Michael Steed, the director working on the episode of Parts Unknown had gone to check on Bourdain, the chef was staring over the French countryside. "A little fucking discretion," he had said. Later that night, he died.
"My take is that the thing that Tony was having the hardest time dealing with was humiliation," Neville says. "I want to be careful about how I say this," the director continues, "but for him to feel that he had staked himself so far out on the limb to be made to feel like a chump so publicly. That was the thing — not heartbreak. Humiliation."
Yet for most Roadrunner's two hours, Bourdain is Bourdain. "For the first four months, I told my editor, we're not going to discuss his death. It's like it didn't exist," Neville says. And so he appears, profligate, profane, and occasionally profound, awkward as a young man with a mischievous smile. I had forgotten how he walked. (I once described it as the "the rambling cadence of an aging cowboy.") I had forgotten how he sounded, that world-weary yet kindly tenor, and the oceanic rhythm of his sentences. I had forgotten how he managed to be both performative and authentic at the same time, so when you zoom in and out, the image is the same.
There he is onscreen, smoking and pecking at his old word processor, grinning like he's gotten away with something. There he is, in the world again.