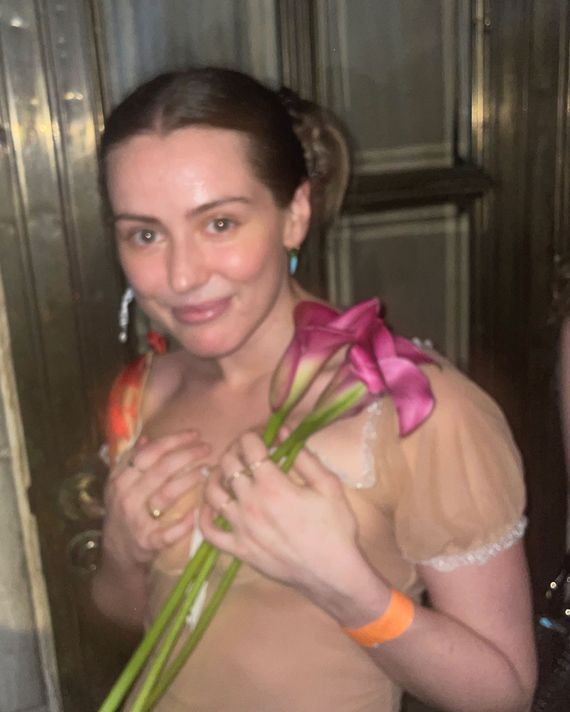 Calloway with her calla lilies.
Photo: Courtesy of Brock Colyar
This week I played with fire. Quite literally, I got sloshed on the Fourth and lit up some sparklers, but I also spent Thursday night with Caroline Calloway at a party she co-hosted, along with The Drunken Canal and other members of the new downtown pandemic-erati, at the Russian Samovar on West 52nd Street. It was thrown by the Ion Pack, a duo of anonymous film boys with a meme page and a podcast about movies and, in the words of a Criterion Collection employee I met that night, "Lower East Side culture."
Calloway's presence was kind of a must-see attraction at the event. A self-described "writer, artist, SCAMMER" with 675,000 Instagram followers, she thrives on controversy, or at least can't seem to avoid it. Almost two years ago, the Cut published an essay by Natalie Beach recounting her toxic friendship with Calloway (and taking some credit for her success as an influencer.) As Caitlin Flanagan wrote at the time, the piece poured gasoline on her particular kind of online fame, wherein "you've never heard of her, or you possess a nearly encyclopedic amount of information about her." Calloway has since doubled down on her branding as an artist, started an OnlyFans, and made a cringey appearance on Ziwe's show. This week, she (ironically) leaned into her scammer reputation, selling bottles of her homemade skin-care tincture, branded as "Snake Oil," on Instagram Stories. Her plan for the party was also one of her hustles: She'd be there painting her $250 portraits (for free if you brought her "good" flowers).
The idea of hanging out with her intrigued me, but it also, I admit, made me a little nervous. When I texted her to see if she wanted to take me to the Samovar party, she responded within seconds: "Let's fucking do it." But after FaceTiming me a couple of times in a sheer top with her boobs out, she changed her mind; a half-hour later, she decided it was a good idea after all. Throughout the night, she subtly promised me followers, and, like so much of what she did, I found it surprisingly charming. The morning after, I looked at my Instagram to see her posting photos of me, praising your resident party reporter for negotiating a "momentous" and "HISTORIC" peace treaty with her after the Beach piece. Lately, Calloway, 29, is actually feeling pretty good about her relationship to notoriety. "Sometimes I think I got struck by fame lightning. Lots of people who want fame don't have … best friends who sell them out to the Cut," she told me on our night together. "Now that I'm currently well liked, I'm never going back. This is so much better. I could never do anything else. I've never had a CV. I've been, professionally, Caroline Calloway."
9:42 p.m. | I'm standing outside Russian Samovar, whose storefront is reflecting the lights of the marquee on the still-closed August Wilson Theatre across the street. While I wait for Caroline, I chat with others in line — mostly straight boys wearing black and smoking cigs — including a Wall Street software developer who lives in Murray Hill and hates his job. "I'm just making the rich man richer," he says, before telling me that he'd like to give it all up to take on "squid fishing."
9:50 p.m. | Caroline arrives in a high-pitched frenzy, wearing space buns, a sheer beige dress, and earrings made of little lettered beads that spell out anxiety ("because I'm sick in the head"). She's holding her portrait canvases over her chest to hide her semi-exposed boobs. "Only for the party," she says, meaning she'll let the nips out when we get inside. In line, she introduces me to the popular TikToker Serena Shahidi, known as @glamdemon2004, looking glam in a chartreuse dress, and Caroline tells me the New York Times reporter Taylor Lorenz just wrote about Serena. I ask Serena what that was like, and Caroline butts in: "I FaceTime her [Lorenz] like once a week" [Caroline later clarified they sometimes text rather than FaceTime].
10 p.m. | After maneuvering our way to the front door, we walk up a steep stairwell to find a relatively small dance floor with a bar and a DJ stand. The next room is a dark salon adorned with candelabras, pewter vases, old paintings, and long, wooden tables. "Cambridge vibes," Caroline (a Cambridge grad) says. At the far end is a balcony overlooking the street. She tells me plenty of notables will be coming tonight, promising Cat Marnell and cast members from Gossip Girl and Euphoria. Caroline is searching frantically for a spot to set up her portrait station. "I'm gonna tell my kids one day I painted naked at parties," she says, laughing.
10:14 p.m. | At the bar, Caroline orders me a tequila-soda and, for her, an Aperol Spritz, her favorite drink right now. She's actually ordered two of each, planning to hide one of the drinks for later in case the bar gets backed up. When she notices a friend walking in, she leaves me with her credit card. "Don't scam me," she jokes. In the meantime, I chat with another of her friends, a blonde bombshell who tells me her scent is a mix of Le Labo Santal 33 and Louis Vuitton perfume. She's a Tisch student writing a book about "an ex that wasn't so nice," and Caroline has been helping her with it. "The best scammer I ever met," she says of Caroline in all seriousness.
11 p.m. | The tiny space continues to fill with hordes of very white, very young, very online people, as the line down the block has grown into a pulsating mob. "It's like everyone on the internet decided to have a party together," a guy at the bar observes. On the balcony, partygoers taunt those waiting below ("You should pee on them," someone jokes when I say I need to use the restroom), and people begin lighting up their cigarettes inside. Every few minutes, I hear someone murmur how much this place reminds them of China Chalet, the now-shuttered restaurant that closed at night to allow young kids grimy and shiny to get trashed and smoke indoors. Caroline runs up and down the stairs trying to help friends get inside. When I catch her and ask about the party so far, she says, "The irony is: We're bringing Dimes Square to Times Square!" The DJ's musical choices — "American Boy" and "Toxic" — are either bad or ironically bad.
11:45 p.m. | I can't find Caroline. I check the dance floor, the balcony, and the restroom. I walk down a different staircase and through a heavy brown fur curtain, but on the other side all I find is the still-open, rather quiet Russian Samovar restaurant. I'm about to give up looking for her when my roommate, who'd been in the crowd outside, texts me that she saw Caroline sitting on the sidewalk in front of an Irish pub down the street painting portraits for fans who brought flowers. Suddenly, the old-school downtown movie director Abel Ferrara, apparently a "friend of the pod" and tonight's special guest, appears on the dance floor under a spotlight to sing a tune and strum an acoustic guitar. Everyone loses it as if he's an A-list celebrity and then, when he finishes, they happily start dancing again to the shitty music. This time, Fall Out Boy.
12:08 a.m. | I meet a cute group of college-age gays and girls on the balcony taking a smoke break outside rather than in. I complain about the bar line, and they tell me there's a storage room full of booze in the back. They found it at a party here last week. Sure enough, we walk through a door at the back of the dance floor, past an employee, around some boxes and ladders, and straight into a dingy room full of wine, beer, and liquor. I pour whiskey into a plastic cup, and we make a quick exit. Back on the dance floor I run into Gutes — one of the two Drunken Canal founders — who's wearing a funereal black dress and pearls. Before Caroline, I'd asked her to be this week's are u coming? pal, but then she backed out. I ask her if she ever thought their quarantine newspaper would attract the attention it has. "I told Claire," her co-founder, "buckle up, bitch." As a Parade employee sitting close by tells me, "It's so microinfluencer I'm like ugh."
12:45 a.m. | Having finally returned from her painting sesh — fancying herself a real Henri de Toulouse-Lautrec — Caroline asks me, "Should we go get some drugs?" On the balcony, we each take a bite, hers larger than mine, of an acid gummy from her handsome man friend, and she takes pictures with the people surrounding her, covering her nipples whenever it's a flash photo. ("People should have to pay to see that. That should be on my OnlyFans.") She chats about her Natalie Beach drama with a young guest. "I totally believe you're so nice and so amazing," the girl says. "The only reason I survived the Cut is because I'm a nice, bomb-ass person," Caroline replies, before offering me one of the calla lilies she's holding because her cat Matisse is allergic to them. "If there's a callo-will, there's a Calloway," she says, giggling.
1:11 a.m. | All night, Caroline has been talking about Cat Marnell. She claims they're close friends even though they've never met in person, and she tells me it's going to be a true New York City event if that happens tonight — something I should be glad I'm here to witness and write about. She brings up Cat several more times, including once while talking about her former Adderall addiction. In an attempt to make a group of listeners understand how serious it was, she says, "Cat Marnell and I had the same literary agent, and he dropped me because I was sick." Eventually, she gets a text that says, "Hi it's cat and ellis we're inside," but neither of us ever sees them. Later, Caroline found out on Instagram that Cat stopped by while she was painting outside. When a beefy guy in a Hawaiian shirt greets me with a kiss on the mouth and whispers in my ear, "I'm bi, but you're worth it. Do you think you've been good enough for it?," Caroline comes to my side and asks if I'm okay or if I'd like her to have him kicked out.
1:53 a.m. | Stashing her bouquets in the corner of the party where we've hidden more drinks, Caroline remembers she left her paints at the Irish pub. When we go to retrieve them, it's closed and also raining, so we take a moment to talk while sitting on the sidewalk under an awning. She apologizes for so overtly telling everyone my pronouns at the beginning of the night, which I find sweet. "The party only lasts one night, but the joy of having hosted it? That's eternal," she says, talking about how she feels responsible for people having fun. "When the history books are written about this period in the '20s, I think it's important to balance your work with honestly being present at moments like this. Because I think this will be sort of the Studio 64 … 54 of … that will be to the '60s … the '70s as tonight is to the '20s, and I want to be a part of it."
2:25 a.m. | In the judgment of another guest I meet while Caroline keeps buzzing around collecting IG handles, this party is merely "plenty of people with nothing to do, lots of money, and their brains atrophied." Meanwhile, the crowd is thinning out, and Caroline stops to tell me she feels nothing from her acid gummy.
2:59 a.m. | Caroline mentions it's time for an Irish exit before doing the exact opposite and asking several people whether she can do anything for them before she goes. I hop in an Uber with a boy from the party, who, after spending some time around Caroline this evening, declares, "No one in her circle is willing to break her bubble. She's just talked about." When I get home, she sends me a selfie with her cat to say she made it safely back to her own place. And the next day, she writes on Instagram: "One of the best nights of my life. Please send me any pics you have of me. I didn't get any and I want to remember it forever."