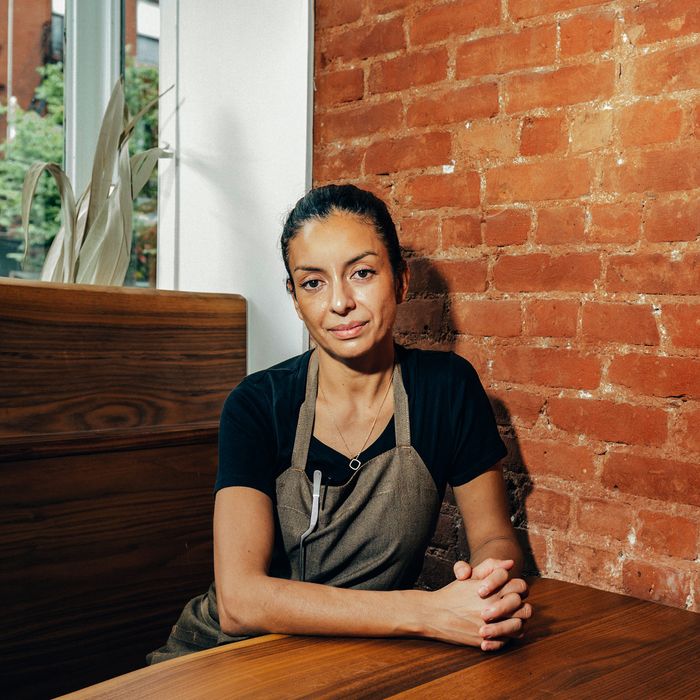 Photo: DeSean McClinton-Holland
The chef Victoria Blamey has cooked professionally for 17 years. She is 41 years old, and she is tired of having to prove herself. "I look small, I may look younger and people have this idea: 'Oh can she cook?'" she says. "There is a lot of that in the industry, it's very sexist. As a woman you have to fight those battles and women don't want to be aggressive about it, but I don't care to explain what I do anymore to anyone."
Some of her fatigue may stem from the fact that she made her name, and earned a fair amount of critical praise, for rebooting — and, many would argue, improving — other people's visions.
She first grabbed headlines when she helped revive the iconic speakeasy Chumley's in 2017. In his review, New York Times critic Pete Wells wrote, "New York may not need another burger, but any place called Chumley's definitely does. The one Ms. Blamey has provided is like an erotic poem on the theme of fat."
Next, she dusted off the kitchen at Gotham Bar & Grill and scratched the restaurant's 35-year-old standards — tuna tartare, lamb chops, and seafood salad — in favor of ambitious, innovative food like yellowtail crudo with smoked avocado purée, and beef glazed with veal jus that had been blended with tomato water, coriander seed, glucose, and lovage. In his review, Adam Platt praised the "little twirls of Ibérico pork cheeks (served as an appetizer, dressed with black vinegar and petals of baby onion), the beef tartare (folded with tomato confit and crushed hazelnuts as at Chumley's), and a perfectly cooked square of tilefish that the kitchen recently dressed with pats of gently charred uni."
But critical praise only goes so far. Blamey grew up in Santiago, Chile, trained at Mugaritz in Spain, and worked alongside highly technical chefs such as Matt Lightner at Atera and Paul Liebrandt at Corton. Even if she was excellent at expanding culinary boundaries inside of some fairly staid restaurants, she was still cooking food that she thought other people wanted. "There is a frame and you work within it, even if you want to push the limits of that frame, it's not easy," she explains. "I never had that chance as a woman, as an immigrant, as a Latina — it's more like you take what you can get." But now, she has found a way to break out from those constraints.
It is somewhat surprising that Blamey found herself set free at yet another restaurant owned by somebody else: Dan Barber's Blue Hill at Stone Barns, where Blamey served as the chef in residence for several weeks earlier this spring. Since January, Barber has hosted nine chefs in residence in partnership with the nonprofit Stone Barns Center. "The idea was to seek out fresh leadership and creative forces in pushing the structural changes our food system so desperately needs," he says, adding that he'd been hoping to find a way to convince Blamey to make the trip up to Westchester. "I've admired Victoria's work for a long time, seeing her grow in some of the toughest kitchens in the industry and ultimately spearheading the iconic Gotham Bar and Grill with immense talent and grace," he explains.
For her Blue Hill residency, Blamey was given little direction from Barber. "He just said come and do your food," she recalls. "I mean, how cool. And how do you say no to Dan Barber?"
She introduced Barber's cooks and farmers to a new roster of techniques. One of her dishes involved pit-smoking mussels inspired by preservation traditions from the south of Chile. Another highlighted seaweed stipe, the discarded "stem" for which ocean farmers don't often have a market. And she didn't just cook. Blamey also immersed herself and the Blue Hill team in an exploration of Chilean culture and heritage, traveling to Chile and returning with a stack of cookbooks dating back to the 16th century, with bullet-point recipes collected in bits and pieces. She brought in a librarian who gave educational workshops each week to explore the layers of the food and culture in South America. She covered her menus with the words of Chilean poets like Gabriela Mistral and Elicura Chihuailaf Nahuelpán.
"I had never been presented with the opportunity to just do me," she points out. "This was the first time I was given the chance to say what I wanted to say about my roots and South America and food and culture."
Now, Blamey's story is continuing with another residency, this time in Greenpoint. She is the first chef in residence at Fulgurances Laundromat. The restaurant, which opened in late May after a yearlong COVID delay, got its start in Paris in 2010. The restaurant's name — fulgurance — does not have a direct translation to English, explains founding partner Rebecca Asthalter. "We take it to mean something that is very powerful and ephemeral," she says. "It is a moment that is fleeting but that leaves a lasting impression, like a shooting star."
Founded as a pop-up for sous-chefs from some of the world's most high-profile restaurants, Fulgurance grew into a permanent restaurant showcasing up-and-coming talent in 2015. "We give cooks the freedom to figure out who they want to be and how they want to cook and to realize that they can fly," Asthalter says. "The point is to have the time to test and have things evolve and have live feedback."
At Fulgurances, Blamey has that. Here, her cooking looks to the sea, shining a light on underutilized crops. Her food here is surprising and complex — and involves a lot of seaweed. "I grew up eating seaweed in Chile," Blamey says. "I love that marine brine and I love seafood — and when you see how sustainable it is and how nutritious seaweed is, why would you not want to work with it more?"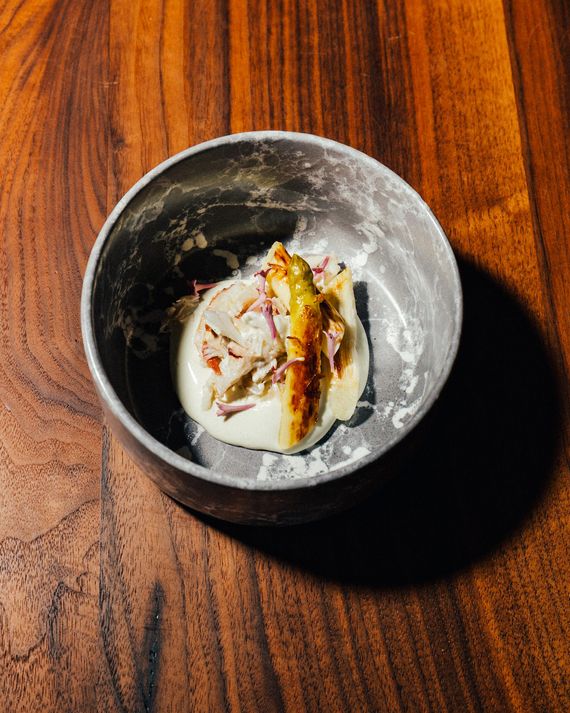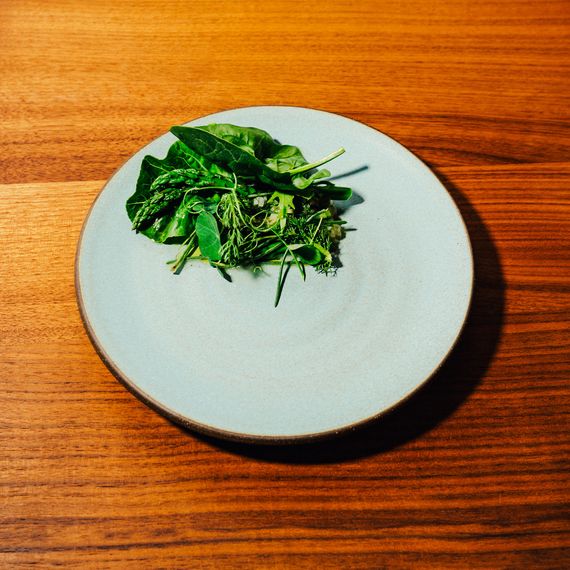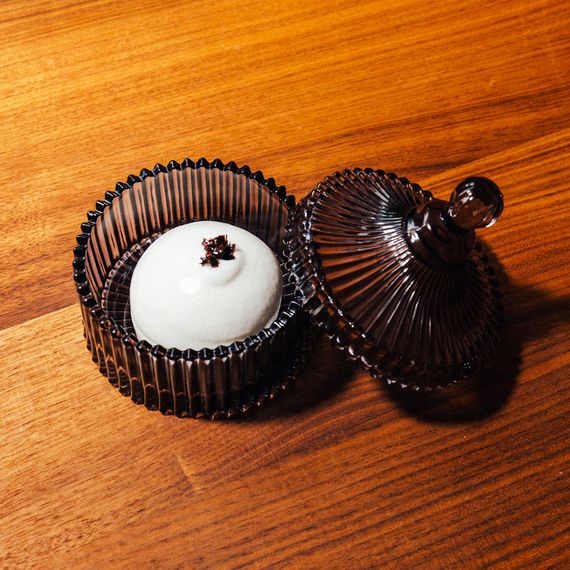 You'll find seaweed in some form on every dish on the menu at Fulgurances, where Blamey works quietly in an open kitchen overlooking a serene, mid-century modern dining room. The food can be dazzling: Her monkfish crudo includes sheer slices of the silver fish, rolled in a mix of dry sea lettuce and cacho de cabra chiles, then torched quickly, and paired with bok choy, pickled sugar kelp leaf, candied dulse, and more cacho de cabra.
In a riff on barley risotto, the grain is nixtamalized and paired with cracked red wheat, then cooked with pistachio butter, lovage, mint, green garlic, tarragon, English peas, razor clams, and spruce tips. For dessert, a cloud of white arrives, dotted with what might be chocolate sprinkles elsewhere, but is — you guessed it — seaweed. Blamey infuses rich Colombian chocolate ganache with Irish Moss seaweed, then layers on kombu butter, and toasted hazelnuts. She tops it with that frothy milk cloud and sprinkles of dulse seaweed cured with unrefined cane sugar. It is unlike anything else being served in New York right now, and that is exactly the point.
For Blamey, these residencies — which also included a stint at Connecticut's Mayflower Inn — have been a kind of therapy, and a chance to showcase her full range of ideas. "This is the moment where I want to do Victoria Blamey," she says. "No ghosts and skeletons that I have to pay compliments to." She is doing the thing that every chef hopes to: cooking completely for herself, liberated from the impediments that would otherwise dilute her vision. " I am good at collaborating," she stresses, "but I also want to call the shots and I want to make a difference — I am tired of seeking validation."