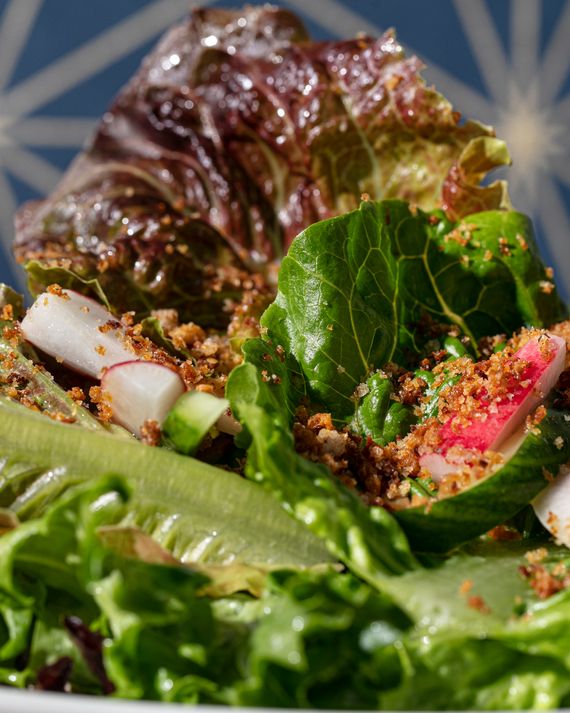 At Victor restaurant in Brooklyn, the green salad is more than the sum of its parts.
Photo: Melissa Hom
I am told that everybody makes mistakes. Here is one of mine: For most of my restaurant-going life, I have been sleeping on the quiet majesty of a well-constructed salad. "Green salad?" I would think, skimming descriptions of lettuces and house vinaigrettes. "If I wanted a green salad, I wouldn't be here." Did other people not understand that you can buy "baby greens" and "shallots" and "olive oil" at your local supermarket? Also, the whole point of restaurants, as I once understood it, is that you're paying other people to cook for you, and salads are notoriously raw. I pitied the green-salad orderers; how sad, all these people who did not know yet about the grocery store!
For years, I read about the famous salads of stylish restaurants I had not visited. The "unbelievably, mouth-smackingly perfect" insalata verde at Via Carota. Seattle's nationally famous Canlis Salad ("A Canlis salad, properly prepared, is a revelation.") The power Cobb at Michael's. The minimalist downtown cool of Estela's endive. "Ah yes, Ignacio Mattos is a genius!" I would have said out loud, but in my heart, I would think: That is fancy lettuce on a plate.
Salads, to me, have always seemed to be a kind of fallback plan. Are you out of ideas? Make a salad. Are you looking to use up a bunch of random leftover ingredients from your refrigerator? Salad. Are you a vegetarian? Great! (You're having salad.) To order plain salad in a restaurant is to admit that there is nothing else.
Upon first glance, the salade verte at Victor, a vaguely Mediterranean concept in the tropics of Gowanus, does not challenge these assumptions; if I am honest, I ordered it on a recent night because I had not picked the restaurant, and this salad, like me, is vegetarian. It has rosy pickled shallots against a tasteful lettuce backdrop. What it looks like is a salad. "Oh, a salad," I thought, when it arrived. "I understand."
I did not understand. The lettuces — red oak and little gem — were crunchy. The English cucumber was salted to pull out excess water and concentrate the flavor. The pickled shallots were gently biting. It didn't taste dressed; it radiated flavor. A painterly streak of tirokafteri, a Grecian spread of feta cheese ran down the plate. It was rich and breezy, much like I imagine a Grecian isle would be. Many salads are topped with bread crumbs, but these breadcrumbs were better breadcrumbs, crunchier, lighter. Why, I wondered, was I eating anything other than immaculately constructed salads?
I had been so blinded by the superficial sameness of salad — a bunch of leaves mixed with some other stuff, I get it — that I had cut myself off from the possibility of true salad transcendence. And yet, in some small way, a lifetime of other, lesser salads had prepared me for this moment.
Many — most — green salads may be mediocre, but then so are most symphonies, and yet Beethoven exists. The ideal green salad is like every other salad, only deeper, richer, and less obvious. When you come across one, you recognize it for what it is: the transformation of a menu sop — obligatory, joyless — into a deeply considered synthesis of texture, temperature, seasoning, surprise. It is, in other words, a perfect order. This is what restaurants are for.