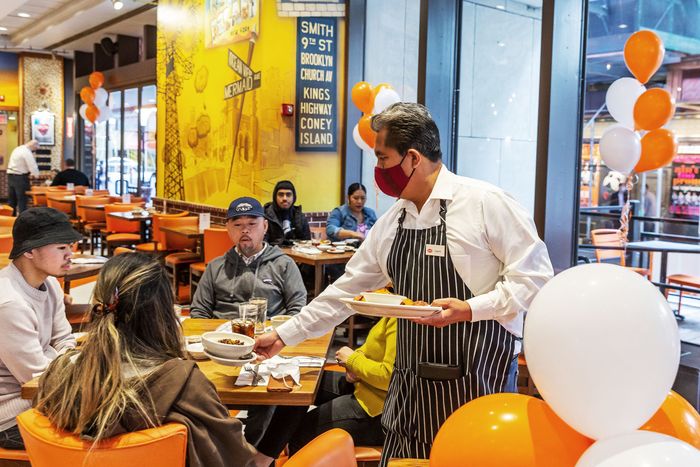 A server at Junior's in Times Square.
Photo: Lev Radin/Pacific Press/Shutterstock
Since the end of last summer, I've heard, pretty much universally, from different restaurant workers that customers overall had started tipping less. This followed the spate of generosity that flowed after the March shutdown — an acknowledgement, of sorts, that restaurant and bar workers were being asked to potentially put their health at risk and that their jobs had changed. The gigs became more stressful, with added responsibilities and physical labor, while workers grappled with the crushing mental-health toll, including the loss of co-workers and friends.
Now, the New York Times reports that tipping is returning to its pre-pandemic levels. The Times used data from the payment services Square and Toast and spoke to people around the industry — delivery drivers, restaurant owners, et al. — who all say that this is the case.
At the height of the pandemic, even as restaurant, bar, and delivery workers' jobs changed, there was no supplemental hazard pay. Increased tipping could be seen as a sort of informal hazard pay, provided by individuals, the Cornell professor Mike Lynn tells the Times. Accordingly, he adds that tips' decreasing is a "reasonable indication that perceptions are returning to normal." (On June 6, there were just 182 reported cases of COVID-19 in NYC — down from 5,335 on March 29 — and 55.5 percent of the adult population has been vaccinated, according to city data. At the same time, New York's vaccination rates are unequal, and undocumented people working in the industry, of which there are many, have struggled to obtain access.)
Even if COVID concerns are receding, many restaurant workers are feeling the brunt of the so-called staffing crisis. As the city has reopened, restrictions have been eased, and public life has come back, restaurants have gotten busier and busier, but many owners haven't been able to staff accordingly. On May 28, Veselka owner Jason Birchard said he has only about 60 out of the 100 workers he'd previously employed, while he'd tripled his outdoor seating capacity. Some late-night restaurant owners are restricting hours, in some cases because they lack the staff and don't want to cause issues with customers. As John Matos, who works at the Lower East Side bar Marshall Stack, said of the reopening earlier in May, "We don't want it to be a free-for-all."
In other words, the workload hasn't "returned to normal" for many in the hospitality industry (to say nothing of the workers who want more than a return to "normal," which always meant long hours and low pay). There's a reason the most generous tippers, any one who has worked in a restaurant or bar will tell you, are people who have also worked in these businesses: They know how hard it is, how unforgiving and difficult some customers can be; that abuse and harassment from bosses, coworkers, and customers is rampant; and that these workers need to be rewarded more for their undervalued jobs.
If you tipped more during the pandemic, there's no reason to stop now. Tipping more is an individual act. It won't change anything about the industry, and admittedly, encouraging people to tip more, in the end, won't really, either. But it also doesn't hurt.
The federal tipped minimum wage still exists. It's an appallingly low $2.13 an hour. People who work off of tips are still subject to the whims of customers who might deem it fit to punish them for restrictions imposed by the state government and designed, however sensibly, to contain a pandemic. At the end of the day, people need to be paid more. Still, if you're concerned about working conditions and empathetic to the difficulties people working in the industry face, which COVID-19 so clearly exposed — or if you have gone off about business owners complaining about unemployment benefits — you can put your money where your mouth is.