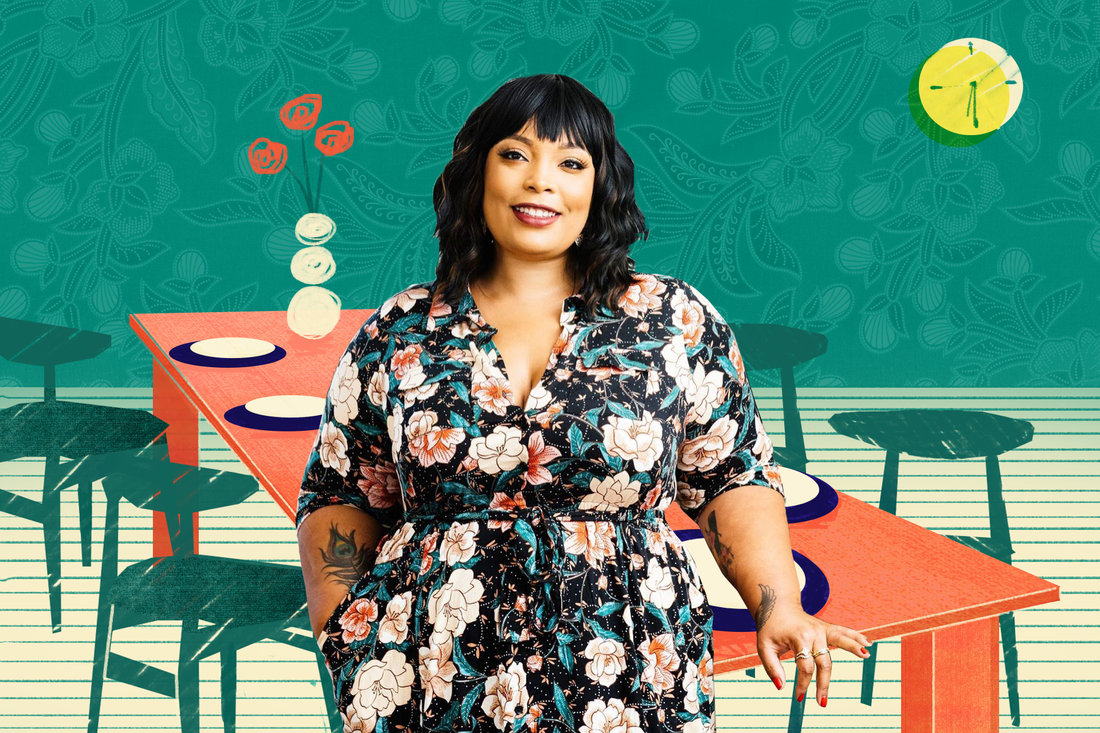 Photo-Illustration: Lauren O'Connell
Even though restaurants around the country are gradually reopening, many families are still cooking at home more than they're used to — and perhaps, more often than they'd like to. Enter the never-ending grind of constant home cooking. Professional chef and food educator Angela Davis had been working from home prior to the pandemic, but when she suddenly needed to cook her daughter breakfast, lunch, and dinner every day, it didn't take long for her to feel overwhelmed. "I was taken aback by how much work it was and just the amount of dishes we went through," she said.
How can a home cook recapture the fun of family dinners again — or at the very least, make them a little easier to manage? "If cooking feels like a chore every day, you're not going to want to do it, Davis says. "So you have to learn how to make it fun, or make it useful." That all starts with the right ingredients, the right tools, and yes, even the right tech. Davis, who runs The Kitchenista blog and Instagram in addition to cooking for her clients as a private chef, is a pro at streamlining a dinner routine. In partnership with Total Wireless, which is also all about streamlining our daily lives, we asked Davis to share her most trusted gadgets to save time, boost flavor, and make family dinner more seamless.
A spice grinder
Davis' spice grinder is at the top of the list of gadgets she uses every day, she says. "It's so much cheaper to keep bulk spices, like whole seeds; they last longer. And the flavor is fresher if you grind them yourself." Davis grinds her black peppercorn fresh every couple of days, along with her own custom blends she makes at home, like Moroccan seasonings, curry powders, and and barbecue rubs.
A pressure cooker
Davis does a lot of slow cooking, but that doesn't mean she has the all day to stand over a pot for three or four hours at a time. Enter the time-saving pressure cooker, which can cook a dish that normally takes four hours slow cooked in under an hour. "I [use it for] a lot of braised dishes, like short ribs, oxtail, [and] a lot of soups. But I think I use it for stock more than anything else," Davis says. Her tip for making stock in your pressure cooker? Save your veggie scraps and bones as you're cooking and throw them in a bag in the freezer. When you've got a full bag, you should have enough to make a batch of stock to last (and save you money).
A slow cooker
Like her pressure cooker, a slow cooker relieves Davis from having to monitor a stovetop for a long time. She uses it for all types of dishes, even caramelized onions. "Right now I'm doing duck confit in the slow cooker today," she says.
A smartphone
Running a business and keeping a successful social presence requires a phone (and connection) that can keep up. Davis's phone is an integral part to her meal planning and recipe documentation, plus the ways she shares her tips with her community. Grocery deliveries ordered in an instant? Check. Notes to keep track of her recipes? Check. "I'm usually doing everything on my phone," said Davis, who takes nearly 200 photos and videos of her recipes daily.
But the phone offers Davis more than just the tools to keep her kitchen and business running smoothly. It lets her connect with others. "I think social media is just such a powerful tool for food, because we're all connected now in that way and we can share our own stories," she says. "Anybody can write a blog, anybody can post an Instagram and … capture that moment and [that dish] and maybe share like, why is this important? …I think that we can share those stories in a much more public way now [than] in the past."
An air fryer
"I finally got on board with my air fryer because it's just my daughter and I now at home, I'm cooking smaller portions, and it just makes sense," Davis says. She's grown to like throwing in smaller meals — chicken wings, vegetables, a small piece of fish — into the air fryer. "It's easier, it uses less energy, and it saves me from the whole production of waiting for the oven to heat up."
A microplane
Another gadget she uses daily, Davis' microplane even goes with her to client houses "because a lot of people don't have one." Davis says she uses it for everything from grating and zesting to mincing garlic and shaving cheese.
A mini food processor
Why do it by hand when you can chop with a food processor? "If I have to mince like a ton of onions, celery, carrots, like for meatballs or meatloaf, I use my processor instead of mincing it all by hand," she says. It also works well for salsas and quick herbs sauces.
A pasta attachment on a stand mixer
"You can't beat fresh pasta at home," Davis says, who's been making seafood pastas, vegetable pastas (like an eggplant ragu in a recent video), and lasagnas these days. She'll make a batch of bolognese to keep in the freezer, so all she'll have to do is make the pasta when she's ready. "[Fresh pasta] is always a nice treat for dinners; it feels we're celebrating," she says.
*The 30-Day cycle for Shared Data Family Plans begins on the day the first line/device is activated. Any line(s)/device(s) activated later in the first 30-Day cycle will receive only the number of days remaining in that cycle. One month equals 30 days. See terms and conditions at www.totalwireless.com.
This advertising content was produced in collaboration between Vox Creative and our sponsor, without involvement from Vox Media editorial staff.