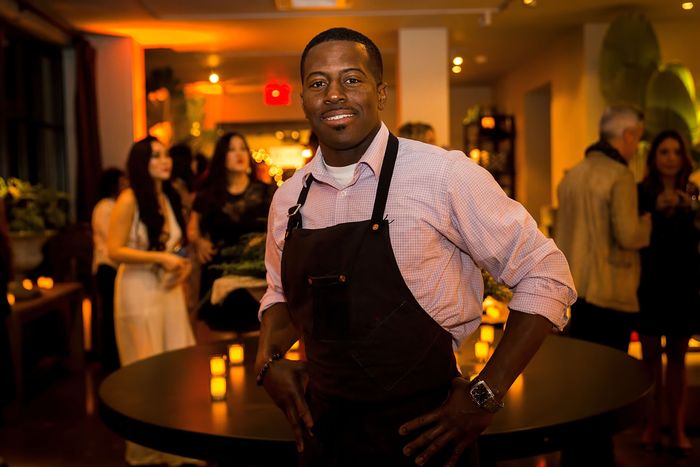 Seattle-based chef Edouardo Jordan
Photo: Suzi Pratt/(c) 2013 suzi-pratt.com
Seattle chef Edouardo Jordan has spent the better part of the past decade racking up awards. His first restaurant, Salare, was one of the city's "most anticipated openings," with a menu drawn from his experiences growing up in Florida, cooking with his grandmother in Georgia, and coming up in high-profile kitchens like the French Laundry and Per Se. He opened a second restaurant, JuneBaby, in 2017, and the next year became the first Black chef to take home a James Beard Award, winning in both the Best New Restaurant and Best Chef: Northwest categories. He launched partnerships with big-name brands like Lexus, Blue Apron, and Whole Foods, and in Seattle, there was a holiday created in his honor — November 28, "Eduardo Jordan Day."
But according to a new Seattle Times investigation by reporters Jackie Varriano and Asia Fields, there's another story here: "As his profile rose," they write, Jordan "also subjected employees and other women in the local restaurant industry to sexual misconduct or unwanted touching," according to 28 sources, including 15 women who said they had experienced his inappropriate behavior. Since the story broke on Sunday, the chef has announced plans to "step back for a bit," and nearly all of Jordan's staff have quit. Much like a recent dispatch from the Willows Inn, the full report is frustrating, exhausting, depressing, and worth reading in full. For now, here are the key points you need to know.
What happened, exactly?
Fifteen women who've worked with Jordan have accused him of inappropriate sexual behavior. Four women say Jordan groped them at work between 2012 and 2017, and a fifth woman said he'd been her boss when he "subjected her to an unwanted kiss" after hours. Ten more women told the Times that, as recently as 2019, Jordan had made "sexual comments, including about their breasts, or frequently touched them in unwanted ways, like hugging them from behind at work." Those allegations were backed up by 13 more people, ten of them Jordan's colleagues, who had either spoken to the women at the time about his behavior or witnessed similar incidents.
The incidents vary, but generally paint a picture of boundaries being crossed, sometimes repeatedly. One woman, who'd worked under Jordan at restaurateur Matt Dillon's Sitka & Spruce, said he'd grabbed her at a party. Still, when Jordan was promoted to go help Dillon open Bar Sajor, she accepted his offer to follow for the sake of her career. "He was my mentor. I would not be as strong of a cook without his guidance and qualified instruction," she told the paper. Later, Jordan tried — four times, she says — to kiss her on a work trip; when they'd arrived at the hotel, she'd been alarmed to discover their shared hotel room only had one bed. In Seattle, the alleged touching continued.
According to the report, some of Jordan's inappropriate behavior declined as he got more famous and wasn't around the restaurants as much, but when he was in his businesses, his "'gray area' touching — like uninvited hugs from behind — and sexual comments continued," at least three former employees told the Times.
What does Jordan say?
He has denied the majority of the allegations against him, saying in an email to the paper that he does not recall most of the alleged incidents happening. "Sexualizing any woman or race is not acceptable, in or out of the workplace," he wrote. He said he has hugged staff members, but "it was never sexual or inappropriate in nature and it certainly was never forced or intended to make anyone feel uncomfortable."
He did acknowledge trying to kiss the line cook at the hotel, but says it happened only once, it was a mistake, and he stopped when she wasn't interested.
"I'm deeply sorry if my conduct ever offended anyone or made anyone feel uncomfortable," he wrote in a statement posted to his social media and reprinted in the Seattle Times, continuing:
I have had moments where I have made decisions that have negatively impacted people I've worked with — and it was never my intention to be a part of or condone a workplace culture that made coworkers or employees feel 'less than.' While I know what it feels like to be considered 'less than,' I recognize that women experience a different level of hardships in the workplace and that nobody's voice should be silenced.
So what happens now?
Jordan already announced last week that Salare would close for good on July 3, citing the prolonged financial drain of the pandemic. Now the reopening of JuneBaby, originally set for Wednesday, has been postponed.
Meanwhile, nearly all of Jordan's staff have quit, telling the Seattle Times that while Jordan had warned them the article was coming, they hadn't realized how "serious the allegations were." Once it came out, "it was not really a question," one ex-employee said. "Everyone had the exact same viewpoint. We dropped our keys and left."
Jordan, for his part, seems to be figuring out his next steps. "Where do I go from here?" he asked on Instagram. "I step back for a bit. I don't make excuses. I listen and learn. I continue to ensure that my workplaces are safe and equitable environments for all employees and free of toxic behavior. I elevate the talents of the incredible team that currently works with me."
If the allegations are true, then Jordan is the latest in an endless list of individual actors who — after years of bad behavior — are being exposed as behaving badly and punished for their individual bad behavior, and meanwhile everything that facilitates that behavior remains basically the same.