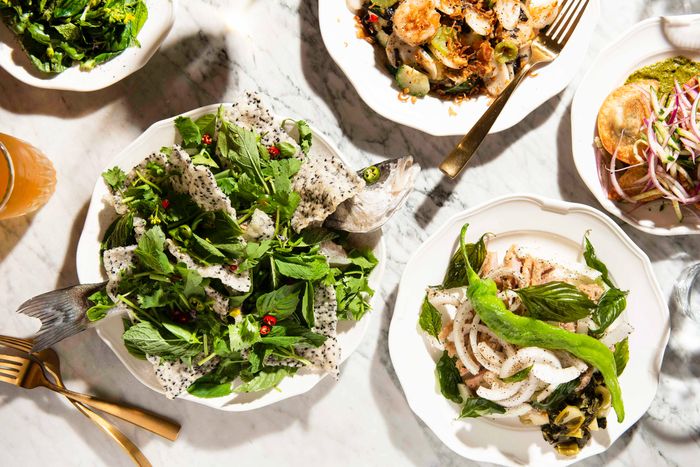 The new dinner dishes at Ridgewood's Porcelain.
Photo: Liz Clayman
Like so many cooks and bakers who found themselves unemployed last year, the chef Kate Telfeyan started an Instagram pop-up, which she called Vaguely Asian Foods, after finding herself out of work following the March restaurant shutdown. She'd been the head chef of the Bushwick location of Mission Chinese Food until then; after, she says she was cut loose without communication, and she was surprised to find out, several months later, that the restaurant reopened. At first, she cooked out of her Ridgewood apartment, delivering food to people on her bike. Then in late October, Telfeyan found a professional home in a nearby café, Porcelain, which hosted her pop-ups on Saturdays. "It was probably the only place I actually went to with any regularity during the really intense lockdown period," Telfeyan says. Through the winter, she cooked dishes like veal shank sujebi with hand-torn noodles and crispy prawn rolls with rice paper.
However, her cooking, she points out, was a bit incongruous with the café's original Austrian theme, and so in early April, after conversations with owner Mike Stamatelos, her occasional presence at Porcelain became permanent, starting with brunch, lunch, and sausage buns.
This month, Telfeyan started serving dinner Wednesday through Sunday, offering a succinct menu that pulls ideas and flavors from Korean, Sichuanese, and Taiwanese cuisines. Along with a few snacks, available from 4 p.m. to 6 p.m., Telfeyan's menu consists of six dishes, with no official course breakdown. "I'm not into entrée or appetizer distinctions," the chef says.
That said, three of the dishes are more substantial, including the steamed whole fish ($38), which takes some cues from the Sichuanese dish suan cai yu. "In some ways, definitely borrowing a little bit of inspiration from that. There's Sichuan peppercorns. There are pickled mustard greens that we make here," she says. "Heavy on the vinegar, but also really savory. And then obviously a little bit of tingly from the Sichuan. I really liked that flavor profile and I especially really like it with fish."
The idea for the nori-fried pork chop ($17), on the other hand, comes from two places: Taiwanese-style pork chop, which you can find in New York at places like Taiwan Pork Chop House in Chinatown, and eating skewers at Uzbek restaurants like Taste of Samarkand. "When you're eating that meat and it's fatty and flavorful, there's so much flavoring that's going on, the raw onion to me is such a nice foil for that," she adds. The pork is dredged in a dry batter, and along with the white onion, it comes with long hot pepper, more pickled mustard greens, and fried Thai basil.
Another more substantial dish is black-pepper prawns ($18), which come with rice cakes (an ingredient that Telfeyan turns to often), celtuce, cucumber, and salted chili. "I joke a lot that I'm going through my black-pepper phase. I went through a huge white-pepper phase and that never really went away, but I'm reexploring and rediscovering the bounty of black pepper," she says. "And I really liked the idea of doing a spicy dish that wasn't dependent on chili pepper."
There is the salted chili pepper, something she learned how to make when she was doing restaurant PR for Zak Pelaccio and Fatty Crew Hospitality Group. The peppers are salted and fermented before getting drowned in hot oil.
The remaining dishes are lighter: There are wontons ($13), which previously packed soondae and now come with a filling of herbal chicken and mugwort she gets from a New York farm, Choy Division, that specializes in Asian vegetables. They're served over the sesame-yuzu chimichurri; the components will change regularly.
Choy Division's vegetables are used for a seasonal stir-fry ($12) that features mint and a vinaigrette made with umeboshi paste and lots of shallots.
For a touch more starch, Telfeyan also makes hot-and-sour potatoes ($8) with cilantro and a mouth-watering sauce, a chili sauce used to dress poached, chilled chicken.
As with many cooks and other restaurant-industry workers who reconsidered their place in industry — the unsustainable demands of the jobs and the unhealthy and often toxic work environments — Telfeyan says her time away from professional kitchens brought her feelings into focus. (Last summer, she wrote about the restaurant, the media, and the ascent of toxic celebrity chefs.) Like many of Mission Chinese's former employees, Telfeyan says that her experience taught her what not to do.
"I had a lot of time to think and consider things, and as you know, I dipped my toe into the discourse about chefs and media and all of that, and the culture that surrounds this industry," she says. "But I never thought about leaving the industry altogether. I felt like it's too much of my passion, and leaving it doesn't seem like the right move. If I felt so strongly that it should change, then I should be part of the change."
Practically speaking, that change means setting a standard at Porcelain where no one is paid less than $20 an hour, because, as Telfeyan puts it, the $15 minimum wage is only a step in the right direction. It also means, more broadly, trying to create a different kitchen culture. Her staff, one full-time cook and four part-time, all worked with her at Mission. (One former co-worker there, who worked front of house, describes her as "friendly, calm, empathetic, and respectful under difficult circumstances"; a cook calls her a mentor.) When you're working for someone else, Telfeyan notes, you only have so much control to change things. At Porcelain, she's been given a clean slate, and she can call the shots: "Coming in as an owner and also building the program basically from the ground up really afforded me that freedom to imagine what this world could look like."