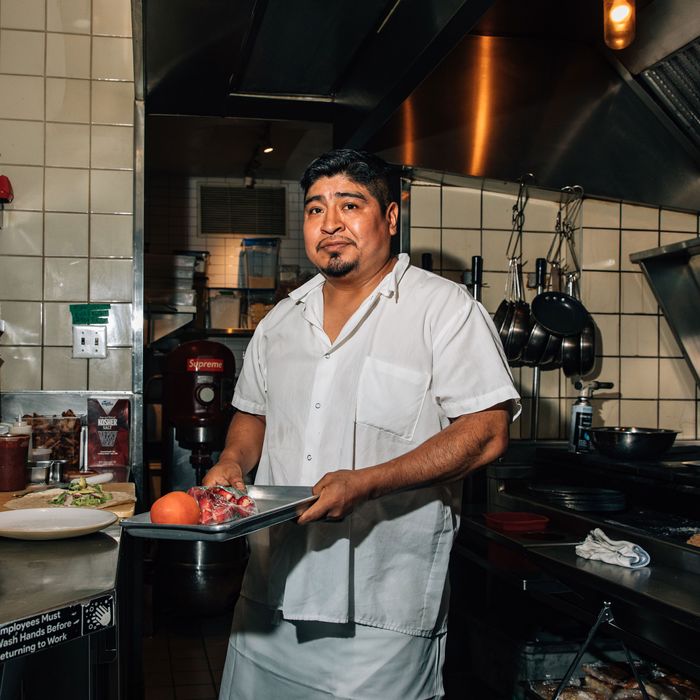 Pedro Castillo was the force behind the Pedrito's pop-up at Barano in Williamsburg.
Photo: DeSean McClinton-Holland
When Pedro Castillo first learned that his name would headline a taco pop-up at Barano, the Italian restaurant in Williamsburg where he cooked, he was reluctant to agree. Tacos were totally different from the wood-fired pizzas and hearty pastas that Barano is known for. But it was December 2020, and restaurants were facing another round of restrictions as a second wave of the pandemic pummeled the city. And the pop-up was a way for the restaurant to keep everyone on payroll — more work meant more hours to go around. So Castillo relented, and Pedrito's Mexican Cocina was born.
It was a virtual restaurant in most senses. The tacos were only available for takeout and there was a stand-alone website and Instagram page, complete with its own cheerful branding. Turns out, running two restaurants from one kitchen is tricky, but it was worth the extra effort. "At the end of the day, it paid the rent,"  Albert Di Meglio, the chef and an owner, says about the combined sales of Barano and Pedrito's.
Restaurant owners have spent the last 15 months throwing ideas at a wall, and at some point, it seemed like everybody was selling groceries or hosting a friend's pop-up. Elsewhere, at a handful of restaurants like Barano, existing resources — talent, inventory, and time — were pooled to create something totally new while also increasing the visibility of a previously invisible labor force.
Emily in Brooklyn — known for its dry-aged burger and standout pizzas — has had tacos on its menu since Sammy Pico became head chef about a year ago. When one of the owners, Matt Hyland, was faced with the reality of having to cut back hours this past December, he decided to lean into Pico's taco-making talents and add breakfast tacos, simultaneously expanding the restaurant's menu and operator hours. Pico, who is from Ecuador and has a knack for cooking Mexican food, became the star of breakfast, putting together the recipes and getting constant shout-outs from Hyland on Instagram.
What happened at Barano and Emily is both old and new. Restaurants have always scraped by on slim margins, and efficient management of limited resources is often the difference between success and failure. Furthermore, attracting the widest possible customer base with a culturally promiscuous menu is a kind of dexterity that was perfected by neighborhood Chinese Latin restaurants across the boroughs decades ago, where lo mein is sold alongside arroz con pollo and chicken chimichangas. As a business owner in an environment of scarcity and survival, if your cook makes a really good guisado and you think the neighbors would like it, why wouldn't you throw that on the menu? (This is different, of course, from the native Chinese Latin cuisines that were born from immigration and assimilation across the Caribbean and Latin America.)
What is actually new is the rising visibility of some of the chefs and cooks doing the work. Running a restaurant is, and always has been, a team effort, but in most small to midsize independent restaurants, there's usually just one chef who gets credit (maybe two, if there's a partnership or a chef and a pastry chef). Castillo and Pico were both used to being behind the line, in command as head chefs, but very much out of the spotlight. Witnessing the joy their food brought to customers — and receiving credit for it — offered a newfound sense of pride. "It's a great feeling," Pico says. "That means I'm doing something right."
Offering this increased visibility is an idea that's gained traction at other spots in the city, too: Julian Medina has been cooking in New York for over 20 years. His restaurants have been a gold standard for good Mexican food since Toloache Bistro Mexicano opened in 2007. Recently, Medina opened a new restaurant in Greenwich Village called Kuxé, positioned as a pan-regional Mexican restaurant with a collection of dishes based on recipes contributed by the staff. A little blurb accompanies each dish on the menu, detailing the inspiration (for example, tacos dorados are described by its creator, Moises Rodriguez, the chef de cuisine, as "my mother's signature recipe. It is the best lunch snack on the planet!").
The concept was an attempt to rebuild morale among the staff as the physical risks of coming into work in a pandemic grew. It was also an indirect way of saying thank you; some of the cooks featured in Kuxé's menu have been cooking with Medina for over a decade. "It became a tribute," he says. "They're always behind the scenes. They've always been there, but there's never been any recognition." For Di Meglio, he was trying to balance staff morale and financial needs: "Everybody worked so hard to stay with me, and we all took cuts," he says. "I didn't want it to happen again."
With limited resources at hand, internal pop-ups and breakfast tacos offered some control over the situation, but these operators also know that, logically, it makes sense to pay these head chefs and sous-chefs for their added contributions over the past year — especially as the hospitality industry as a whole reckons with its history of low wages. "It's cool for chefs to let their sous-chefs put dishes on the menu," says one industry veteran I interviewed for this story, "but it's even better if you can let them benefit financially from it." The issue is that right now, no one at Barano, Emily, or Kuxé is pulling in loads of extra cash; they're making just enough to pay bills and keep as many people employed as possible. When asked if he would consider prorating his employees' pay based on the frequency that their dish is ordered, Medina says, "Maybe in the near future when the restaurant is profitable or breaking even. I've just been busy trying to stay afloat."
The reality is that paying a commensurate salary might not be possible within the current confines of a restaurant's balance sheet. Over the past year, certain cases of successful profit sharing and above-average wages seem to be limited to restaurants paying chefs and cooks who were, ironically, not on payroll.
At Dame's summer of pop-ups-within-a-pop-up, owners Ed Szymanski and Patricia Howard invited Tío Rey, a dishwasher who previously worked with Szymanski at Cherry Point, to sell his famously delicious tamales for a weekend. According to Szymanski, the goal was always to structure the event so that Rey could make a profit, but Szymanski was also quick to acknowledge how difficult this was, adding, "It's not like restaurants that don't do this are bad — everyone's financial situation is different." He concedes, "We were really privileged that we could do that."
Similarly, after the Good Fork in Red Hook closed last year, Sohui Kim, an owner, invited an ex-sous-chef to cook in the dormant space. For two months, Leland Yu ran a successful Chinese American pop-up called Mr. Lee's. Kim used government loans to make it financially worthwhile. "We treated it as business as usual, using the PPP loan to finance the pop-up and keep current on rent and utilities," she explains. "Leland received compensation as an employee and bonus for his hard work." Restaurant owners have so few options to support workers with a platform or better wages, and they just might have to go out of business (not to mention rely on government aid) to do it.
At Barano, Di Meglio is playing around with a form of profit sharing in order to boost the amount workers can earn each shift. But despite its success, Pedrito's Mexican Cocina shut down in May as the complexities of running two concepts began to outweigh the benefits.
"We are too busy right now," Castillo says. "But I'm really happy. It made me feel proud of what I can do." Now the neighborhood knows Castillo, and they know his talent. Visibility and attribution are at least one step forward for an industry that still relies on an ambiguous creative process and overcapitalized labor. But as restaurants now look to a well-deserved phase of growth, it remains to be seen if acknowledging the contributions of the staff over the past year will evolve into conversations about pay — the most meaningful form of equity and, at the end of the day, the detail that really matters.