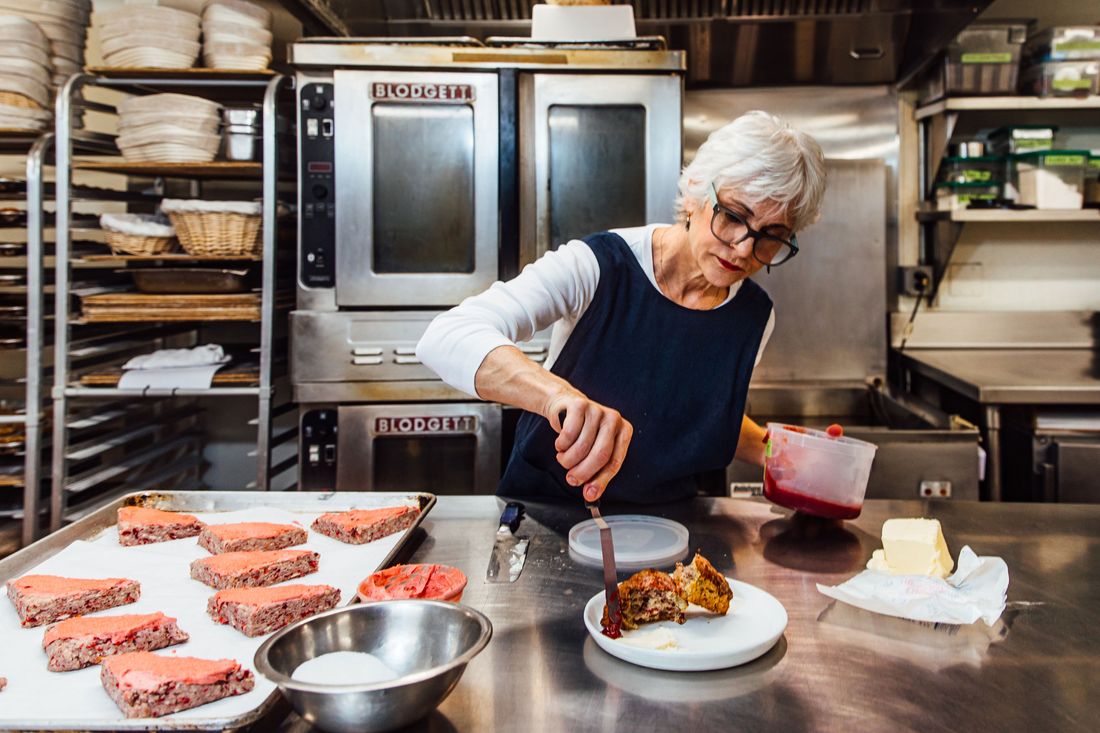 Claudia Fleming and her new scones at Daily Provisions.
Photo: DeSean McClinton-Holland
A scone is a scone is a scone. But the new strawberries-and-cream scone at Daily Provisions, permeated with fresh and dehydrated fruit and slathered with crème fraîche, is more than that: It marks the return of Claudia Fleming to the restaurant group where she made her name as a legendary pastry chef when she opened Gramercy Tavern with Tom Colicchio and Danny Meyer in 1994. Fleming's work there—emphasizing seasonality in the style of her West Coast role models; prizing flavor over elaborate presentation; borrowing ingredients from the savory kitchen; treating dessert as of a piece with all that came before—influenced the cooks who worked under her (Karen DeMasco, Gina DePalma, Shuna Lydon, Daniel Skurnick, and Deborah Racicot among them) and set a standard that endures today. Her seminal 2001 cookbook, The Last Course, became a cult classic and was reissued in 2019.
In 2005, Fleming left town with her husband, chef Gerry Hayden, to open the North Fork Table & Inn in Southold, Long Island, a trendsetting restaurant that helped ignite the region's farm-to-table movement. Hayden died of ALS at 50, and after Fleming sold the business in 2020, she decided to return to a city she hadn't lived in for 15 years and to a pastry landscape transformed by changing tastes and Instagram. In her time away, Dominique Ansel invented the Cronut, Christina Tosi disrupted the wedding cake, cookies waxed and cupcakes waned. She reconnected with Meyer, who invited her to rejoin Union Square Hospitality Group—this time to occupy the newly created position of executive pastry director, a sort of roving den mother of dessert. We spoke with her about her new role, her next book, and the excesses of salt.
People might not realize it, but you first worked for Danny Meyer at Union Square Cafe as a server and then a cook, long before becoming Gramercy Tavern's pastry chef. How did you end up back here now?
I reached out to him and said, "I sold my restaurant, and I think I want to come back to New York." And he was, like, "Great. Come talk to me." He was like, "What do you want to do?" I'm like, "I don't really know." He's like, "Okay, well, how about this, this, this, this, and this?" He just had this laundry list of things.
And at the top of that list was working with the younger cooks throughout the company?
Right. Everyone's super-young and the chefs are so busy and I guess Danny felt like it would be nice for the pastry chef—not the executive pastry chef so much but the younger ones who don't necessarily have somebody to talk things through with—to experiment, to just see their ideas through. Just to explore and help them develop and collaborate, really.
Even before the pandemic, the pastry chef seemed like an endangered species.
It's not the freewheeling, money–raining-down-on-us '80s anymore. A dedicated pastry department is a luxury. I feel like people are becoming less specialized. Especially since the pandemic—we all know how hard it is to get people to come back. So people are being asked to multitask. There just seems to be a broader interest across the kitchen, more crossover. Cooks aren't afraid of pastry, and pastry cooks aren't afraid of the line.
What effect do you think that will have?
I think things will become simpler. There'll be less bells and whistles. And I find simple to be very hard. It's hard to camouflage things, you know.
Why did you decide to announce your arrival with a scone at Daily Provisions?
They asked me to make a new breakfast item, and since they didn't have one and I love scones, it just seemed like something I wanted to do. I like the tender, buttery, crumbly … I like working with doughs. I've enjoyed the million different trial and errors that I've done with buttermilk, with cream, with egg, without egg, stacking them, putting folds on them, not putting folds on them.
Will you be expanding the dessert programs around the company?
I would say I'll be developing them at the newer restaurants. Like Ci Siamo, with chef Hillary Sterling. She and I will develop the menu, and we'll hire a pastry cook, and they'll execute. Very much like I did with Tom at Gramercy Tavern. Initially you're doing somebody else's menu and then over time, with collaboration through the chef and myself it will evolve, hopefully, into this person's own menu.
How has the pastry scene changed in your time away?
I feel like it's a baker's paradise. All of the home cottage industries that have popped up during the pandemic? Wow.
Do you think today's young cooks feel readier to strike out on their own than when you were getting started?
Absolutely. Everyone wants to work for themselves. And not just in the restaurant industry. Everybody's gonna come up with the next million-dollar idea, right? Everybody wants to work from home. Unlike me, people don't want to work in big companies. We'll see how this turns out. It may have been great when people were home and couldn't go out and get a variety of things. It will be really interesting to see how it continues to evolve. Another thing I find with younger cooks: They've done something ten times and they know how to do it. Hmmmmm. Not so much. Call me when you've done it 500 times.
Repetition is key?
Yes. Persistent and constant repetition. Before I became a cook, I trained to be a ballet dancer. It was just, Repeat, repeat, repeat. And every time had to be better than the time before. It was also something that I didn't hate.
So many things that you pioneered at Gramercy Tavern are commonplace today, like putting sea salt on pastries, like your famous chocolate-caramel tart.
I know, I know! Isn't it unbelievable? And I said to somebody recently, "Can we lose some of the salt? Everything doesn't need salt, and I'm the one that started this whole thing!" It was after a trip to Paris, and they were doing it there, and so I started doing it here. I was definitely one of the first, and I don't really say that about anything that I do. But I can kind of say I helped spearhead that trend.
Were some of your desserts during that era considered innovative or "weird"? How did people react to, say, corn ice cream?
Everything's been done already, right? So that inspiration … I mean, that's very Mexican. I didn't come up with that. I'm not that smart. I'm just riffing on other things. Nothing's original.
If Instagram had been around in the late '90s, how would it have affected your career?
I'd be screwed. I never take pictures of my food. Food that I'm eating, food that I'm making—just anything. And now, of course, capturing the image is as important as eating the dessert. Sometimes I just want to say, "Put your phone away and look at what you're taking a picture of. Just embrace and enjoy it."
Not that your desserts at Gramercy Tavern didn't always look beautiful. 
But I really just wanted people to love and eat dessert. I didn't want them to ooh and aah. It used to drive me crazy when people would say, "Oh, it's too beautiful, I don't want to eat it," and I was like, "Oh, no, that's not how it's supposed to be."
After you sold the inn, did you know that you wanted to be in a restaurant setting? Or were you thinking, Maybe I'll teach, maybe I'll write another book?
I am doing another book. I'm just finishing it up. It was me, on the North Fork in my little tiny cottage with an electric stove and oven, just baking what I wanted and putting it in my neighbors' mailboxes. I couldn't knock on the door because of COVID. It's very much baking from home, almost half savory stuff: savory pastries, savory tarts, a mushroom-brioche sticky bun kind of thing with a miso glaze. The Last Course was very much influenced by the restaurant. This is so much simpler. There's literally a chocolate-chip-cookie recipe in there and a brownie and a strawberry-rhubarb pie. Not anything I ever did in a restaurant. And it was during the pandemic, so, you know, I was buying shit from the grocery store.
Like Nestlé morsels?
Well, not quite. I opted for the Guittard.