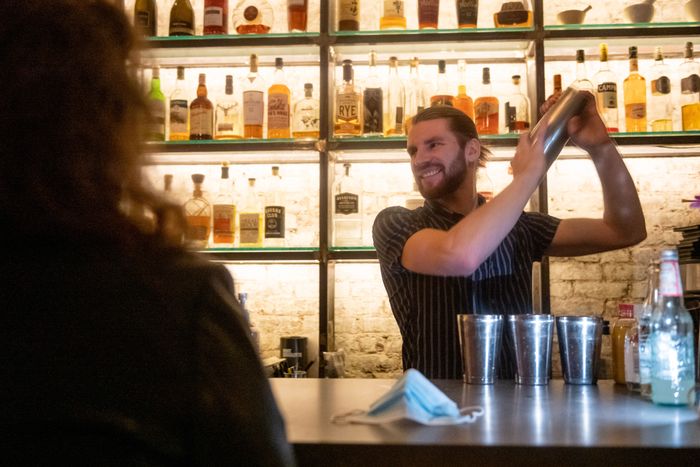 Photo: Alexi Rosenfeld/Getty Images
Last week, New York marked the end of COVID restrictions with fireworks displays around the state. The pandemic is absolutely not over, and the reverberations of a year unlike any other don't simply go away with a government-ordered celebration, but there was still plenty of excitement and relief among New Yorkers after a winter of grim isolation that capped off a very difficult year. Now, as case counts drop and the city's positivity rate continues to decline, New York City's restaurant workers say they're feeling something they haven't in a long time: a sense of safety within their workplaces. As one longtime bartender tells Grub Street, "After a year of hell, it feels pretty great just to live and not be scared."
One big reason, of course, is that the vaccines have proven effective at preventing virus transmission and asymptomatic infection — the main dangers that faced workers over the past 16 months. "As far as I know, the risk of transmission is so much lower that I'm not as ethically concerned about passing it," says Logan Rodriguez, who is a manager and partner at Yellow Rose.
"As far as public safety goes, I am very comfortable with my vaccination," says Rachel Green, a pastry cook at Gramercy Tavern. "I'm at the point where I feel ready to take my mask off at work."
It's a marked change from this past February, when Governor Andrew Cuomo first announced that New York restaurants could reopen for indoor dining — before restaurant workers were deemed eligible for vaccination. Even though Cuomo quickly adjusted that stance, workers say it took a bit for the reality to actually sink in that the risk of transmission was so much lower after vaccination. "At this point, we've done what we need to do to protect ourselves," says sommelier Lisandra Bernadet, who works at Leo in Williamsburg. (Bernadet, who comes from a Latino family, says she has relatives who have been hesitant about the vaccine and points to people's experiences with medical racism and how that erodes trust when it comes to healthcare.) "At some point, we just have to move on and not worry about people who are choosing to be selfish." She adds, "I am vaccinated. I've done what I've needed to do. I will wear my mask where I need to, but I'm also just kind of like, Let's go."
Yet Bernadet understands that not everyone feels completely safe, and she hopes owners will talk through and respect their employees' choices. "It's all case by case per restaurant," she says. "Everyone has different levels of comfort."
However, the workers that spoke to me for this story were quick to make a different point: A renewed sense of safety with respect to their health does not erase the scars from the past year, nor does it make workers more content with where the industry stands.
They have not forgotten, for example, that in the confusing, uncertain weeks of early lockdown, countless hospitality workers got sick (perhaps including themselves), and a still-uncertain number passed away. Green, the pastry chef, worked with one of those late cooks, Jesus Roman Melendez, who died in April. "When it happened, it petrified me to the point where I wouldn't leave the apartment for ten to 12 days at a time," she says. "It was just such a loss. I'm not going to pretend like we were best friends who would go out drinking, but at work, he was the sunshine."
Many in the industry experienced the brunt of both the economic recession and the pandemic and, like Green, know people who died or got seriously sick. Returning to "normal" may be easy for some customers, but it hasn't been as simple for workers after a year of anxiety about their health, while also being tasked with policing customer behavior and feeling hung out to dry.
"I made a promise to myself, after I got the vaccine, to work on my anxiety because at a certain point that becomes as big a liability, health-wise, as trying to prevent getting the virus," says Stephen Walkiewicz, a bar manager at one popular downtown restaurant. He says that while he feels comfortable now, he can still feel uncertain when he sees people walking around without masks. At his restaurant, he adds, management has been hesitant to bring back bar seating. "There's still residual neuroses — moments of unease that crop up."
Part of that confusion likely stems from jumbled messaging from the CDC. Restaurant workers have also criticized the city for how it has handled enforcement. "The city enforced the performative and put a ton of labor on us to uphold asinine restrictions that made our lives harder," says one bartender. "They didn't enforce any of the things that might have kept us safer."
That feeling of unnecessary vulnerability still lingers for many and continues to affect interactions with customers. "We can't just go right back to giving 100 percent of ourselves on the floor every night after a solid year of being treated like garbage," says Erica Catubig, a sommelier who is now leaving her restaurant job for personal reasons. "We can't pretend that customers didn't come in here three months ago yelling at us about mask protection."
Others echoed these comments. "I think the pandemic solidified how unfair I feel the culinary world is, and that we don't really realize the toll it takes on people's lives," says Isabelle Brosen, a pastry sous chef with Union Square Events.
A sense of safety, though, is an important first step. Now steps must be taken to help workers regain the sense of trust that is crucial to doing the job well. "It does feel weird, going back to a typical server interaction — being friendly as a job," says Rodriguez, the Yellow Rose manager. "That feels a little thin now, in a way it didn't before."