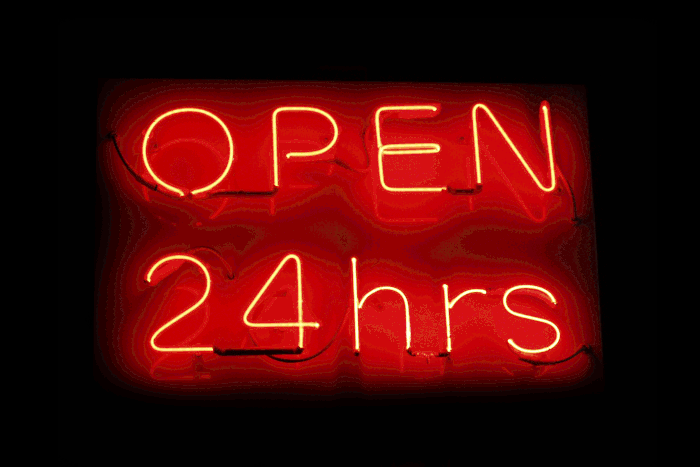 Not so fast.
Photo-Illustration: Grub Street. Photo: Getty Images
On Monday, Governor Andrew Cuomo's midnight curfew was officially put to bed, the latest COVID restriction to be eased. The law was subject to plenty of criticism as well as lawsuits from restaurant and bar operators who asked, "Does the coronavirus only come out at night?" As New York has eased restrictions on restaurants and other businesses over the past month, many have decided this means one thing: New York is back, baby, and it's never sleeping again! But nightlife that stretches into the predawn hours hasn't returned in full force just yet, and operators at some of the city's most fabled late-night restaurants say they're unable to flip the switch.
Since 2012, Katz's has been open around the clock on weekends for people who are seeking to re-create When Harry Met Sally or are simply in need of a post-bar pastrami sandwich. For now, however, the famous Lower East Side delicatessen will stay only open until midnight. At the moment, there's simply not enough foot traffic.
"We're still planning to go back to that model. We're just looking at other bars and restaurants in the area and seeing when those crowds come back, when bars are open until 3 or 4 a.m.," says Peter Carter, director of marketing and communications for Katz's. Carter is unsure when the restaurant will be able to expand its hours, but he guesses it could happen by July 4. "I would love to provide a date, and I think our staff would like to be open 24 hours on the weekend. But it's just a matter of when those crowds return. We are seeing it getting busier and busier every single week."
Just a few blocks away, at Punjabi Deli, an East Village institution that caters primarily to South Asian cabbies, it's not the lack of foot traffic that's preventing it from returning to late-night hours but the lack of taxi traffic. According to co-owner Kulwinder Singh, before the pandemic, roughly 60 percent of his business came from taxi drivers popping in to get chai, grab some chaat or samosas, and use the bathroom. But now, "business is 70 percent from the community here, and only 30 percent are taxi drivers," he says. "Nobody wants to even drive taxis here. Indians have gone to trucks because there's more money there."
Singh's concerns are well founded: The taxicab business evaporated overnight during the lockdown (Curbed reports that there are currently only 3,500 cabs out per day, compared to 10,500 before the pandemic), the pandemic worsened debt for many drivers, and a survey by the New York Taxi Workers Alliance reported that half of the city's cabbies got COVID-19 or someone in their home did. "I know many taxi drivers who have gone from this world," Singh says. At the moment, Punjabi is open only until 10 p.m.
Up a handful of blocks on Second Avenue is Veselka, perhaps the city's most well known 24-hour diner. In the past, the restaurant has benefited from its proximity to venues like Webster Hall and downtown theaters, including the nearby Theater for the New City. It's also in the heart of the East Village's nightlife scene, soaking up customers who have left bars as well as staff who needed some carbs after a long shift. "I don't think the industry types are out there," says Jason Birchard, the restaurant's third-generation owner. As for when Veselka will go back to around-the-clock borscht service, Birchard doesn't know yet: "I don't want to jump back in. It's been a big dilemma."
While Carter says Katz's retained staff during the pandemic, others, including Birchard, say they simply don't have enough employees to bring back late-night service to the extent that they once could. At the moment, Veselka has about 60 employees, compared to 100 before the pandemic. At the same time, the diner has made way for roughly three times as much seating outdoors and is doing indoor dining at 75 percent capacity. "We're known for being [open] 24 hours, seven days a week," Birchard says. He plans to restart 24-hour service on weekends soon, "like I did 30 years ago," and hopes to bounce back to full-time 24-hour operations by the fall. "I can't tell you when it's going to happen, but that's my goal."
John Singh, the general manager of Elmhurst's Georgia Diner, says he hopes to reopen for 24-hour service in July. (The restaurant is currently open until 11 p.m.) "In the beginning, we're going to be open for 24 hours on Friday and Saturday only, because we don't have the help," says Singh. The business currently employs about half as many people as it did before the pandemic. "We can open, but we don't want to disappoint the customer. The customer doesn't understand you don't have the staff — that's not their problem," he says.
As cities around the country have eased COVID restrictions, restaurant and bar owners have struggled to find staff. In New York, some hospitality workers are exploring similar but different career options like running their own pop-ups. Some are leaving the industry altogether, either because they couldn't make it on unemployment alone (particularly without supplemental unemployment) or because of issues around pay, treatment, quality of life, and lack of benefits like health insurance. Others who work in industries like Broadway but also depended on restaurants and nightlife for their income might have left the city, and Birchard says some of his employees have returned to their home countries. One restaurant manager says he believes that the crunch is happening in part because the hiring market went from "zero to 100" in only a few weeks and that the imbalance will be corrected over time.
To counter the labor losses, some business owners are raising their hourly wages either to attract employees or out of a desire to create a more equitable industry. Others are offering incentives that range from the laughable (Applebee's free appetizers with a job application) to the short-term (signing bonuses of a few hundred dollars) to the more substantial ( health insurance and a matching 401(k)). There are some signs of recovery: The New York Times reported that New York City's restaurant industry added 15,000 jobs in April, and economist James Parrott tells the paper that this was a "relatively strong rebound" compared with the country overall. While they say business has picked up, many restaurateurs also express concern about the lack of tourists, which the city's own tourism agency estimates won't return to pre-pandemic levels for years.
Not everyone has a concrete plan for reintroducing late-night service. At Gammeeok (open until 10 p.m. on weekdays, and midnight on weekends) in Manhattan's K-Town, a neighborhood with a particularly robust late-night scene pre-pandemic, management says the restaurant is hiring up to reopen for late-night service but didn't elaborate further. A server at the nearby New Wonjo (currently open until 10 p.m.) expressed uncertainty about when the restaurant would reopen for 24-hour service on weekends, saying it could happen as late as next year. (Ultimately, it's up to the boss, they added.)
Down at Punjabi, Singh says he's hopeful about nightlife coming back and, with it, at least some more late-night samosa sessions. "Right now, all the clubs start to open in this area, and we hope that as people come out and have fun, the economy starts to get better," he says. Will Punjabi reopen around the clock? "We will see how things come back," he says. "We'll try."