Tom Wright, dressed down for the day.
Photo: Christian Rodriguez
Over the past year, my Instagram feed has been inundated with photos of slim, eight-ounce, jewel-toned glass jars all stickered "Tom's Juice." The posts weren't just coming from any people, but rather, cool people: stylists, skaters, artists, chefs — a regular who's who of the greater downtown in-crowd. I needed to know: Who is this Tom guy and what's up with his juice?
Described as "the underground GOAT" by Supreme store manager and community organizer Aaron Wiggs, Tom's Juice is the small-batch, cold-pressed fruit (juice) of 31-year-old New Zealander Tom Wright's labor. "Tom's Juice isn't really a juice company. It's more like a brand that sells juice," Wright says. Though he started juicing as a side hustle in 2019, it became a permanent pivot when COVID-19 struck and Wright's other gigs fell through.
No stranger to the streetwear scene, Wright had a brand back in New Zealand called Shark Week, and he believes his retail experience contributes to his business approach today. "I think my background helps because I still look at Tom's as a fashion brand in some way," he says. "But instead of selling jeans and T-shirts, it's juice."
Unlike the blends available at many juice bars, Tom's Juice comes in single-ingredient, ultraconcentrated flavors. This month's lineup includes cantaloupe, honeydew, pineapple, grapefruit, celery, and extra-potent ginger-lime shots, among others. The corporate vibe at bigger chains is antithetical to the experience of ordering from Wright, who hand-delivers each juice on his bike, rain or shine. Artist Philip Post says that Wright even delivered him celery juice when he was in the hospital ("It helps with my stomach issues").
Former Bon Appétit editor Alex Delany, another fan, praises Wright's occasionally "showstopping" delivery outfits. "He looked like he was either from the future or from a 1991 workout video," says Delany, describing Wright's swishy gray Palace tracksuit and aerodynamic-looking glasses.
The aesthetic and packaging are all Wright: He quickly whipped up the logo in Photoshop and settled on the slender glass bottles after a few rounds of trial and error. A handful of Tom's Juice ads are wheat-pasted around Manhattan, thanks to Wright's girlfriend and part-time employee, the stylist and director Zoey Radford Scott. The couple's connection to the fashion and production world, in addition to Tom's genial attitude, helped propel the gospel of fresh juice around downtown and Brooklyn circles.
Wright knew the demand existed, especially after working part-time at Café Select in Soho and having to break the news to customers that the juice on the menu was not actually fresh-squeezed. It was there that Wright first met artist Curtis Kulig, now a regular Tom's Juice customer, who attributes the line's success to Wright himself. "What makes Tom's juices so special is first and foremost Tom's energy," Kulig says. Beyond that, Kulig cites "the [juice's] consistency, the minimalist recipes, the correct amount of juice per bottle, the reusable glass, and the delivery."
Sommelier André Hueston Mack heard about Tom's Juice "through good ole word of mouth," and was excited to try it for himself. He liked the juice so much he offered to carry it in his own establishments, & Sons and the newly opened Mockingbird Taco. "Small business and entrepreneurship really get my juices flowing, and if the product is good, I want to be able to stand on my little soapbox and preach about it," Mack says. "Oh, and there's Tom!" he adds. "If there's one thing that my long career has taught me, it's don't work with assholes. Life is too short; he's definitely not one of them."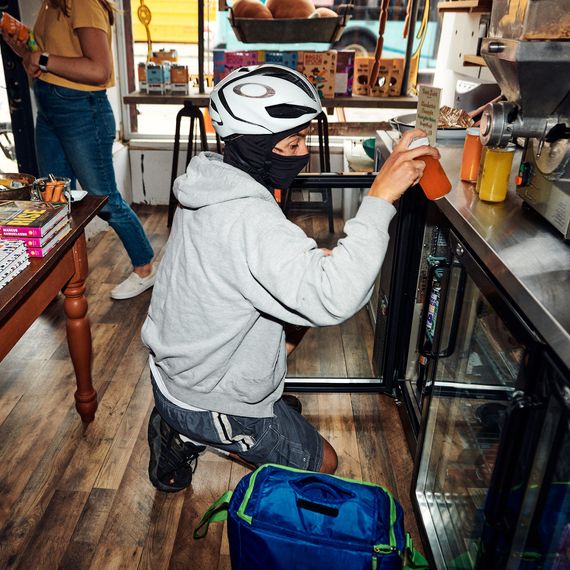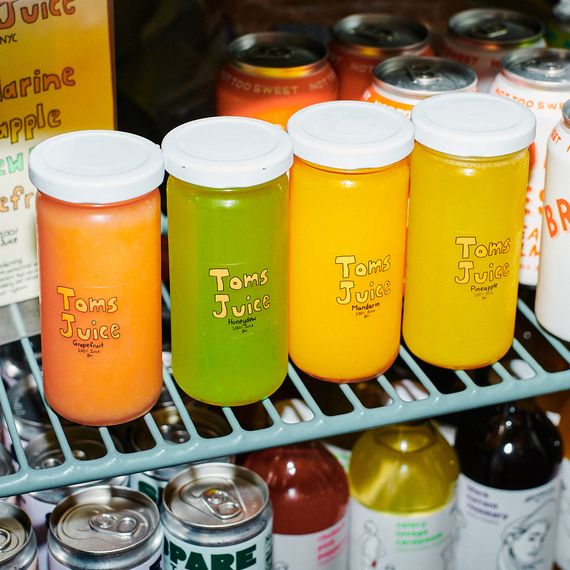 Besides being friends with what feels like all of downtown's fashion scene, Wright also participates in it. He casually appears as a model in the SS21 Maryam Nassir Zadeh campaign. Last weekend, the Ganni shop on Mercer Street was giving away free Tom's Juice with purchases to celebrate its new pre-fall collection. Stylist and vintage dealer Emilia Musacchia first got a taste of Tom's Juice at Wiggs's Black Lives Matter sidewalk sale last summer and has been ordering ever since. "He's a very kind guy, and always appreciative of your business."
Beyond raising $2,505 for mutual-aid organizations last summer, Wiggs said that Wright's biggest contribution was in his attitude. Wright never had to be reminded: He would simply show up, with his signature good vibes, and sell out of juices within the first hour. When the summer ended, Wiggs started seeing Tom's Juice in the fridge at the head office of Supreme, and noticed a general enthusiasm whenever it was around. "The more we got to know about Tom," said Wiggs, "the more everyone was obsessed with Tom."