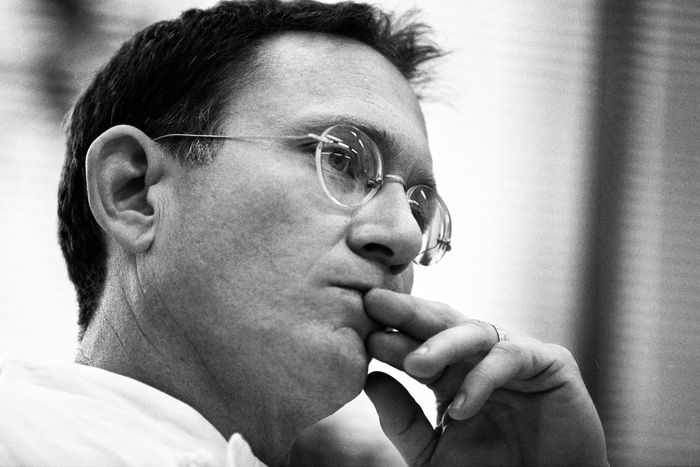 Mark Peel.
Photo: Gary Friedman/Shutterstock
The Los Angeles chef Mark Peel, who co-founded the influential, now-closed restaurant Campanile, has died at the age of 66. His death was reportedly sudden, occuring only nine days after he was diagnosed with cancer, his daughter Vanessa Silverton-Peel tells the Los Angeles Times. In a statement to Eater L.A., Peel's family writes, "We will miss him and his cooking with all our hearts (and stomachs)."
During his career in the restaurant industry, Peel worked for several of the chefs credited with shaping what's called California cuisine, including Wolfgang Puck at Ma Maison and Spago (where he was chef de cuisine), Ken Frank and Jonathan Waxman at Michael's, and Alice Waters at Chez Panisse. (He started his career, the Times notes, as a dishwasher in high school.)
In 1989, Peel and his then-wife Nancy Silverton opened Campanile, a place that was, in its heyday, "the quintessential Los Angeles restaurant," per the Times. (The two started La Brea bakery around the same time, selling it in 2001; they divorced in 2005.) In a separate remembrance, Times restaurant critic Bill Addison shares memories of his first meal at the restaurant in 1997, writing that "few chefs, then or now, really pull off the simple-yet-profound style of cooking with consistency and abject deliciousness." These feelings were widely shared. When Campanile closed in 2012, the late and legendary food critic Jonathan Gold wrote, "A lot of great restaurants have opened since Campanile came online in 1989, but nothing since has been quite the same."
Gold argued you'd be hard-pressed "to overstate Campanile's contributions to American cooking," and credited it as the place that "codified the style" of fine-dining restaurants built around grills and serving more rustic food. Campanile's impact can be further felt in the people who worked there, including A.O.C.'s Suzanne Goin, Hippo's Matt Molina, Cassia's Bryant Ng, and Jar's Suzanne Tracht.
After the closing of Campanile, Peel would go on to open Prawn Coastal Casual in the Grand Central Market. He also made appearances on food televisions shows like Top Chef Masters and Knife Fight. Speaking with the Times, Peel-Silverton says she doesn't think her father was made for the "rock-star chef era," and that "he always thought of himself as a cook, he thought of himself as doing manual labor."