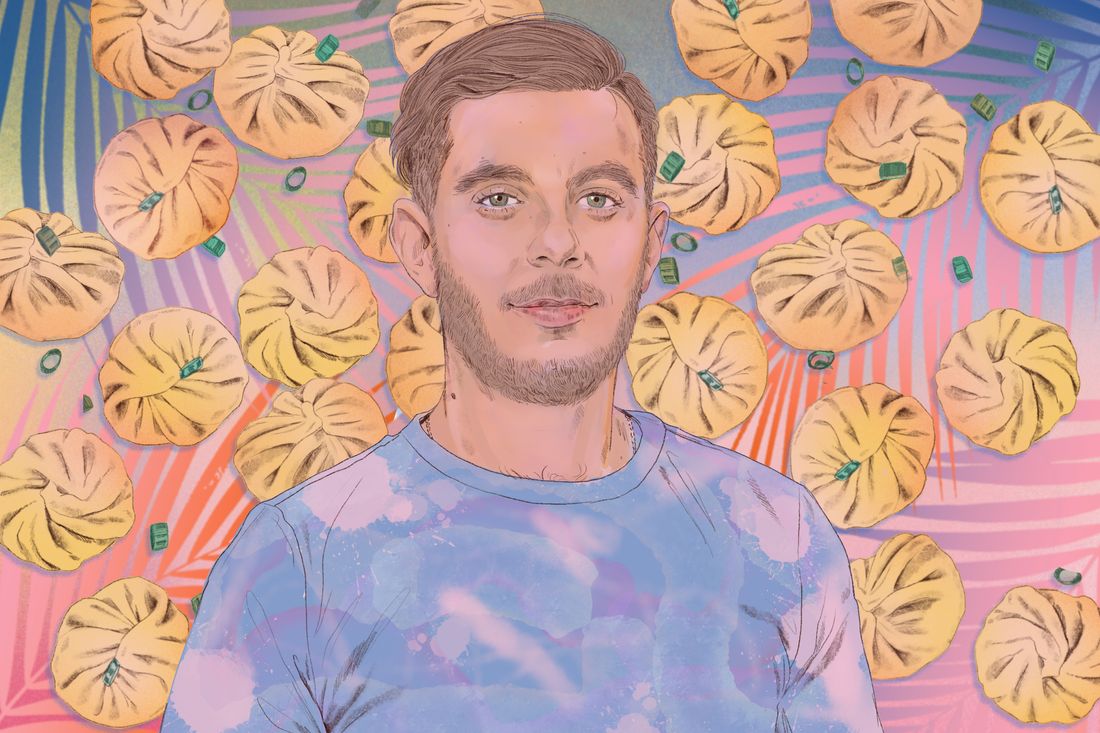 "Food technology is so crazy," says Lake about the advancements in vegan products.
Illustration: Lindsay Mound
Joss Lake's debut novel, Future Feeling is, according to our friends at the Cut, "the queer surrealism you've been waiting for." Set in a dystopian future where avocados don't have pits, Lake's trans characters navigate relationships and dynamics that can't be easily categorized or labeled. Interestingly, Lake's approach to food — he's vegan and currently abstaining from alcohol — means navigating other gray areas. He wants to stay consistent with his veganism and sobriety, but has questions: If eggs are locally sourced and come from happy chickens, is that okay? How about a sip of homemade currant liqueur? Ultimately, Lake says, "I'm trying to live in the space where I'm thinking about all of my options."
Friday, June 11
I have to run my dog outside because she's getting older and she doesn't always have great control of her pooping, so I have to make sure we get outside. I have a backyard but she will never poop in it. It has to be a walk.
Something that keeps coming up when I go on these dog walks is that there's someone in my neighborhood that's selling a bunch of used cars. I know that there's a used-car shortage right now, and I've been thinking about buying a car, so every time I go on a walk, I see all these cars with that white note on them that says the price and the year, and every morning, I'm just like, Should I get a car? Do I get this car? That's been an interesting inner debate.
I give her breakfast and then I start to make my own. Sometimes on Fridays I like to do a more extensive breakfast routine than I might normally do on a workday. I made tofu scramble with turmeric and vegan cheese and I had some chive flowers from a friend's garden in the Rockaways, so I sprinkled that into the mix.
I recently started to go off of coffee, which has been a very on-and-off situation, so I made chai with some vegan creamer and some greens. I was going to eat outside in the backyard but it was cold, so I just ate in the kitchen.
I'm teaching at the School of the New York Times, so I hopped on a Zoom at 10. I don't know what the etiquette is about drinking tea on Zoom. I mean, occasionally students are eating. I think people should be allowed and encouraged to do what they need to do to take care of themselves, but it still seems like it's looked down upon to mix eating and classroom space, because I guess in person you would also be discouraged from eating — which is its own question: Is that okay? When is it appropriate to eat in a school setting? But we do take a ten-minute break in the middle of the morning, so if people need to snack, they can do it then.
I made a sandwich for lunch. I bought these classic New York sandwich rolls, like you'd get from a food cart or something, and I used Tofurky roast beef, which is good. I have bad memories of Tofurky and Daiya cheese from like ten years ago, when the food technology had not advanced to the point that it has now. So that's why I have to say it's actually good.
I toasted everything with chao cheese and then added some greens, mustard, vegan mayo, and what really made it work was I had these pickled onions from a farm in Vermont that for some reason I had just been keeping in my pantry for a special moment and I added those. I feel like I get really excited about products that mimic meat. There's still just this strange allure of something that seems like a stand-in.
Class again. I try to do fun exercises and things to try and get the students to introduce themselves and try and open up a little bit, because one issue with Zoom is there's no small talk that you would get in a classroom, like before class, after class, or during a break, and because the day is so long, I try to open up space for students to introduce their pets, or tell us something about where they live or talk about how the pandemic has been for them, just to kind of make it feel like we're relating to each other and not just sticking to the academic side of things. But it's also hard to get high schoolers and college students to engage on Zoom.
My friend Ariele came over and we planned to drive to Hudson to meet friends and stay upstate for the weekend. We had to take a cab to LaGuardia to pick up the rental car, and I was a little worried because there has been this rental-car shortage. I had been in St. Louis during the pandemic. I'd planned to drive back, but I got a call from the rental agency the day I was supposed to leave. They said that they were out of rental cars. I was like, "But I made a reservation?" They said, "Sorry but our cars have been totaled, or people haven't returned them. All we have is a cargo van." And I couldn't drive a cargo van from St. Louis to New York. I eventually found a car somewhere else but it was kind of a nightmare.
It was pure chaos at LaGuardia. They did have cars but there was a huge line all the way out the door. At least Ariele brought this really good lemonade from Brooklyn Best. It's lower sugar and we had some popcorn to snack on. So we drove upstate and the plan was to go to the restaurant Lil' Deb's Oasis to celebrate my book. Ariele knows the people who run it, and we've been there a lot before. The space reminds me of the book. It's really colorful and everyone there is queer and it's a really fun place.
We got there around 9 and it was wild. People were on the sidewalk waiting. It was really, really busy and we met our friends who were coming. Ariele had invited friends and forgot to add them to the reservation so we had a party of eight. We finally got seated at like 11:30. We were just kind of hanging out on the sidewalk.
They came and took our drink order. I stopped drinking alcohol the January before the pandemic, and during the pandemic there weren't social things going on, so it wasn't a huge deal. Now I'm like, What is my relationship to alcohol? I'm thinking through that.
Some people were drinking and some people weren't. They had a salted umeboshi plum seltzer that was amazing.
We all ordered a bunch of things to eat, too. We were sitting at this circular table with a lazy Susan so we did end up passing things around but there was a lot of conversation about everyone's diet. I had this amazing salad with fresh greens, slices of watermelon radish, and crispies. I don't know what they were — a fried, crispy topping. And then we shared a dosa that was really colorful, with cilantro and oyster mushrooms and spicy sauce. We also ordered this "plato tropical" that was beans and chard and pickled onions and rice, and I don't know what they put into the beans but it was magical.
I had to ask. I was like, "Are you sure this is vegan?" Because it was so … I mean, I love vegan food. I'm not trying to hate on it, but this was so rich and creamy, I was like, What did you stew this in that wasn't like ham hock or something?
The thing about Lil Deb's is everything is so colorful: The tables are colorful, the walls are colorful, the food is colorful. All of your senses are alive when you eat there.
Then we went to see Ariele's friend Elise. She has a refurbished Airstream and a school bus. She had brewed some sort of mushroom chaga. She had it on the stove, and she offered it to us, and then she had some homemade currant liqueur. I'm not totally abstinent, so we had this currant drink that reminded me of the strawberry hard candies that my grandparents used to have, a very light, fruity taste. Then we went to bed because it was like 1:30.
Saturday, June 12
I had oatmeal and Elise has this big garden, so I made a salad. It was a beautiful breakfast: We were sitting outside at this long table and there were all these kittens around and chickens and they have this huge dog named Brutus. Elise poured me something that she also made, called cordyceps. It's also, I think, a mushroom and it's an orangey color. It's supposed to be good for you. They're very into composting, brewing, and any kind of project. I've lived on farms, and I really love being on farms, but my natural inclination is to be in a quiet room reading, so whenever I meet people who are super-handy or super into making things, I just admire that because it's outside of my own wheelhouse.
The cordyceps didn't really taste good but it felt good to drink it.
And then we went horseback riding. Ariele and Elise's friend Karin has like eight horses. The horse that I was riding was named Honey.
We were snacking on apples and nuts, but it was actually really hot, so we weren't that hungry. We went into these woods and something that Karin is really knowledgeable about is mushrooms, so we'd be walking along on our horses and she'd be like, "Oh, there are Dryad's saddle pheasant back." Or, "Bear's head Tooth!" "Crown-tipped coral!"
Then we went into Hudson to say hi to Elise, who runs a store there, and it happened to be Flag Day. Flag Day is apparently an enormous event in Hudson, so the streets were all closed off, there were kids and people coming in and everyone was waving flags and celebrating the beginning of summer, and so yeah, we found Elise. We said hi. We met some folks and then we went into this very bougie kind of expensive grocery store that we always go to when we're in Hudson. I think it's called Olde Hudson.
Ariele makes and brings her own food everywhere so she had already eaten, but I was hungry so we got snacks to take because we were going to another friend's house in Woodstock. We got a baguette and hummus and pesto and a drink called switchel. It was like a lime-and-ginger apple-cider-vinegar drink that was really good. We also saw a food truck that had Vietnamese food. The tofu banh mi was truly delicious.
Then we drove to Woodstock. We had been planning to go to Garden Cafe in Woodstock, which is actually the place where I realized I could become a vegan. I had been thinking about it, but I wasn't sure because of eggs. I was like, I'm cutting out cheese but I like eggs. Then I had a tofu scramble there that was so delicious, and that sealed it. So she was like, "Oh we have to go 'cause they're closing at 7:30."
We met my friend Nicole at Garden Cafe and sat out on their very cute patio. We had a tofu satay and I had this Indian red lentil enchilada dish that was really good. It had cashew sour cream, lentils, kale, and a side of these apples with turmeric, so they were bright yellow.
When we got back to Nicole's she brought out this beautiful vegan cake that she'd bought to celebrate my book coming out, and it had this really interesting abstract black-and-white design on top. We ended up talking for five or six hours that night. It was great seeing friends who knew a lot about the book, really celebrating and talking about it. I think it made the book more real. I enjoyed the virtual events I did around its publication, but there's something abstract about that and so having friends there, celebrating, made it feel like it actually happened and wasn't just this fleeting internet experience.
Sunday, June 13
One thing I got at Olde Hudson was a muesli called Mu Mu Muesli. The package has a cow in a muumuu for some reason. I had that with banana and oat milk.
Around noon we packed up and got on the road. It ended up taking forever because of traffic, so we were just, I don't know, getting a little hangry as we were heading back into the city. Ariele was bartending at this place Nowadays, which has a Sunday day and night party, so we dropped her off. That's so not my lifestyle right now, like Sunday I'm like doing my laundry, but there was a line all the way down the street of people waiting to get in. By the time I got home, I was hungry and didn't really have groceries, so I ordered from this place Gold Sounds, which I hadn't heard of but is a music venue that has a vegan food menu. I got an oyster-mushroom "chicken" sandwich that was good, but they literally had the best tater tots I've ever had in my life. I want to email them and ask them what they did. They were just perfect golden crispness, but it was so far and beyond any other tater tot that I've ever had. So I'm like, You're a music venue that also has amazing tater tots? 
I was very happy and then I had to do work. I had to catch up on some feedback on student writing and I made some chamomile. It was a pretty chill Sunday evening.
Monday, June 14
I was working. I had waffles with peanut butter and actually this amazing vegan yogurt called Cocojune that's vanilla chamomile yogurt. So good, and really, really creamy. Food technology is so crazy.
I had to tutor after working, so it was lots of Zoom, and I was hungry. I made this big pot of mujadara, which is just rice and lentils with caramelized onions. It's comfort food, but it's not super heavy and it's really good with yogurt. The only vegan yogurt that my grocery store had in plain was Silk almond, and that was not gonna cut it. So I bought Tofutti cream cheese and I added a little bit of that and it worked really well. It added that sort of creamy, tangy taste. Then I had some of the cake that was leftover from the other night.
Tuesday, June 15
Again: waffle, yogurt, peanut butter. For lunch I had more mujadara and I added in the pickled onions. For dinner, I met my friend Naima who is also a writer, at Speedy Romeo. It has a bunch of St. Louis–style pizzas which is really interesting because people usually hate on St. Louis pizza, which is known for cracker-thin crust, sweet sauce, and Provel cheese that is completely manufactured in a lab. It's really gummy.
My friend isn't vegan but she was cool with splitting a pizza with me, so we had this artichoke pizza with "tofu cream peas." I'm still not really sure what that means, but it was artichoke with a creamy element and herbs. Then we split a salad.
When I was younger, I always assumed there was some right way to live or that other people had it figured out and I would just admire them. But with any kind of decisions, and as I've gotten older, I've really come to try to inhabit a really flexible place. Something I've learned, just about trying different lifestyle things and being in therapy, is you have to give yourself room to change your mind and make mistakes. With veganism, there's a big question of: To what extent am I being rigid? and To what extent am I just being intentional? 
I am trying to live more from this place of, What very intuitively feels right? The pandemic did allow me this space to have a more rigid lifestyle. It was easy to not drink and it was easy to be vegan, because I was cooking for myself and I wasn't coming up against social situations where I would be the only person not drinking, or deciding not to go to a restaurant because the only thing they have that I could eat are beans. So it was actually a more comfortable space to explore healthier ways of living, and I know various friends of mine are going through similar things. Obviously the pandemic, in many ways, was extremely difficult and for some people really traumatizing, and at the same time, for some people it did open up more nourishing ways of living, so that the idea of "going back to normal" would threaten or erase some of the possibilities as you get back to hustling all the time. And, in a lot of social situations, there's less space to think about what it is that you really want. I'm trying to live in the space where I'm thinking about all of my options, and for me, what's most important is acknowledging that I have choices. I'm thinking about what it is that I want.