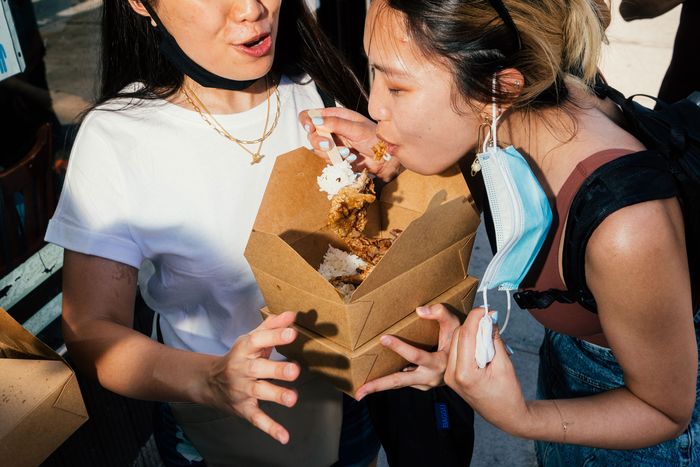 Pork chops over rice from Taiwanese Gourmet.
Photo: Poupay Jutharat Pinyodoonyachet
Bryan Lozano spent his formative years in Elmhurst, Queens. During the pandemic, he watched as the neighborhood — among the city's most ethnically diverse and restaurant-worker heavy — became the epicenter of the COVID-19 crisis. While some fled New York City, Lozano found himself moving back to Elmhurst, and began brainstorming ways to get more involved locally, particularly with restaurant recovery.
"I was thinking deeply — what's a meaningful life for me?" he says. "It catalyzed my desire to come back."
And so this month, Lozano, who formerly worked in tech and nonprofits, launched Homecoming, a Queens food crawl that hones in on a specific neighborhood, allowing attendees to try dishes from mom-and-pop, immigrant-run restaurants. The natural neighborhood to choose for the launch was, of course, Elmhurst.
"'Community building' can often just be a PR term that's kind of meaningless," Lozano explains. "I don't want to use that term, but bringing in money to the neighborhood was important."
On a recent Saturday, I arrived at the Grand Ave-Newtown subway stop and headed to Indo Java, an Indonesian grocery store and the first check-in point, where we were greeted with our first bites: stuffed tofu and cendol, the icy green-jelly dessert made by Warung Selasa, a perfect treat for a sweltering 90-degree day. On arrival, guests got a "passport" that would get stamped with a smiley face at each of the participating businesses: Taiwanese Gourmet (where we got pork chop over rice), Lao Bei Fang Dumpling House (pan-fried pork and leek dumplings), Coco Malaysian (roti canai), and Eim Khao Mun Kai (for khao mun kai). There were several tours that day, and guests were encouraged to show up 20 minutes in advance to get settled and to make sure everyone was on the same timeline, so the restaurants wouldn't be overwhelmed.
When Lozano first had the seed for the idea, he was met with some skepticism. "These restaurants are struggling during COVID and trying to make ends meet, and are nevertheless still on the hook for rent," he recalls. "We really wanted to make sure our partners profited from this; we want them to feel supported and trust us — we are so thankful for the time they gave us." One of the ways they sought to accomplish this was by getting their partners paid before the event, and building 20 percent tips into the ticket price.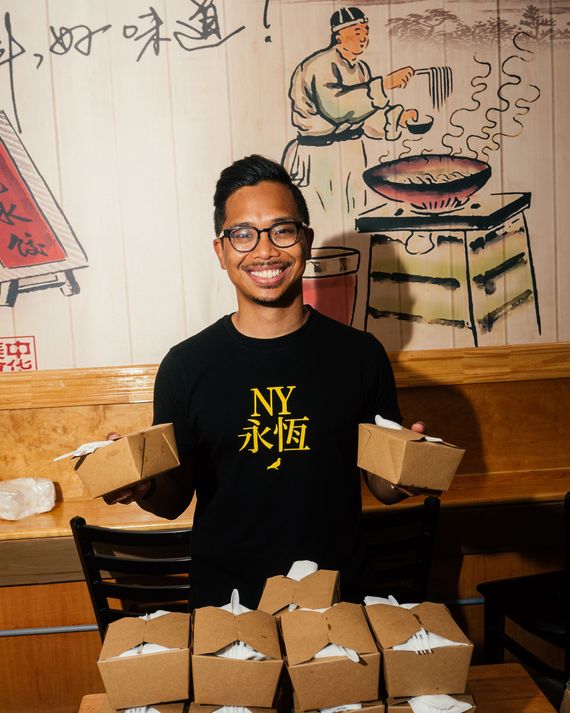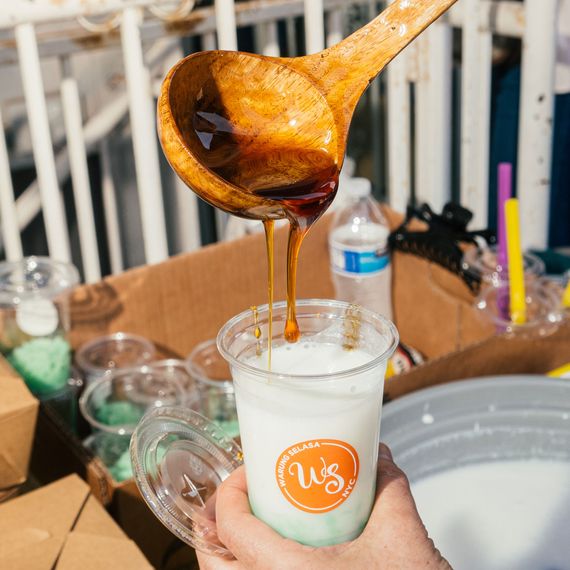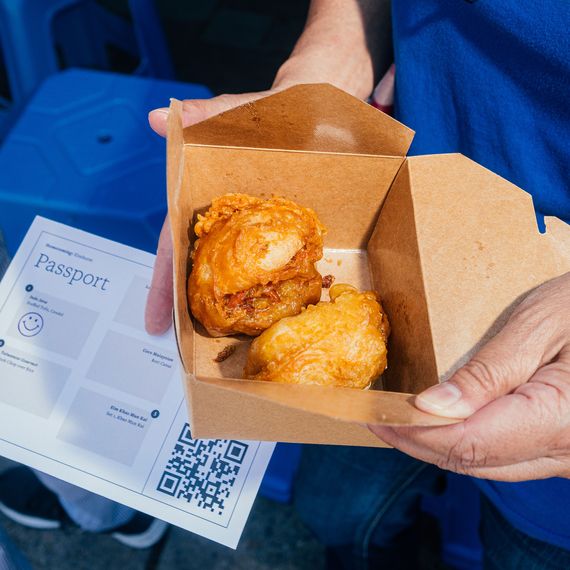 When it came to choosing the signature dish to be highlighted, there was a lot of back-and-forth. Rather than simply selecting dishes he liked, Lozano felt it was important for each spot "to take agency of the story" they wanted to showcase. "I didn't want them to think of it in terms of serving, like, people from Manhattan who had never had their cuisine before. I want guests to be in their space, rather than the other way around."
On my tour, I was excited to see the group comprised of many Queens residents, some of whom were Lozano's pals, as well as newcomers, such as an elderly woman who had grown up in Elmhurst but moved to Sunnyside, and was eager to return and rehash the old days. (Cookbook author Carla Lalli Music, who had recently selected Homecoming as a winner of the Creator Grant by Patreon, was in attendance that day as well, on a separate tour.)
Along our walk down Broadway, Lozano sprinkled in personal tidbits and encouraged guests to check out supermarkets and stands he loves, even those that weren't officially a part of Homecoming. Lozano worked at a gas station growing up, and has fond memories of getting bubble tea on the strip; as he got older, Taiwanese Gourmet became the late-night post-party spot.
In addition to these anecdotes, there was an accompanying audio-guided tour, via an app called Gesso, with interviews with the restaurants' owners to highlight the people and labor behind the food.
It was critical for Lozano to do more than just bring money to restaurants. From each $60 ticket's price, $15 goes to supporting food-insecure New Yorkers via a pantry in the event's specific neighborhood (for example, their Elmhurst crawl raised funds for New Life, rather than a bigger, more generalized organization). After looking into statistics regarding food insecurity in the area, Lozano was "flabbergasted" by the high rates of hardship in Elmhurst, even before the pandemic, and food pantries were overwhelmed by increased need during the pandemic. "It's a simple idea: hunger doesn't happen in the dark; we wanted to connect that to restaurant recovery," he says.
Now, the team is gearing up for their next tour, which will launch in August, centered around Jackson Heights, an area that he was especially inspired to get involved in, after a recent fire that displaced hundreds of families. "Queens is so often overlooked — yet it's the most diverse place in the world — we saw that even with COVID," Lozano concludes. "It means so much to be able to give a platform to these restaurants to share their stories with a bigger audience."