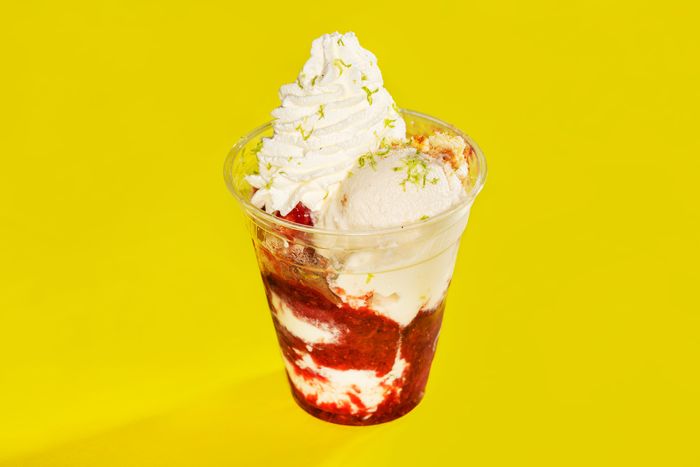 At Bed-Stuy's Fan-Fan Doughnuts, it will be a summer of sundaes. Along with her store's namesake treat, owner and pastry chef Fany Gerson is best known for the paletas and ice creams from her Mexican-sweets company, La Newyorkina. At her downtown La Newyorkina branch, which unfortunately closed in January amid the pandemic, Gerson used that ice cream to make sundaes that some say were the city's finest. Now she's bringing her sundae skills to Fan-Fan.
Things kick off this weekend with a special option ($11) cooked up alongside the food writer Nicole A. Taylor. The two met back when Gerson opened her first doughnut shop, Dough, in 2010, and while fried dough was the point of entry, they later bonded over cultural connections when they were both in New Orleans for a symposium organized by Dr. Jessica B. Harris. "Fany being Mexican born, me born in the American South, more specifically Athens, Georgia, there were a lot of cultural things in terms of food and just being and living that we had in common," Taylor says.
"We always just kept thinking, We have to find a way to collaborate with one another. Because there are so many parallels but also kind of crossroads between different cultures," Gerson adds. So when she was making plans for the summer of sundaes, she called up Taylor. Why not make a sundae together?
Eventually, the duo landed on a strawberry-sumac cake recipe from Taylor's forthcoming cookbook, Watermelon and Red Birds. The book builds on Taylor's work on the foods and celebrations of Juneteenth, the holiday on June 19 that commemorates when, two and a half years after the Emancipation Proclamation, Black Texans learned they had been freed from slavery. (On Tuesday, the Senate passed a bill recognizing Juneteenth as a federal holiday. Increased attention on it in recent years, and since the George Floyd protests, has sparked conversations about ownership and co-opting of the holiday, as well as the failure to pass legislation addressing systemic issues. One of Juneteenth's greatest advocates, Taylor notes, is Opal Lee, the 94-year-old who, as Dr. Harris wrote this week, has made it "her life's quest" to get Juneteenth recognized as a federal holiday.)
At Fan-Fan, Taylor's strawberry sumac turns up in the form of a compote instead of a cake, along with doughnut tres leches ice cream, whipped cream, and lime zest. The compote is a nod to Juneteenth from Taylor, who celebrates the holiday annually. More so, it's something that combines two of her and Gerson's favorite foods: strawberries and tres leches, respectively. "I picked strawberries outside of Atlanta. I've picked strawberries on Long Island. I've picked strawberries here in Athens," Taylor says. "It is a thing for me."
A couple weeks down the line, Gerson will offer a sundae bar of sorts so you can build your own. The shop will stock four flavors of La Newyorkina ice cream (that doughnut tres leches, horchata, chocolate-Nutella, and strawberries and cream), which you can enhance with four sauces (hot fudge, brown-butter caramel, fruit jam or compote, and yuzu curd), and four toppings that include whipped cream, brownie chunks, and — what's this? — doughnut croutons? Gerson says that last bit is here only for the summer, so go quick … and try to convince her to keep them as a year-round offering.