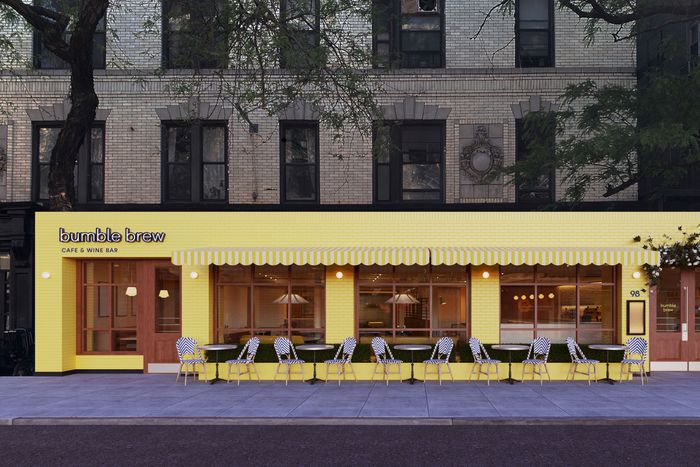 Bumble Brew
Photo: Float Studio/Bumble
Bumble is a dating app, designed to match daters with potential dates. But then what? Where, in New York City, could a would-be couple meet? If only such a place existed, where two people could sit together at a table and drink wine!
Luckily, Bumble itself is here with a solution: Bumble Brew, a "café & wine bar," developed in partnership with Delicious Hospitality — they run Pasquale Jones and Charlie Bird in Soho — which will be a "safe space for healthy and equitable relationships and connections," Bloomberg reports.
Back in 2019, when Bumble first revealed plans for a fun new kind of semi-public place, where people could meet other people to have conversations over food, it was going to focus specifically on a "date-friendly" menu meant for sharing. "No spaghetti," the company's chief of staff confirmed to Bloomberg at the time. "Nothing that would be awkward on a first date." There would be no humiliating chicken wings. No burgers dripping with unbecoming special sauce.
But the project was delayed — permitting issues, a pandemic — and in the intervening years, the approach has been adapted to keep up with the times. Now, when it opens, on July 24, it will be a space that sounds like lots of other restaurants and cafés. For example, you will be able to forge a healthy and equitable connection or relationship over morel mushroom omelets, dry-aged cheeseburgers, or squid-ink chitarra with crab. At breakfast, you could, if you are ready for it, even chance a "runny" egg on wild greens. There will also be an "ambitious coffee program" (ambition is attractive), and various wines — by bottle and by glass — will be on hand to "help conversation flow."
The first week, Bumble Brew will be open for breakfast only; the following week, it'll add lunch, and will expand to dinner one week later. (In romance, we call this "taking it slow.") Much like the app, the 80-seat café is very yellow, and with honeycomb-like fixtures. Eventually, the space could function as a Bumble "programming hub," Smith tells Bloomberg. For now, though, it will function as what is colloquially known as "a restaurant."