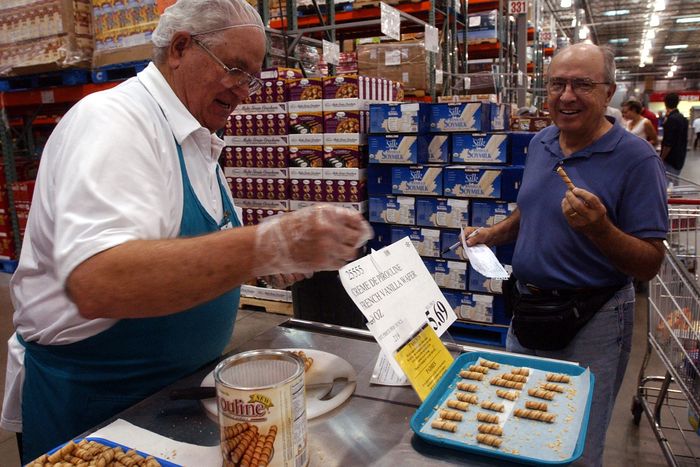 This is the summer of hedonism.
Photo: Cliff Grassmick/Digital First Media/Boulder Daily Camera via Getty Images
After a difficult 14-month hiatus, Costco is bringing back free samples. Once again, you can make a meal of complimentary Ritz crackers with proprietary cheese spread and free miniature hot dogs! Or, as I like to call them, "passed apps."
Starting this week, about 170 Costcos are bringing back the full sampling experience; by the end of the month, samples should be back in full swing at all 548 stores. "The first wave will actually determine how fast we roll out and what and when restrictions are lifted," explained Costco's chief financial officer, Richard Galanti, on an earnings call last week. Like a crocus in the springtime, it is a sign of hope. This time last year, Costco was discontinuing its sheet cakes to curb pandemic-era partying, and now, it is serving tiny wedges of free pie.
But Costco is not the only membership-only retail warehouse back in the game: Yesterday, Sam's Club announced it was also bringing back free samples this week, although only in sealed packages and only on the weekends. "More than ever, members want to do more than just shop when they come to our clubs," Megan Crozier, Sam's Club's chief merchandising officer, said in a statement. "They want to have an experience." And Sam, apparently, is going to give it to them. Costco may be the reigning champion of free samples, but the Club has "planned new, immersive sampling experiences." This summer, for example, a food truck will tour the heartland, allowing members to experience house-brand baked beans with brisket in a parking lot! This is America!
Still, at both stores, there will be changes to the sampling protocol. It is not, according to the Krazy Coupon Lady, what it used to be. We cannot go back to the lives we had before. Galanti said the stores will make smaller sample batches "for better safety control," prepare them behind plexiglass, and distribute them one at a time. Sam's Club, meanwhile, is experimenting with alternative approaches, including "roaming events that bring sampling directly to members as they check out, visit the member services desk, or use Sam's Club Curbside Pickup." It will require compromise, Galanti warned. "It's not going to be where you go and just pick up an open sample with your fingers."