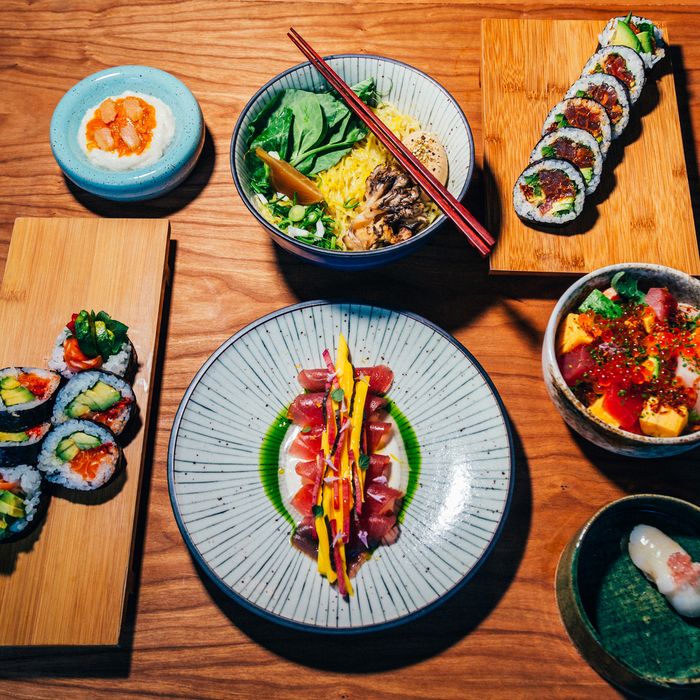 Rosella sources most of its fish from local waters or sustainable farms in Europe and around the U.S.
Photo: DeSean McClinton-Holland
Like most businesses in the city, the restaurant industry is filled, these days, with rumors of disruption and change. Will the tourists come back? (Probably.) Will the rents stay low? (Nope.) Will the business lunch ever return to fashion, not to mention the good old lunchtime salad, munched furtively in your messy cubicle? (Hmm.) Does Daniel Humm's Twitter-shaking announcement that Eleven Madison Park is going to a meatless menu in the immediate post-pandemic future mean the death of haute cuisine as we know it? (Not likely.) Will the $30 all-beef gourmet burger endure during this urgent, newly reimagined era, never mind the fat-cat, expense-account-fueled New York steakhouse, and will the legions of Zoom-addled sushi bros return to their windowless ritualized omakase bunkers and start forking over thousands of dollars for shreds of endangered tuna ever again?
The big-city steakhouse is probably safe for now, but if you want a glimpse into what the disrupted future might look like for that other fat-cat expense-account destination, the sushi parlor, I suggest you book a seat at Rosella, which opened late last year in a comfortably stylish East Village space across from Tompkins Square Park. The sushi master in residence, Jeff Miller, went to college in Gainesville, Florida, and trained in Austin, Texas, instead of Tokyo, Osaka, or L.A., and most evenings you'll find him preparing his artful nigiri menu wearing a Florida Gators cap on his head. Instead of a Japanese symbol or character, the restaurant is named after a breed of Australian parrot (Miller first fell in love with cooking in Australia), and unlike in many of the more traditional sushi joints around town, Brazilian funk plays over the sound system along with the occasional dulcet, bouncy song by the Clash.
But the biggest difference between Rosella and your average hushed, priestly pre-pandemic omakase destination is the sourcing of your meal. There are no esoteric shrimp from Hokkaido on the menu or delicate saori (needlefish) flown in directly from the chilly waters of Tokyo Bay. Most of the fish is local or curated from sustainable farms in Europe or around the U.S. The sushi rice, which is mingled with vinegar and sake in the traditional way and mixed in wooden tubs four times per day, is grown in California. The fat pearly shrimp come from the Gulf, the scallops are hoisted from the stormy seas off Montauk, and when Miller served me bigeye tuna one evening, he took pains to explain that tuna was out of season now but that his favorite supplier kept choice cuts in the back of the freezer to send to special clients.
My portion of bigeye tuna didn't quite offer the opulent, forbidden pleasures of the finest-grade fatty otoro belly from Tokyo or Spain, but the texture was more or less perfect, and, at $7 per piece, it cost roughly a third of the price. The tuna is served here in spicy roll form or in generous slices over pats of rice, but my favorite iteration is a crudo composition that the kitchen rolls into tubes, dresses with long ribbons of mint and mango, and plates in a pool of olive oil and coconut milk. If you enjoy a little smoke, call for the steelhead trout, which is cured with burnt applewood, or the amberjack, which is smoked in walnut wood — although for the ultimate in classic sushi pleasure, I recommend the delicious Montauk scallops, which are topped with bulbs of finger lime to cut their natural, almost fruity sweetness.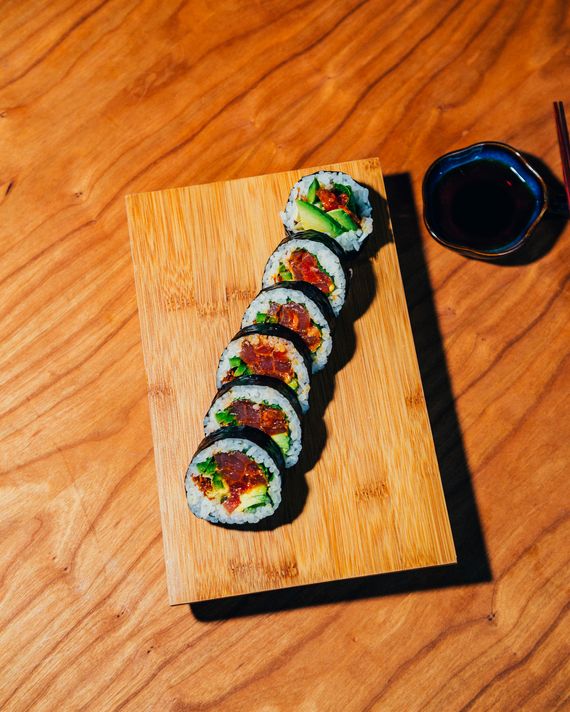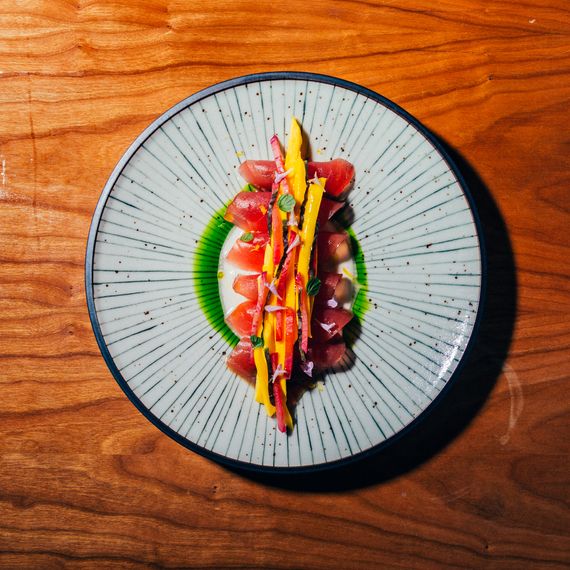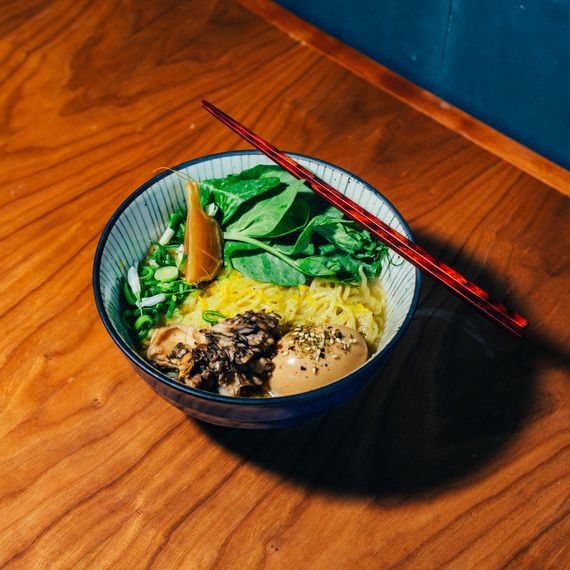 "This might be the future of sushi, Platty," cried my friend the Tokyo Whale, a connoisseur of the old school, who has dined in venerable sushi destinations around Japan and New York. Like me, he couldn't quite tell whether his enthusiasms were a product of the dinner itself or of having had to subsist for the past year in a sushi-deprived world filled with pandemic bean recipes and random bags of carryout. But like me, he was surprised by the level of technical skill exhibited by Miller and his chef-partner sidekick, Yoni Lang, whose hometown culinary terroir happens to be New Orleans. We had few quibbles with the quality of the rice (it can be a little hard), or the soy (mixed daily with dashi and sake), or the signature eggy house tamago, which isn't too soft or too sweet and which Miller frets over constantly, the way the great Tokyo sushi masters do.
Unlike the great Tokyo sushi masters, however, Miller and Lang aren't weighed down by centuries of formal tradition, and they're not afraid to push the boundaries here and there. You'll find a refreshing oyster shooter on the omakase menu (with pomegranate juice and an icy lime granita) and an inventive shrimp-stuffed "étouffée hand roll" anointed with a proper just-whisked roux. You can get rice bowls dappled with pickled tomatillos at this neighborly establishment and an excellent sushi-and-rice chirashi folded with chunks of avocado along with the usual bounty of fish. The kitchen even serves up a version of Malaysian laksa noodle soup and a fine house ramen poured with a rich seafood broth, and if you still have room for dessert, there's chocolate crémeux touched with sake lees and a cool amazake rice pudding garnished with bits of mandarin orange and a cloud of Chantilly cream.