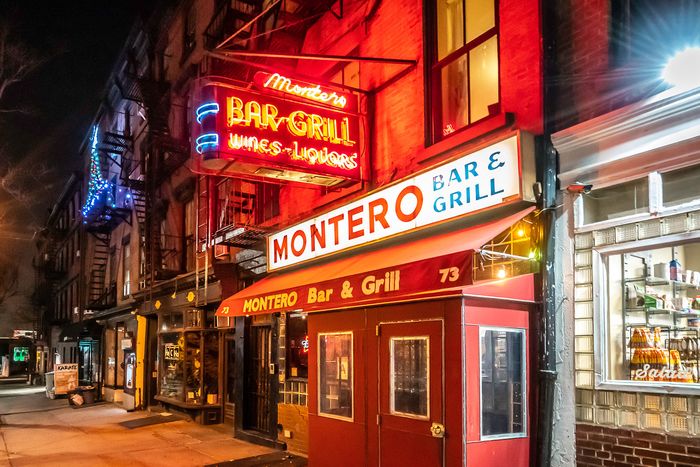 There she glows.
Photo: Noah Fecks
In perhaps the surest sign that the Summer of Hedonism is on, beloved Brooklyn Heights dive Montero (commonly, if incorrectly, referred to as Montero's) has confirmed that, after 15 months of darkness, it will reopen for business starting tomorrow night, its iconic neon sign once more aglow. (Unless it's raining, in which case, the doors will still be open, but the sign will be off because it short-circuits in bad weather.)
"We've been scrubbing and scrubbing and scrubbing, and we're going to try it out and see how it goes," confirms owner Joseph "Pepe" Montero, whose family has run the onetime longshoremen's bar since 1939. (Its first incarnation was across the street, but Montero's father moved it in 1947 because "Robert Moses had his grand plan for the BQE and tore down all of the buildings.") This is the longest the bar has ever been closed. "We've survived blackouts, Hurricane Sandy, blizzards, everything," Montero says, but the pandemic had regulars worried and they've been anxiously calling for updates. "We've had people call from all over begging to have birthday parties here, saying, Please, please, can you do it?"
But like many business owners, even as he prepares to reopen, Montero is somewhat flummoxed by the many and many-shifting rules and regulations regarding operations: "I think from what people are telling me, I have to close at midnight, but I hear curfew is being taken off on the 31st, which is Monday. The way I interpret that is, if it's one minute after midnight on Sunday, I can stay open later, I think. And we have to do limited occupancy, so I'll be at the door, checking IDs and, I guess, temperatures now. And then do I have to ask people if they're vaccinated? Am I allowed to do that? I don't know! I wish there was one book with all of the laws written down, but they just keep changing so fast it's very hard for me to keep up."
Staffing is another open question. This weekend, Montero, who is 74, plans to work the door, while his wife, Linda, 72, mans the bar ("She loves it!" he says). He's testing the waters, he explains, before rehiring his old employees, many of whom have worked for the family for decades. "If we don't run into any brick walls, then we can bring them back. And hopefully, we won't because when they allow us to be open later next week, we'll need them back," he says.
Regardless of the many unknowns, Montero can provide clarity on one of the biggest outstanding questions: Will there be karaoke?
"Definitely," he promises. "Everyone is asking for it." Because of the aforementioned uncertainties, however, karaoke will be karaoked on a "limited basis," but it will be happening this weekend and, God willing, every weekend for another 82 years.