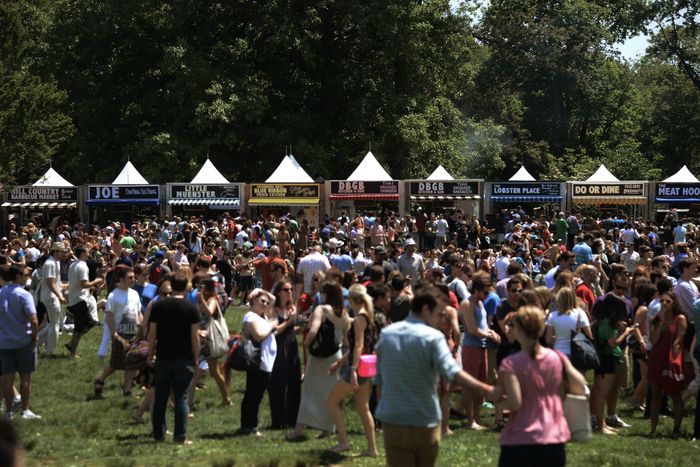 Crowd control
Photo: Jeff Kravitz/FilmMagic
The Food Network & Cooking Channel South Beach Wine & Food Festival presented by Capital One (SOBEWFF®) is returning to Miami this weekend, which has me wondering: What do you remember about the last food festival you attended before the pandemic?
In a decade as a food writer, I've gone to more of these affairs than I can count. I've made battle plans with friends to divide and conquer 30-minute lines. I've balanced tiny bamboo plates on fence posts to photograph their contents. I've been jostled and stepped on in the name of two bites of fluke crudo with anonymous coulis.
Yet for all those hours crammed into packed event halls, I couldn't tell you about a single dish I ate. All the stimuli blurs together. Instead, what I remember are the long subway rides home, aching for Tums, asking myself, What have I done? 
So allow me to say what gainfully employed members of the media, restaurant industry, and credit-card sponsorship programs cannot for fear of reprisal: It's time to abolish the corporate food festival. The kind headlined by celebrity chefs who haven't seen the inside of a kitchen in years, with three-figure admission prices, an endless list of sponsors, and no discernible mission beyond making as much money as possible.
These festivals happen in New York, Miami, Aspen, Charleston, and beyond, and after a crisis-induced hiatus, they are returning. The industry lingo for these affairs is a "brand activation." They are bad deals for customers and participants alike, not very fun, and in the eventual aftermath of a deadly pandemic, likely to become worse for all parties.
As part of their coronavirus safety efforts, South Beach will require staff and guests to test negative for COVID-19 no more than 72 hours before an event. Trained dogs will pass through lines to sniff out virus-positive infiltrators. The largely outdoor event spaces will be limited to 50 percent capacity, and masks will be required.
I invite you to recall your last journey through a subway station to guess how effective these measures will be, and how rigidly they'll be enforced. Even in light of the CDC's new guidelines for vaccinated people, we can expect the new physical challenges of COVID mandates to be part of the program for the foreseeable future.
For the chefs enlisted to cook at these events, the situation is even more dire. The pandemic has granted us a rare chance to appreciate the talent and labor that go into food-service work. If we are to continue to respect food workers post-pandemic, we have to reassess the food-festival-industrial complex.
When you take a chef out of their restaurant, require them to ship literal tons of ingredients cross-country, and set them up with a couple folding tables and a propane flattop, they're faced with an uphill battle. The food that results may be fine, but it's likely a step or three below the skill on display in their home turf. Festival food is a bait and switch for diners and hardly an accurate representation of a chef's craft.
While a select few headline personalities may get appearance fees at festivals like South Beach, the majority of chefs and restaurants aren't paid for their time, or even to cover ingredients, hotels, and travel. Then there's the opportunity cost of nights away from their restaurants, which forces chefs to to hire extra staff or miss out on days of revenue. After a year that has brought the restaurant industry to its knees, continuing this practice is nothing short of predatory. At the very least, we should demand that festivals disclose whether their vendors are compensated.
Festival organizers sell the grift with the promise of unparalleled exposure to the masses as well as a secret cabal of food-world rainmakers. Since a fraction of festival revenues often go toward charitable purposes — for reference, at South Beach that charity is a local culinary school — organizers plead that it's all for a good cause.
And it works. As Hanna Raskin reported in the Los Angeles Times in 2019, chefs are "anxious for potential customers, restaurant backers or James Beard Foundation award voters to see them." When a festival organizer comes calling, especially one tied to a major media property like the Food Network, it's a hard offer to refuse. A chef who declines an invitation runs the risk of alienating a powerful brand.
There are festivals that do it right. They tend to be smaller in scale and larger in mission. Independent events like the Vendy Awards (may they rest in peace), which funded the crucial advocacy work of the Street Vendor Project, and the Queens Night Market cater to specific interests. This is reflected in their admission fees, which are usually a fraction of larger corporate festivals. They work with vendors who are already skilled at moving long lines of people quickly. Ultimately, they're about something — a cause, a neighborhood, a cuisine — besides enriching themselves and their sponsors.
If 2020 has taught us anything, it's that the brands don't have our backs. Now the corporate sponsors are returning, and their activations are thirstier than ever for cash. Does a night of slamming burgers with Bobby Flay and Heineken deserve 250 of your hard-earned dollars? That's between you and your supply of Tums. All I can ask is: Are we having fun yet?