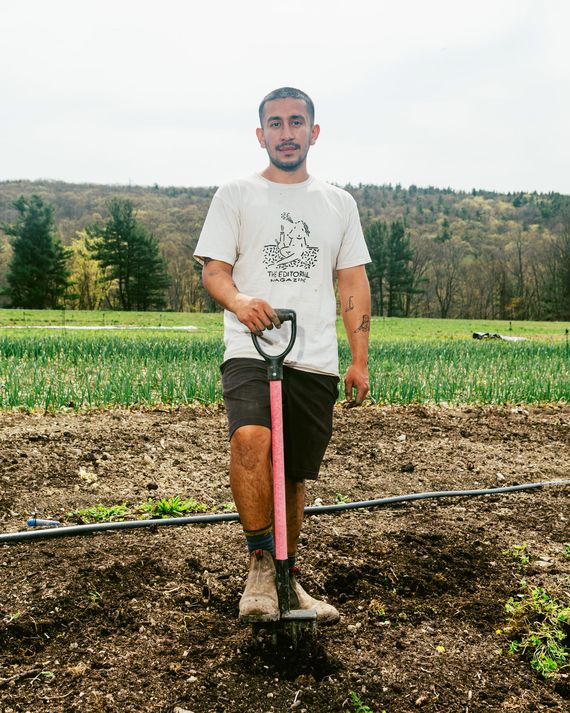 Farmer Danny Morales at Rigor Hill Farm.
Photo: DeSean McClinton-Holland
Growing up the son of Ecuadoran immigrants in Jackson Heights, Danny Morales never expected to become a farmer. He was a city kid with, as he says, "no exposure to nature of any sort." He was exposed to the food world, though, through Mike's Express, the food truck his parents ran outside La Guardia Airport, serving pernil and egg-and-cheese sandwiches to taxi drivers and hotel workers. When he enrolled at Binghamton University, he discovered the great outdoors and family farms and began farming on the side, a pursuit he kept up after starting grad school. It didn't take long for the field to win out over the classroom. "That's when it became a career choice for me," he says. He completed an apprenticeship at Stone Barns and from there, landed a job at Four Season Farm, the "experimental market garden" where winter–farming pioneer Eliot Coleman proved year-round cultivation was possible even in rugged coastal Maine.
While Morales was immersing himself in mobile tunnels and cover cropping, Nebraska-born chef Austin Johnson was manning the stoves of Gregory Marchand's Frenchie, the overachieving Paris bistro with a casual wine bar across the street and an outpost in London. Johnson had worked his way up in renowned kitchens in Seattle and New York but says it was his tenure in France that "taught me the importance of using great products to create deliciousness." (Having purveyors drive up to your door with perfectly ripe figs or truckloads of live pigs lying in hay tends to ruin you for more ordinary methods of ingredient procurement.) He had long dreamed of opening a restaurant in New York, and the opportunity presented itself in the form of a partnership with sommelier Dustin Wilson, who often stopped by Frenchie on wine trips abroad.
Although they hadn't worked together, they had traveled in the same circles—Wilson at Eleven Madison Park, Johnson at the NoMad—and their visions meshed for fine dining that was fun and menus that changed weekly. Johnson felt that Frenchie's success could be attributed less to any one signature dish than to a sense of surprise. "What New York is missing is that commitment to the guest that every time there'd be new food to experience." The partners found a distinctive four-story building at One White Street in Tribeca where they could operate the ground floor as a small-plates à la carte wine bar and devote the second and third levels, each equipped with an open kitchen, to tasting menus: "Exactly what Frenchie had, except vertical," says Johnson.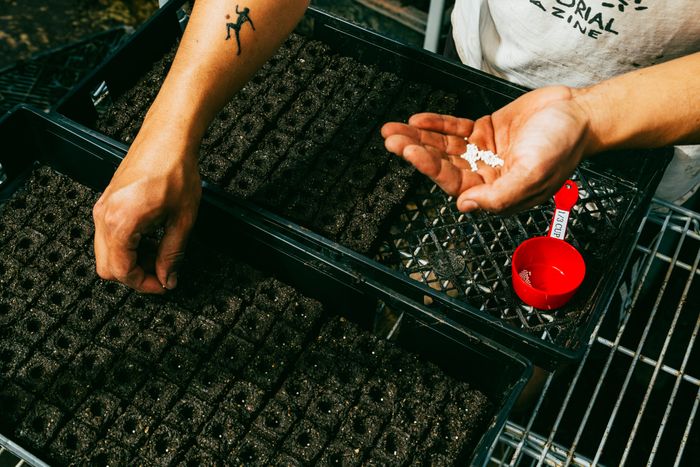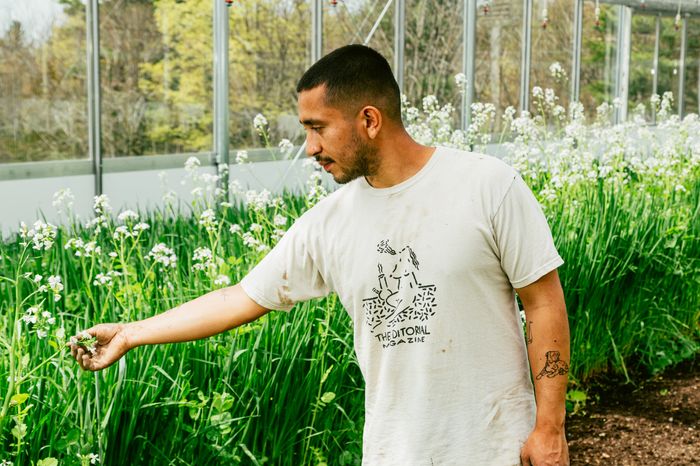 To meet the chef's Paris-raised standards, the partners built the two-acre Rigor Hill Farm on an investor's Columbia County hayfield, enlisting the expertise of Four Season's Coleman. Morales answered an ad Johnson had posted for the farm-manager position; it didn't hurt that when the restaurateurs asked Coleman for a recommendation, his former employee was top of mind. After crop planning with Johnson for varieties and size, Morales put the first plants in the ground last May, but restaurant construction lagged, a consequence of the obstacles faced in getting a hundred-year-old landmarked residential building up to commercial code. But the delay gave Morales and his crew the chance to see what worked, and how the soil behaves in a drought; they sold the first season's harvest at the Hudson farmers' market and to local restaurants.
When One White Street opens in June, Johnson will have ready access to produce for dishes like baby-gem-lettuce salad and summer vegetables with sorrel hummus and whipped ricotta. "In about six weeks, we'll have lots of peas, radishes, mustards, kale, collard greens, fresh herbs," he says. "We've got 650 heads of lettuce grown in succession for that salad. The whole farm is planned to be eaten that way." Having your own land in cultivation offers more than just convenience. "I don't want to go to the farmers' market at Union Square and fight for the same sunchoke that's on every other menu," says the chef. "We're gonna grow a different type of sunchoke that is more flavorful or more unique or more tailored for our menu." A bespoke sunchoke, if you will.