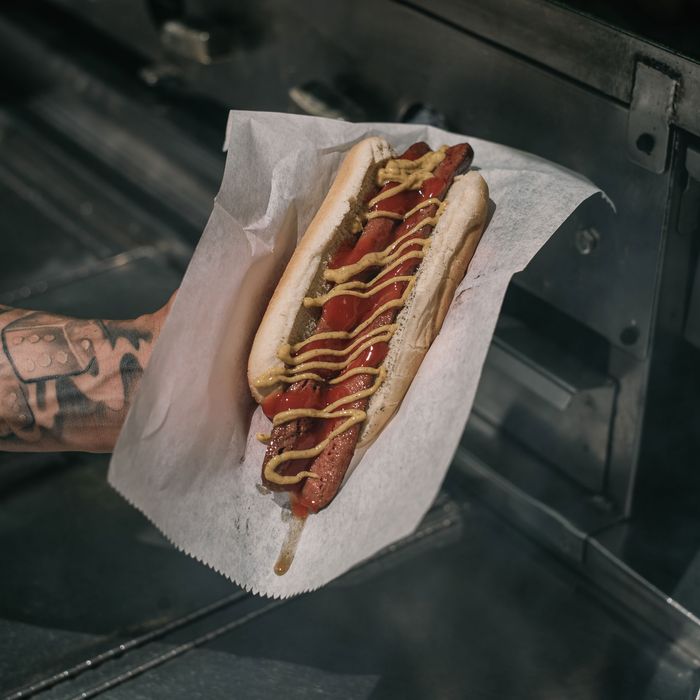 When the pandemic hit New York last year and Midtown Manhattan emptied out, the neighborhood's many street vendors were thrown into crisis. Hot dog vendors found themselves without customers, and many fanned out to other neighborhoods or didn't return to street vending for months: Back in June, one vendor told the New York Times that he was selling maybe ten hot dogs a day, down from 400 before the pandemic. Now, the city is accelerating into a reopening, with offices, gyms, and salons able to return to 100 percent capacity and restaurants 75 percent. Still, Broadway isn't scheduled to come back until September, and the tourists won't be back for longer. What does this mean for the hot dog vendors? Grub spoke to seven in midtown, and one in Union Square to see how their "reopening" is going. 
Waleed Waleed, Times Square
It has been very slow — very, very slow. If you make $250 before, now you make $75. Today, I work from 10 in the morning till 12 o'clock, and I made $15 for two hours. It's not only me, it's everybody in the area.
I've gotten unemployment — and the check, the $1,400 — and it's helped a little bit. It's a very, very tough system. It's better than nothing, because I have my three kids, you know. They're 12, 6, and 5. I'm the only one supporting my family. Sometimes I do GrubHub. I only started after COVID. It's not worth the money.
This is my usual spot. I've been here, back and forth, since 2002. It's Times Square, and there are no tourists now. There are no people. Most of the people now are working from home. My customers were not just tourists, but people working here. Now those working who are local? It's nothing.
I wish the city was back, that Broadway shows would open. Hard Rock Cafe opened last week, it's been closed for one year and three months. Bubba Gump opened two weeks ago. It's starting to be that places are opening, you know. Yes, I'm happy they're opening things back up. I don't want to stay home. I don't want to go crazy.
Mustafa Kouziri, Times Square
Regular days, it was very good business. You don't have COVID, it's good business here in Manhattan. Since COVID, everything has gone down. Too much problem, brother, too much problem. During the weekends, there's a little more business. Whatever money I make, I have to settle it with my boss, to pay for permit, to stock up.
I was born in Morocco, and then I lived in Spain, where I was the boss of a construction company.
Person walking by: You have knish?
Kouziri: No knish, knish.
I'll tell you why I left that construction job — because I'm a little bit old, 52. So, with construction, if I kept up with that, I would fuck myself. It's a lot of work. And I liked cooking.
I have two children in Morocco, a son and a daughter. They were here with me in America, but there were a lot of problems. I worked a lot, and I couldn't take care of my family, and so my wife and children went back. She didn't really find a life here. It's very hard.
Last year, there was nobody here. It was impossible. I was gone for seven or eight months, back at home in Morocco. Here, I couldn't do anything. I came back to work at the beginning of April, and it feels like things are getting better. I'm thinking by next month things will be picking up again. Before, I would get on the train and there'd be two or three people. But now, the train is full. For me, that means people are returning to their lives.
I'm out here for 12 hours a day. I'm making around $120 per day. This job isn't super hard and it's enough to live. I've worked many years. I've made money. But now during COVID, there's not a lot of money and that's what it is. Right now, what I need is tranquility. I don't want to suffer, work, save money. I want to live a quiet life and survive and that's it.
In Spain, it's better, much better. Life in Spain is a free life. Here, you're closed in. There is only work and sleep. There is no enjoyment. Who enjoys here in America? The visitors. The tourists who come here to spend money. As humans, we're not just here on earth to work and make money, but to enjoy life.
This interview was conducted in English and Spanish.
Mohammed Abdelmagied, Times Square
I stayed home from the end of March to the end of May. Then I came back here. I've been here for about seven years, but my father has been here for 52 years. He had the first street vendor [license] — No. 1 in all of New York. He got it on June 31, 1980. That's 41 years, and he was working 11 years before that — no license, no permit. We work here together. Now, he is on vacation.
Has business been better lately? Of course not. Before the pandemic, it was okay. My customers are tourists and the people going to the shows. After May 31, after everybody gets the vaccine, maybe they start to open up the Broadway shows. I hope everything comes back.
Ahmed Mohammed, West 48th Street and Sixth Avenue
Honestly, I just came back out here. I've been back for about a week now. I took off for about a year, ever since March 15, 2020. We started coming back when Cuomo announced that office workers will be heading back and things will be opening back up.
When I wasn't out here, I was doing whatever I could to get work. If a friend could provide me with a side job, I would do that. I signed up in the supermarket when things were getting really heavy in the beginning of the pandemic.  I worked at a C-Town for about a month or two, and then things started dying out, and they didn't need the extra help anymore. That's when I started going on unemployment.
This spot I've been in for about three years prior to the pandemic. I've been doing this since I was about 18. I'm 27 now, so nine years. Honestly, my mother was involved in street vending, so, over time, I caught on as well, you know what I'm saying? It was what I knew growing up. In the meantime, I'm trying to finish my education and stuff. But I don't want to overwhelm myself, so I only take a class or two a semester.
Business is definitely nowhere near what it used to be. I do see a little bit more tourists than last year. Slowly but surely, I believe we're going to come back strong.
We're more or less going out now to maintain the expenses, because as you know with commissary, we have to pay rent for storage. That way we don't have to come out of pocket. You could say I'm making around the same as what I was getting on unemployment. I'd rather be out here working than collecting unemployment.
I feel like, yeah, a lot of people haven't taken notice of how tough this has been for street vendors. At the same time, a lot of people do, because we do have the Street Vendor Project. I'm actually part of that. I'm on the leadership board, I joined in October. I'm good friends with the director, Mohammed Attia. He brought me in. At the end of the day, like I said, my mother used to do this, and I started doing this as soon as I turned 18. I got love for it, so why not?
The SVP has been really making moves. They got funding from Morgan Stanley, and they gave us a little extra help on top of stimulus. They were helping out distribution of food at one point. It helped out a lot.  I did one of the distributions early in the pandemic. I gave out 300 plates of chicken over rice.
In the midst of it all, we did get a little increase for permits. I feel like if it wasn't for the pandemic and the Street Vendor Project being able to show we were hit really hard, that would've never  come up in council.
I'm for sure hopeful the summer will be better. If that wasn't the case, then I wouldn't be out here at all. I know that this summer, I heard from de Blasio, when he did the press conference that there's heavy air traffic coming in during the summertime. I'm hoping that more tourists come in. Reopening everything to full capacity, I think that will attract a lot of people.
Walid Elsayed, Columbus Circle
Business is bad. It's very bad. All of New York City, the customers are tourists. Before the pandemic, it was bad enough. Now it's nothing. I never count how many customers I have. I've been in New York for 18 years, I came from Egypt. Close to Cairo. Over there, I was a painter.
Everyone is losing money. I've been an owner for only four years, I have this cart and the one over there. I have four kids; they're 14, 11, 6, and 3. I'm the only one working.
I closed last year. I reopened a month ago. There's been no business. I took unemployment for only two months, in 2020. I went back to Egypt, because there was nothing to do here. It was very quiet. Everyone was scared. I got the $1,400. It's a help, you know? Better than nothing.
I wish it gets better this summer. I wish. But I don't think so. If New York opens, the tourists are going to come. But New York is still closed. They'll close again. They open and close. I wish, I wish, because if this year is like last year I'm gonna die. I'm gonna die. It was too much — the rent, the kids.
Abdul Zahur, American Museum of Natural History
I've been doing this for 25 years. I came here with my big brother from Egypt. Last year we shut down in March. We didn't come out after. Only around Christmas, the last few weeks of the year. I think I'm selling like 25 percent of what I was doing before. Here, all my customers are from the museum, tourists. At my other cart, it's all New Yorkers.
It's hard. I never in my life seen it like this. Like, you're scared. Your income has to come from somewhere. If you're not working, you're not making money. You're scared. I was able to get unemployment when I was not working. It's helping me a lot, yeah, of course. I can pay rent. It's almost $2,000 a month for my home. The rent for this cart is $1,000, the other one is $600 a month, and nobody gives me a break. Even when you don't work, you have to pay. It's not easy.
From March to October, I didn't pay anything — rent, life, nothing. After October, I started to pay again. Now, I'm not worried. I pay everything. If you don't pay, you're gonna go out. I don't want to go out. Not homeless, but without work. Everywhere is closed, where are you going to find a job? I have three kids. I have my wife. That's five people. We need to eat everyday. We need at least $200 a day to pay rent, to pay life, to pay food.
I've been working five days a week. Between 10 and 12 hours a day. It's the same as before the pandemic. But business? It's  not the same. I pray the summer will be better. I don't want free money from the government. I want to work to get money. Today is the last day of Ramadan. We finished. It's hard. We haven't ate yet.
Brian, Natural History Museum
This is bad, that's about it. There are no tourists around here. Only locals. Of course, most of the customers are usually tourists. But they're all locals now. I don't know how much I'm selling. I never counted hot dogs before or after.
There's no money out here. No money out there, my friend. Not enough money to even pay my rent or pay anybody. We decided we gotta stay alive and stay busy. We're not sitting at home.
I came back out toward the end of last year, after the museums opened back up. Everybody was tired of being at home. If you were locked inside for the whole year, wouldn't you want to come outside? It is what it is.
No, ain't nobody did business last summer. Everything was closed, from March all the way to the end of the year. Am I hopeful about this summer? Everyone has faith and hope in believing that it's going to get better. That's all we can do. You've just got to wait and see what happens. There have been no good days as of yet. Hopefully someday.
Unnamed, Union Square
Maybe I'll remember what it's been like if you buy a gyro. Do you want chicken? You can pay me via Venmo. [A gyro gets purchased.]
I came back out to work here in the fall, around September. Before then, I was in Egypt visiting family. I traveled back in March of last year, and I got stuck. So when I came back, I started working. This was the middle of September.
I worked until the middle of December, because it was very, very slow. It started getting slower because it was getting colder. Then a lot of people stopped working. Before the pandemic, every time you used to come here, you had lines. One line this way, one like this. It was always very, very busy. But now? Nothing. If he wants to ask questions, he has to buy food, too. What do you want?
It's better now than September and, yes, December. December was terrible. It was very slow. I decided to stop working, because I was making this little money. I started doing something else. The day I started working in the deli, three people came looking for work.
I didn't come back out until April 8. No, no, no, you can't take my photo — $5000. I know people who get paid a lot of money to have their photo in a magazine. Go back to them and say you should come back to take my picture and you have to pay me.