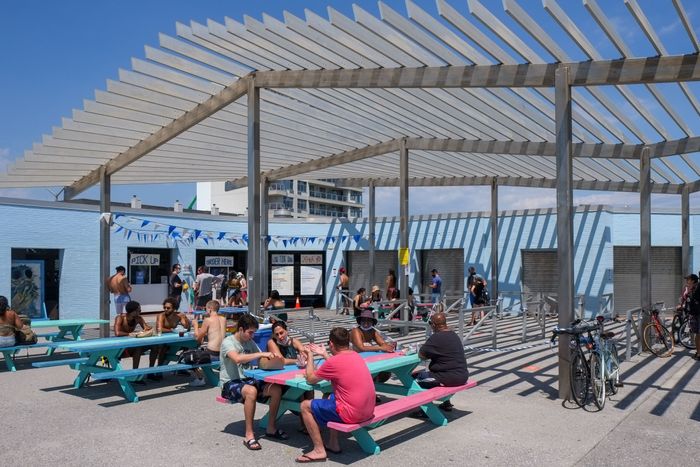 The concessions area at Beach 97.
Photo: Erik Pendzich/Shutterstock
Every spring in Rockaway Beach, food-and-drink vendors head to the boardwalk to claim their counter spaces and prepare for the upcoming summer season. This year, many of them were in for a nasty surprise.
"The first thing that was very noticeable was the smell," said one vendor of his initial visit to the Beach 97th Street concessions building in late April. "It basically smelled like rotten fish."
Other merchants smelled it, too. The more curious among them began searching for the source of the stench. They soon made a ghastly discovery: Bags of what appeared to be raw fish and bottles full of sour milk and rotting meat were crammed into ventilation shafts along the ceiling.
Meanwhile, building managers used power tools to access the concessions office, which seemed to be sealed shut. When they finally got it open, the place looked ransacked, with broken equipment and shelving all over the floor.
Throughout the building, floor drains appeared to be filled with sand. "Later, I found out that underneath the sand was concrete — in all the floor drains," said the vendor, whose account is corroborated by other merchants who were present, all of whom asked to remain anonymous for fear of retribution.
The vendors say that this was not petty vandalism — it was sabotage.
A formal complaint filed with the NYPD listed "damage to several metal doors, office in disarray and food placed inside of pipes and vents" at the Shore Front Parkway address, with estimated damages in excess of $10,000. The incident, classified as criminal mischief, was first reported to police on May 13, although the wreckage occurred earlier, according to the NYPD.
Weeks after cleanup efforts began, building managers are still dealing with the aftermath, and many vendors are worried about not being able to open in time for the busy Memorial Day weekend.
"At first, we all thought this might be a little prank," the vendor said. "But they keep finding so many things that we can't get past it. Whoever did this is not letting us."
The seaside shenanigans follow a controversial transfer of power on the boardwalk. For the past several years, a consortium of local restaurateurs known as Rockaway Beach Club LLC has run the show. Founded in 2011 by Rockaway Taco honcho Andrew Field, the group also included Chris Parachini, owner of the popular burger joint Rippers; Maribel Araujo, operator of Caracas Arepas Bar; and Michael Perzy Powers, general manager of Low Tide Bar and primary overseer of concessions at Beach 97th Street.
But late last year, the NYC Parks Department announced that a new management team would be taking control of the various beachfront cafés, snack bars, and kiosks this summer, awarding a 15-year contract to Rockaway Beach Bazaar LLC, led by Belvy Klein and Aaron Broudo, who also run concessions at nearby Jacob Riis Park.
The move angered many in the community, particularly the original operators. During a heated public hearing via conference call on January 11, the Bazaar's Belvy Klein tried, despite repeated interruptions, to assuage fears about the new boardwalk regime. He applauded the prior managers for their "love and hard work" and promised to "retain as many of the previous vendors there as possible," according to a transcript. An unidentified caller then denounced him as a "devil" and threatened, "We know where you live!"
Supporters of the snubbed concessionaires launched a "Save Rockaway" campaign to protest the Parks Department's decision. Their push painted the Rockaway Beach Club crew as local stalwarts who stuck it out through Hurricane Sandy and COVID-19, and depicted the Bazaar group as sketchy interlopers looking to establish a beachfront monopoly, raising rents and beer prices. The movement quickly gained traction on social media, attracting high-profile New Yorkers, like food writer Alison Roman and rocker Marky Ramone, to the cause. The city reportedly received over 2,000 emails about the new park contract.
The public outcry did little to sway city officials, who nonetheless stuck with the Bazaar's proposal, which substantially increased the city's licensing fees, starting at $300,000 annually — nearly three times what Rockaway Beach Club had been paying. The new managers also pledged to spend millions on boardwalk improvements and turn Beach 97th Street into a year-round food-and-drink destination. After all the rhetoric about rent hikes, some returning vendors said the new managers actually lowered their monthly payments.
Whether the damage to Beach 97th Street is retaliation for Bazaar's contract award is now the subject of much speculation. It was, according to one local source, "the Rockaways equivalent to the January 6 storming of the U.S. Capitol."
It's worth noting that no similar acts of vandalism were reported at Beach 86th Street or Beach 106th Street concessions, home to Rippers and Caracas, respectively.
Contacted by Grub Street, both Parachini and Araujo said they had no direct knowledge of what happened at 97th Street. "I can't believe anyone would think it's ok to lash out like this," Parachini replied via email. "And I'm especially bummed for all the vendors, new and returning. After the year everyone has had to be facing this? Really lame."
Messages left for Low Tide's Powers at his home and for Field at his restaurant Tacoway Beach were not returned.
A Parks Department spokesperson referred questions about the vandalism to NYPD, adding, "We're hopeful that the Beach 97th street concessions will open by Memorial Weekend."
Likewise, Bazaar's Klein declined to comment on the damages, responding via email: "We are working to get open ASAP and look forward to a great summer."