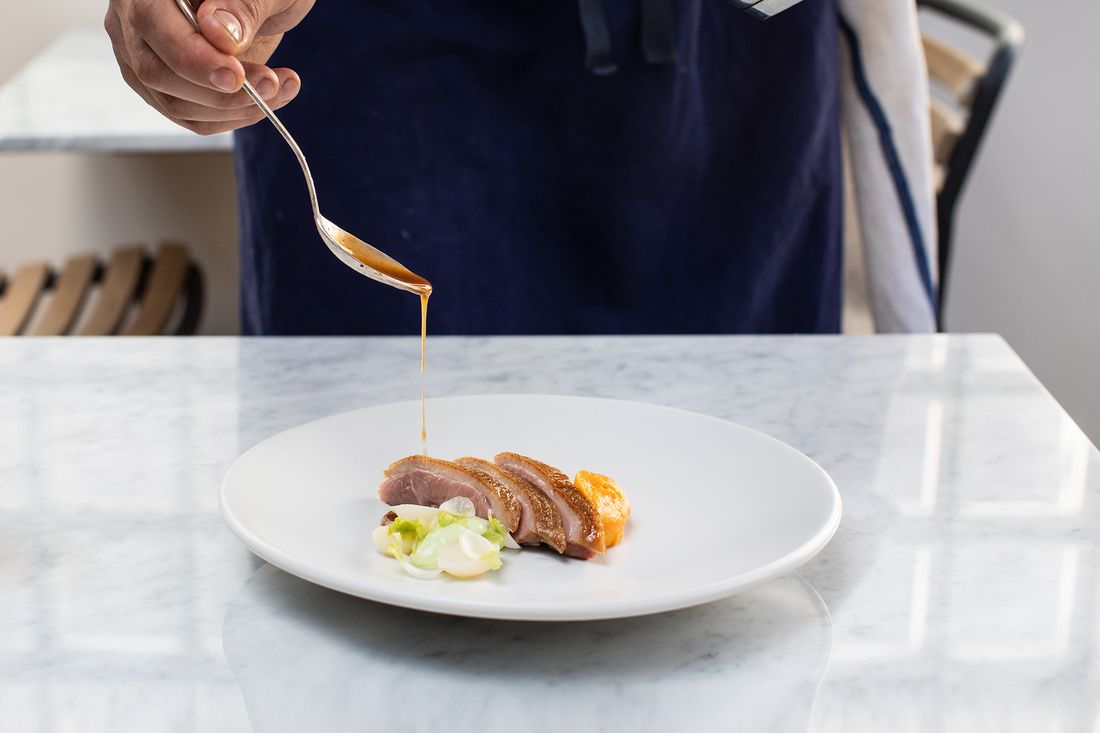 Saucing, at Oxalis, a starred restaurant in Prospect Heights.
Photo: Erinn Springer
After a brief delay on account of the pandemic and consequent closure of New York City's restaurant industry, Michelin stars are back. The announcement is a sure sign that nature is healing, unless it is an out-of-touch relic of another time. Maybe it's both!
Either way, this year, the tire company has bestowed its coveted stamp of approval on 68 restaurants in New York City and Westchester, with seven restaurants appearing for the first time, such as the very popular Italian spot Rezdôra and the also-very-popular, also-Italian spot Don Angie. (The guide also awarded a new "green star" to Blue Hill at Stone Barns, as recognition of its sustainability efforts.)
If the unveiling all feels a bit … strange, that's likely because there is an unusually somber quality to this year's list: While no restaurants lost stars this year — notable businesses that did drop off the list have closed permanently — many of the spots on the list have either temporarily closed or completely overhauled their menus in light of the pandemic, meaning this particular list feels less like an actual guide to going out right now and more like an honor roll from pre-pandemic New York. See for yourself:
Three Stars ("Exceptional cuisine, worth a special journey")
Chef's Table at Brooklyn Fare
Eleven Madison Park
Le Bernardin
Masa
Per Se
Two Stars ("Excellent cuisine, worth a detour")
Aquavit
Aska
Atera
Atomix
Blanca
Blue Hill at Stone Barns
Daniel
Gabriel Kreuther
Ichimura at Uchū
Jean-Georges
Jungsik
Ko
L'Atelier de Joël Robuchon
The Modern
One Star ("High-quality cooking, worth a stop")
Ai Fiori
Bâtard
Benno
Blue Hill
Carbone
Casa Enrique
Casa Mono
Caviar Russe
Claro
The Clocktower
Contra
Cote
Crown Shy
Don Angie
Estela
The Four Horsemen
Francie
Gramercy Tavern
Hirohisa
Jeju Noodle Bar
Jua
Kajitsu
Kanoyama
Kochi
Kosaka
L'Appart
Le Coucou
Le Jardinier
Marea
Meadowsweet
The Musket Room
Noda
Odo
Oxalis
Oxomoco
Peter Luger
Rezdôra
The River Café
Sushi Amane
Sushi Ginza Onodera
Sushi Nakazawa
Sushi Noz
Sushi Yasuda
Tempura Matsui
Tsukimi
Tuome
Vestry
Wallsé
ZZ's Clam Bar