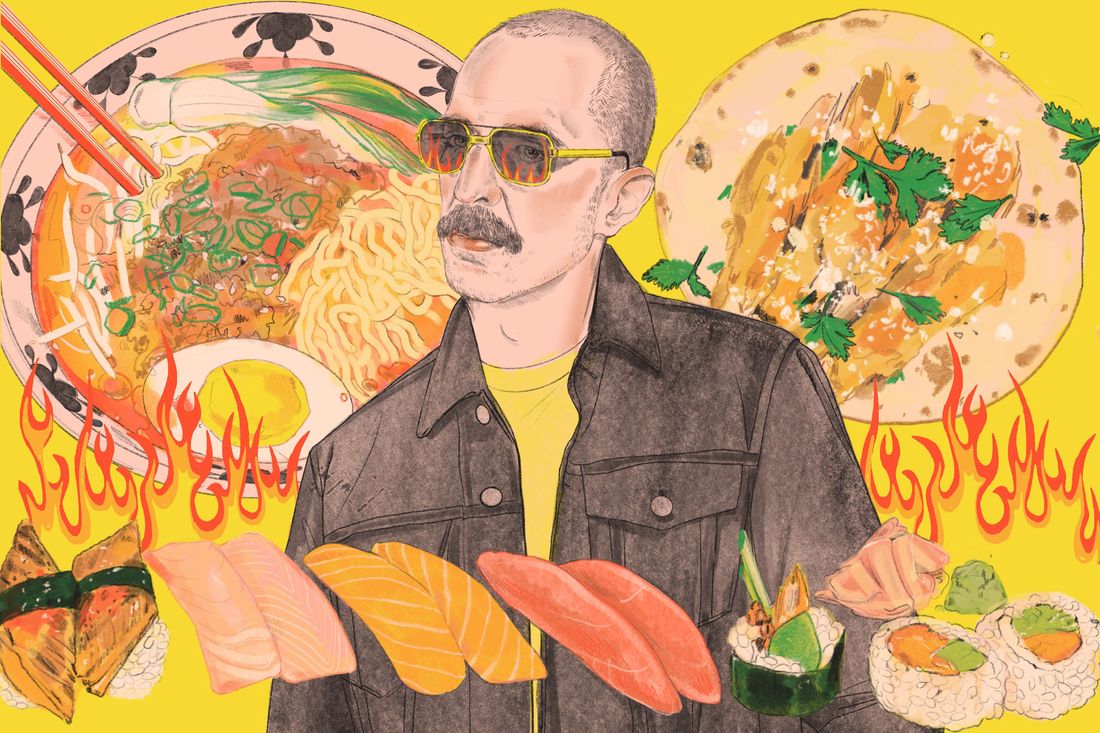 Matt Sweeney with his ramen, sushi, and tacos.
Illustration: Lindsay Mound
Last Friday, the guitarist Matt Sweeney and singer-songwriter Will Oldham (a.k.a. Bonnie "Prince" Billy) released their album Superwolves. The follow-up to their 2005 cult favorite Superwolf, Rolling Stone writes of the duo, "the two are perfectly matched collaborators." That's not all he did last week: Sweeney also ate a lot of Superiority Burger, where he's a partner whose key contribution, owner Brooks Headley says, is "unbridled enthusiasm." Yet, because of the pandemic, Sweeney has spent the year grounded in New York working the door at the restaurant, too. "Obviously, yeah, like every other person who travels for a living, I've been fucked in that regard," he says. "In this case, it was okay, because I'm old enough that I can at least sort of sit back and enjoy being with my partner, who I just never get tired of being with." 
Thursday, April 29
10 a.m., overseeing apartment moving. No time for coffee (bummer), and I was fried from late Wednesday night dinner.
Seltzer. I drink whatever brand my partner is feeling. On fancy backstage riders in America, they started having Mountain Valley. I would be like, Oh, this is a fancy gig because they have Mountain Valley, and somehow that has penetrated into the "people with taste" zone in New York. I'm not so sad about Topo Chico's aggressive marketing, because now you can get it anywhere. I don't know if I'm imagining that it's a little salty, but whatever it is, I always want to drink more. Part of what I like is also that it's aggressively bubbly. Lurisia water is kind of beautifully bubbly water, but I haven't been drinking it that much. Those are three I'll give shout-outs to. I'm a little disappointed because I feel like Mountain Valley and Topo Chico are so popular — I wish I could name an underdog.
Reheated a potato taco from Yellow Rose, and drank a "Berry Maxx" smoothie — strawberry, blueberry, banana, peanut butter, hemp protein — and large watermelon juice from Juice Vitality after my move. Then I did a live interview for Office Hours, Tim Heidecker's show. That was fun.
Dinner from Superiority Burger: polentils (a spicy red lentil stew over seared Anson Mills cob grits with griddled ramps — fuuuucking sick), smoky farro salad with kale rapini, Bodhitree herbs, and pickled fennel, sweet potato; bright-assed lettuce salad; benne-seed focaccia sandwich with kale rapini (they ran out of collards), and roasted strawberry poppy-seed vegan gelato.
I generally just eat Superiority Burger food, because I'm not a fucking idiot. Why would I not eat it as often as possible, you know? When we opened up the restaurant, I just started eating at fewer restaurants, because I prefer Superiority Burger.
There are a lot of places I love, especially around the East Village. The East Side has largely been my zone. I first started crashing on 7th between C and D around '89 or '90. I definitely have a soft spot for the East Village, and I love all the old Japanese places, particularly Takahachi. I feel like that opened a couple years after I came to this neighborhood, if it wasn't already open. I just think of that as a perennial. The original ramen spot, Rai Rai Ken, which I haven't, again, during the pandemic I haven't been to any of these places. I got to go to Takahachi the other day, it's so fucking good, but I've barely ate sushi during this whole pandemic.
I grew up in the '70s and '80s and there wasn't a sushi spot I knew about. In fact, I was maybe 21 when somebody was showing me how to mix the wasabi into the soy sauce. When I look back on it, I am always shocked, because I eat so much Japanese food, but it's not something I grew up with. From what I can tell, it was more typical of L.A. Watching Repo Man, he was like, "Let's get sushi and not pay." That was sort of, like, Oh, it would be cool to get sushi and not pay because I don't even know what sushi is. Certainly since the time I learned how to use chopsticks, I've been eating Japanese food like a motherfucker.
Also drank a seltzer with Zeigler's apple cider, and bites of different treats from Confectionery: oat bar, salted turtle, chocolate chip walnut cookie. It's vegan candy treats, it doesn't sound like it'd be particularly exciting. Brooks put me on to it. It's become a go-to spot, everything there for me is great. If you're into adventurous sort of sweets they have that for you, too. I'm not. They have some wild shit I haven't tried. They will fuck with onions and stuff. I'm not brave enough.
Friday, April 30
Capacity coffee pour-over at home. I don't know what it is. It's perfect for me. I probably do like two or three a day, which is four to six giant cups of black coffee.
About four years ago, my friend Fergie in Nashville gave me one of those nice hot-water pots that all the coffee shops have. I got a Chemex, and Jaime from Abraco walked me through. He gave me a scale and grinder, he told me how to do it. Obviously a child can figure it out, so I can figure it out. The second that I did it I was like, I'm never ever going to buy coffee out. I'm now one of those dickheads who likes talking about how I like my coffee in the morning, after being someone who, for some reason, would always get furious when people would talk about their coffee ritual. I always found it to be unbearable.
I remember being with Billy Gibbons from ZZ Top — I was lucky enough to work with him — after we had partied down the night before and were both pretty savagely crawling through the wreckage. We somehow ended up with someone talking about how much they love their morning coffee ritual and I remember looking at Billy Gibbons, all hung-over, and being like, I never want to be one of these guys who talks about my morning coffee ritual. Because I would rather be hung-over, ZZ Top–style than have my shit together, and here I am talking about how my shit is together and I love my coffee ritual, so I officially fucking suck.
Ran five miles to a photo shoot at noon. Had more coffee during the interview. Tap water!
Went to Juice Vitality for my "Berry Maxx" smoothie and watermelon juice again. I almost always hit it after I run.
Forgot to have a real lunch.
Went by Superiority Burger and tried a Bloodbath, Sheryl Heefner's drink of rosé and sorbet. Sheryl just made this up. She has been a really great presence. I feel like things really changed for the better once she got involved. She was like, "When we get our liquor license I'm going to come up with some interesting drinks." She said she really wanted to do something with the sorbet, and she made good on that with the Bloodbath. It's simply about maximizing what we've got, but it's crazy. I don't love rosé the way people do but this is so fucking good. It's greater than the sum of its parts. Maybe there is a tiny bit of citrus in there, too. Whatever it is, it's not too sweet, it's not too boozy. I'd definitely say it's dangerous.
Ate some pieces of apple, was fuckin' starving.
More Superiority Burger for dinner: the crunchy potatoes with BBQ mayo and pickled jalapeño, pea shoot soup, smoky farro asparagus, and the tofu-fried tofu sandwich. I also had the roasted strawberry-tangerine sorbet and vegan black-sesame gelato.
I showed Brooks my notes for this, to make sure I got stuff right. He was like, Jesus Christ, you eat so fucking much. But, look, a lot of times with those sandwiches, I'll cut in half and have one later.
Saturday, May 1
Two Yellow Rose tacos to go — bean and cheese, and  bacon and egg — and a tamarind honey bun. I hadn't had Yellow Rose breakfast tacos since Dave Rizo was working at Superiority Burger. Thursday and Friday I just ate a lot less.
We're moving into this beautiful house and I'm so happy, we're never going to have to move again, but no matter how you cut it, moving really is traumatic. I don't know why I get so weird. This was the easiest move ever but I was still emotional and strange about it, so I ended up eating a lot less. By Saturday I just woke up so goddamn hungry. 
Dave opened Yellow Rose with his wife Krystiana, and it so happened that they are from San Antonio. I started my band Chavez with a guy from San Antonio, who is this San Antonio food snob, so I got to eat a lot of food in San Antonio, and indeed the food culture is amazing. When Dave came to town and started making these San Antonio–style treats, I was well-primed for Yellow Rose.
Ate at home with Capacity coffee, then my Juice Vitality "Berry Maxx" smoothie with hemp protein.
Met my friends Jack and Chris for a walk in East River Park, which they're trying to destroy. I want to telegraph that I'm not some guy who is bitching that things are changing, but I love this place and we have to hold on to it. It is really one of the best things about New York, and people don't know about it. There's something about it that for whatever reason — it's been easy for these goons to say they're going to destroy it.
When I first heard about the plan a couple years ago, it was like, Oh, because of Sandy they're going to fuck up the park, and create these walls. It made sense in a way: The East Village flooded, we've got to do something about it. After Sandy, they spent four years figuring out a plan that made sense. They spent so much money, and a plan was ready to go, and then they scrapped that plan and were like, "Oh, we're going to cover the park with eight feet of dirt because of the environment or some bullshit."
That's when it got weird. There's not been one statement from any scientist or anyone from the city explaining what the fuck they're doing. None. Zero. Nothing. That's when I got involved, because I was like, Wait, what the fuck? It kind of reads like a Sidney Lumet movie. It seems like a big foul fucking plan. What they're planning on doing is covering the park in dirt for five years? What does that mean? What they clearly want to do is starve out the park, wait for everybody to forget, wait for everybody to die, and build condos.
I'm just a ding-dong who runs there and plays music and has some Instagram followers. The East River Park Action is so well-organized, and the women who are running it are incredible. Spend one minute reading what they have to say. The plan is so clear, that it's poor people who live along the park, let's just wreck it, and eventually they're going to go away. They're also really picking a bad time. This is during a pandemic when it's been made clear green spaces and open spaces are the way to go, and now they're going to wreck one of the biggest and the most valuable ones to people who really need it? Fuck that.
After the park, we all stopped by Superiority Burger for a focaccia snack plus Bloodbath and a shot of tequila with tomato water back. (Ask Sheryl.)
Later, I picked up Superiority Burger for dinner: yuba verde, pea shoot soup with jalapeños, smoky farro salad with asparagus, Sloppy Dave over rice, the beets, and quince sorbet. Drank a Topo Chico with Ziegler's apple cider. I'm not a vegetarian, but I'm really happy eating mostly SB and then some meaty things every once in a while.
Living in New York and bouncing from place to place, I never had a great kitchen to work in. While I really like to cook, it's just something that I was like, Okay, maybe one day I'll get more serious about cooking. Now my partner and I got a place and we have a really nice kitchen, so I think everything is going to change, and I have to be a more normal human being. But then again, I'd be an idiot, because I still live blocks away from Superiority Burger, and the food tastes better and makes me feel better than anything I could cook.
There are some other places I've been going to for years, like Gaia Italian Café on Houston. That woman is incredible. Hot young guys working for this cool woman. The pricing is so reasonable to the point that I don't know how they afforded to stay open.
Sunday, May 2
Leftover Superiority Burger family meal (rice, yuba, and mushrooms) with two eggs on top.
Capacity coffee. Ran, got Ninth Street Espresso for Superiority Burger staff and an iced coffee for me. I really do walk by there every day. Everybody likes the guy who brings the doughnuts. I make myself useful.
When you're not very good at something — like, I'm not very good at music and I'm not very good in the kitchen — you bring coffee to the kitchen and everyone thinks you're okay. Or, if you bring good food, people will let you play music. Like, I turned Neil Diamond onto Russ & Daughters — I can rest easy — when he was playing on a TV show. He decided to do a low-key, invite-only show at the Bitter End, where he did some of his early gigs, and we spent the day rehearsing. I showed up with bags of food, thereby buying my way onto the stage.
Snacked on a Gainsborough sandwich with mustard from Le Petit Parisien. If you've ever been to Paris or France and had a baguette sandwich, you're like, God, why is that so good? They nail that. It's a baguette with ham and cheese. That's what they sell. I think they use some sort of fancy ham. Talking about it makes me want to get one right now. It's exceptionally good, and I'm happy to give that place a shout-out because I feel like nobody ever does. It's across from McSorley's.
More Superiority Burger for dinner: smoky farro asparagus salad; Sloppy Dave over rice; a hoagie with marinated green bell peppers (!), Campo Rosso Farms broccolini, tahini, and fried yuba; and pasta fagioli that I reheated at home. The linguine was insanely good. Brooks gave us this bottle of olive oil via Rick Easton, I dumped that on the pasta fagioli too. CONE-flavored ice cream.
Monday, May 3
Pour-over coffee at home, then errands for my partner, JR.
Ate a Black Seed salmon classic on toasted everything bagel. I'm not really a bagel guy. I am a little more back on bagels, but in general they're just gross, or can be really gross. I guess I have a complicated relationship with bagels. I was lucky enough to grow up going to Sonny's Bagels in South Orange, New Jersey, which is one of the greatest bagel spots ever.
Juice Vitality "Berry Maxx" smoothie with hemp protein.
Leftover Sloppy Dave over rice with two eggs on top. I know this is horrible for any of the wonderful fans who are strict vegans, but an egg over Sloppy Dave over rice? Holy fucking shit, it's so good. That is currently my jam.
Insane tangerines from Brooks. They were so much better than candy. Just astonishing. Generally when Brooks gives you fruit, it's because it's really, really remarkable. He's never like, "Oh yeah, we've got these extra things here, try them!" He's like, "You have to try this." Anyone who regularly goes has a good chance of being a random beneficiary of some fruit that's better than anything else you've had.
Dinner was the La Morena burrito from Downtown Bakery. What a great spot. I put vibe over fancy food almost any fucking day, for sure. Certainly the vibe of Downtown Bakery is just fantastic. The dudes are so sweet there. There's a reason why people love it. But it's also just so good. That burrito I got is so kick-ass. It is really spicy, really cheesy, it's really satisfying, hardy and comforting. It's got something special about it.
I also ate some leftover burnt-broccoli salad, and for dessert had oatmeal cookies from Bowman Baked. They have a little bit of salt on them, and they're kind of crunchy, kind of not, kind of chewy, kind of not. They're so insanely good. Ask Brooks. He was like, "Whoa, really good cookie." I know that Andre 3000 is a fan as well.
After dinner I had guests over, showed my friend how to do pour-over, got jacked on Capacity Coffee. Weirdly ecstatic and nice. Before I got into making pour-over, I never drank coffee black. Now I know what everyone is talking about. It hits totally different, especially if you're someone who likes drugs. I don't know what it is.
I guess this could just be me getting old and doing less drugs.