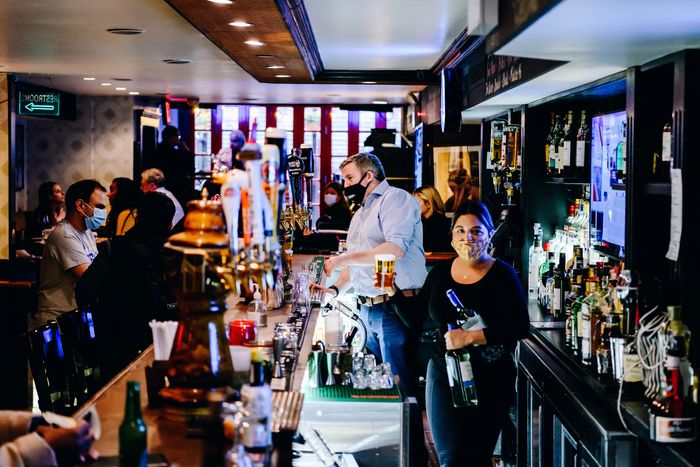 Some restaurant workers say they're not ready for restrictions to be eased.
Photo: Nina Westervelt/Bloomberg via Getty Images
Walking around many neighborhoods in New York, parks are packed, outdoor patios are humming, and many residents are understandably eager to get out and commingle. But not all hospitality workers are so excited about the easing of restrictions. At the East Village wine bar Ruffian, server and sommelier Yige Sun says she's happy the management is in no rush to reopen indoor dining, but she's still concerned about the forthcoming "summer of hedonism" many New Yorkers are looking forward to. "At this point, I have a million things to do at work. It's getting really, really busy, and I'm just doing everything I can," she says.
New York is accelerating its opening: Mayor de Blasio announced a "summer of New York City," after which Governor Cuomo stated plans to ease restrictions across the state by May 19. Cuomo's food mandate was repealed, bar seating returned on May 3; indoor dining capacity increased to 75 percent on May 7; the midnight curfew for outdoor dining will be rolled back starting May 17 and for indoor dining by May 31, the same day 24-hour subway service returns.
"I'm happy for the city. I'm from New York," says one bartender, recently of Diamond Reef and now at the Tyger. "But," he adds, "for me, it's too soon. I've talked to all my boys that bartend. We're all like, no."
After a long year that exacerbated existing issues in the industry — leaving many burnt out, alienated, and reconsidering their careers — bar and restaurant workers are now being asked to ramp up business. Some expressed concern that looser restrictions will shift the focus away from improving the industry and usher in a "return to normalcy" they don't want. "I think what's happening right now is everybody's just trying to put Bandaids over a burst pipe," says Jose Rosas, who works at the Barlow in Brooklyn. "We're just going back to the same thing we were doing before, which wasn't really working."
Rosas's comment echoes those of other restaurant workers who have spoken about the state of the industry. In recent weeks, there has been a flood of stories about owners having a hard time finding staff to work what are often low-paying, high-stress jobs.
Many business owners have falsely blamed enhanced unemployment benefits and "lazy" workers, but workers have pointed to dismal pay, toxic kitchen cultures, a lack of health insurance or benefits, and the absence of work-life balance. Others cite their experiences of feeling left out to dry by employers and treated poorly by customers, being called "essential workers" while not getting treated as such, and the deaths of friends and co-workers as reasons not to return. According to one study, California line cooks have the highest mortality rate among all professions in the state. This is presenting all kinds of problems for people still working in bars and restaurants, who may already be stretched to their limit.
"We're understaffed at Ruffian, we're understaffed at our sister restaurant, Kindred, and we're getting busier and busier. And it's just the beginning," says Sun. As bartender Jose F. Beltran explains, this is compounding pre-existing issues.
"Now, we're all running skeleton crews. We're getting back at it, but there's little to no time to start training people sometimes. So, we need people to hit the ground running," he says. It puts a ton of pressure on those with more experience, who are inching ever closer to burning out, provided they haven't already. "You can tell we need more shifts to be covered. But at the same time, it hits a point where it's like, 'Can I just have a day off?'"
One cook, who asked to remain anonymous, says that at full capacity with outdoor dining, the restaurant he works at can seat 45 to 60 more people a night than they did before the pandemic — and that they have roughly a third of the kitchen staff to handle the increase. "We're just not ready for it," he says. Though the entire staff is vaccinated and he feels "pretty safe" at work, the volume of business is crushing. "It may be a little premature to loosen all restrictions. I honestly thought this wouldn't happen until October or November. But that's not a decision we can make. We can only try to adapt."
Since last May, John Mato says he has worked a solo shift — when you're the only one on the clock — straight through, doing every job at Marshall Stack. (He describes this as a choice he made, and says the workload gave him a "sense of purpose" during what he says was the "most challenging year" of his life.)
"I was a waiter, barback, manager, bartender, bathroom attendant, security guard, chef, and on call for any of the government agencies," he says. For the past year, he says his strategy has been to muscle through week to week, which works for the time being but "isn't sustainable forever."
Now he's worried about having to do everything for both indoor and outdoor setups. "I'm not necessarily looking forward to it," he says. "At least with [the previous] rules and restrictions, there was a little more order. And this now, of course we want more business, but we don't want a free-for-all."
Several workers spoke about their concern that customers will feel emboldened to act carelessly. Rosas is most concerned about the shut-ins. "I guarantee you, the really paranoid people still have not left the house. And when restrictions lift, they're going to come out in droves," he says.
These are concerns that Alyssa Sartor, a co-owner of August Laura, says she's trying to be aware of at her bar. "I'm definitely excited about the restrictions being lifted from a business standpoint, but it's really difficult trying to get staff together and prepare," she says. "I don't want to put too much on the people that are just coming back to work for the first time. I worry about the mental state of the staff a lot."
With a full reopening happening, and crowds back in a bigger way, owners who have held out from indoor dining feel the clock ticking. As Short Stories and Williamsburg Pizza co-owner Ashwin Deshmukh sees it, there's going to be more pressure from landlords now. "We're still ambivalent about people being so close together," he says. "We just don't have a choice. We have exceptionally friendly landlords, but they also have real costs."
Dirt Candy restaurateur Amanda Cohen — who recently announced changes to her operations in the service of creating a more sustainable workplace for employees — says the pressure also comes from diners. After being "pretty wary," she'll reopen the restaurant for indoor dining restaurant on May 20. "We're losing customers because they want to dine indoors," she says. "As wary as I am, I also have to start looking at my bottom line and figuring out how this place can stop hemorrhaging money."
Along with restaurants, the city has increased capacity at gyms, salons, and offices to 100 percent, and the warm weather has brought people out to parks. For a street vendor like Terry and Yaki co-owner Mahmoud Aldeen, this is good news. "The first opening day at Governor's Island we sold out of everything," he says. "We just weren't expecting that, but it's a good sign for what's to come."
Terry and Yaki is usually parked in Astoria, and used to have a second cart near midtown's Hunter College, which Aldeen was forced to sell during the pandemic because of the lack of foot traffic. He's currently trying to expand his catering business, hoping to cash in on gatherings people have over the summer.
Since March, COVID-19 cases have plummeted in New York City, and as of May 11 are down 52 percent over the past 14 days. According to city data, 57 of adult New Yorkers have gotten at least one vaccine dose, but distribution has been unequal, often falling along race and class lines. As Gothamist reported, restrictions are being lifted while many upper-Manhattan and outer-borough neighborhoods are well below 50 percent vaccination. The restaurant industry also employs a lot of undocumented people, who face barriers to access and may fear handing over documentation.
The restaurant industry was pummeled by the pandemic, and some workers are still concerned about customers not wearing masks, because of close contact, fear of variants, and the potential of transmission to unvaccinated individuals. Researchers and scientists say it's still unclear if vaccinated individuals can spread the virus. Being outdoors, though, makes all the difference. As Zeynep Tufecki recently wrote in a New York Times story, "the superspreading events that play a major role in driving the pandemic occur overwhelmingly, if not exclusively, indoors."
"I feel like they're opening it up in May as quickly as they shut us down last March," says Cohen. "Because it's all really fast, it's not like, 'Okay, let's wait two weeks and then maybe we'll open, we'll see what happens with our numbers.' Instead, we're just jumping right back in there, almost as if this pandemic never happened."