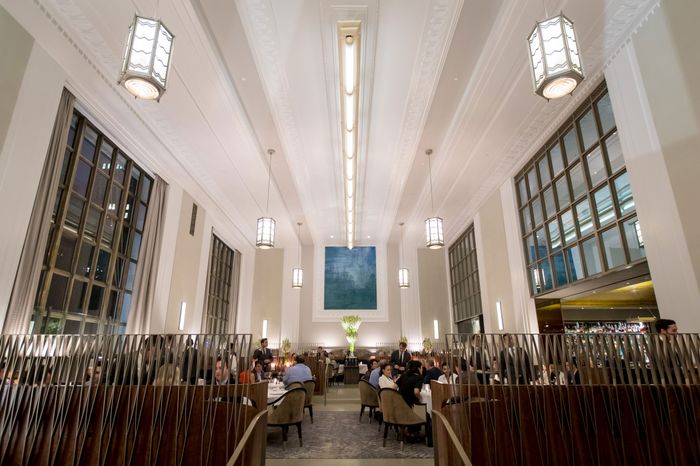 The EMP dining room will be free of all animal products (except milk, for coffee).
Photo: Gary He
There are some changes afoot at the triple-Michelin-starred Eleven Madison Park. When it reopens on June 10, the restaurant once known for its honey-lavender roast duck, orbs of celery root cooked in pig's bladder, and seared foie gras, is going 100 percent free of animal products, the restaurant announced today.
"It was clear that after everything we all experienced this past year, we couldn't open the same restaurant," writes EMP chef and owner Daniel Humm. Which is why, he explains, "We've made the decision to serve a plant-based menu in which we do not use any animal products — every dish is made from vegetables, both from the earth and the sea, as well as fruits, legumes, fungi, grains, and so much more." The decision, like all decisions at EMP, was not taken lightly. Humm goes on:
We asked ourselves: What are the most delicious aspects of our dishes, and how could we achieve the same level of flavor and texture without meat? 




It's crucial to us that no matter the ingredients, the dish must live up to some of my favorites of the past. It's a tremendous challenge to create something as satisfying as the lavender honey glazed duck, or the butter poached lobster, recipes that we perfected.  




I'm not going to lie, at times I'm up in the middle of the night, thinking about the risk we're taking abandoning dishes that once defined us.




But then I return to the kitchen and see what we've created. We are obsessed with making the most flavorful vegetable broths and stocks. Our days are consumed by developing fully plant-based milks, butters and creams. We are exploring fermentation, and understand that time is one of the most precious ingredients. What at first felt limiting began to feel freeing, and we are only scratching the surface.
The new menu will feature a wildly flavorful beet dish — the product of a 16-hour process with "more than a dozen distinct steps," according to a preview of the menu from the Wall Street Journal's magazine, WSJ. — as well as a rice porridge with celtuce, and an amaranth-seed-and-sweet-pea course "served with a creamy fermented-almond cream and pea-miso purée," apparently the standout.
With the revamped EMP, Humm is also trying to reconcile — or at least ethically navigate — the politics of operating an ultra-luxury restaurant specializing in $335 tasting menus after a pandemic, in a city where a third of people have received groceries or meals from food banks since March of 2020. For the moment, Humm's answer is to position EMP as a kind of roundabout wealth-redistribution program. During the pandemic, the restaurant started preparing and distributing free meals with a nonprofit group called Rethink Food, and last month, the restaurant's leadership announced they'd be collaborating with Rethink, which is co-founded by Humm, on a food truck providing free meals to New Yorkers in need — paid for in part by EMP sales. Every plant-based dinner purchased will "allow us to provide five meals to food-insecure New Yorkers," Humm says.