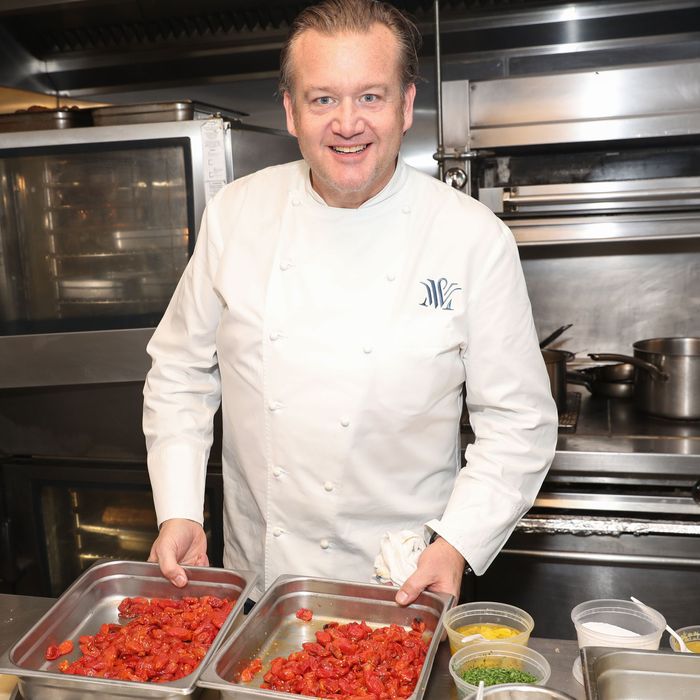 Michael White in 2019.
Photo: Bennett Raglin/Getty Images for NYCWFF
One of New York's most acclaimed chefs is moving on: Michael White has left his post with the Altamarea Group, the hospitality company he co-founded, which runs prominent New York dining rooms such as Marea, Ai Fiori, and Osteria Morini.
A spokesperson for the company confirms the split: "Michael is no longer involved with Altamarea Group, but we are very grateful for all his contributions to the company," they say. According to the rep, White left New York City "fully" at the start of the pandemic, decamping to his home in the Hamptons.
White, who's still listed on the Marea website, declined to comment on the split, and the last time an Altamarea property appeared in White's Instagram feed was February 2020, which featured squid-ink lobster cappellacci at Marea in Dubai. By August, he was posting quarantine cooking pictures from his home.
Now, Lauren DeSteno has taken over as executive chef of Marea and Ai Fiori, while Bill Dorrler holds the title for Osteria Morini and Nicoletta Pizzeria; both are ten-year veterans of the restaurant group, according to Altamarea reps. Back in February, Dorrler helped a team open a Morini location in Miami, which has become something of a haven for deep-pocketed restaurateurs during the pandemic.
Founded in 2008 by former Merrill Lynch co-president Ahmass Fakahany and White, Altamarea currently operates 15 restaurants. In addition to Marea (which opened in 2009), there's Osteria Morini and Ai Fiori in Manhattan, as well as a handful of offshoots in New Jersey; Long Island; Washington, D.C.; Miami Beach; Dubai; and Istanbul, with a new project in Riyadh on the way. Before teaming up with Fakahany, White partnered with Chris Cannon to run Convivio and Alto (their professional relationship ended in 2010).
In 2014, the year DeSteno was promoted to Marea's chef de cuisine, she was featured as part of a New York Times spotlight on female chefs taking the lead in high-end restaurant kitchens. "More than ever, women fill the jobs that will produce the next generation of restaurant leaders," reads the intro. The article reported that 50 percent of the Altamarea Group kitchen staff were women at the time, a number which the group now says is closer to 70 percent. This week, Marea and Ai Fiori both maintained their one-star ratings in the 2021 NYC Michelin standings.
White — who is known for luxurious pasta dishes — first staked a place among Manhattan's restaurant landscape in 2002 as executive chef of the now-closed Fiamma Osteria, having earned a three-star Times review and a Michelin star. He teamed up with Fakahany in 2007, opening restaurants in New Jersey before eventually opening Marea, which earned three stars from the New York Times, Best New Restaurant in 2010 from the James Beard Foundation, and two Michelin stars in the 2012 Guide. Since opening 12 years ago, Marea has held its own among the city's top restaurants as a destination for the power-lunch set.
Lately, Marea has been in the news for other reasons: In February, Marea reportedly upset neighbors by asking the community board to allow a permanent takeover of the courtyard and extend its liquor license to the outdoor seating at 240 Central Park South; the board ultimately voted in favor of both. (In addition to noise, the neighbors expressed concern over seating encroaching on sidewalk space and the flame torches as a fire hazard.)
And, in 2018 and 2010, former staffers sued Altamarea Group for wage violations. The case was dismissed in 2018, while the prior case — which included Chris Cannon — was settled for $300,000.