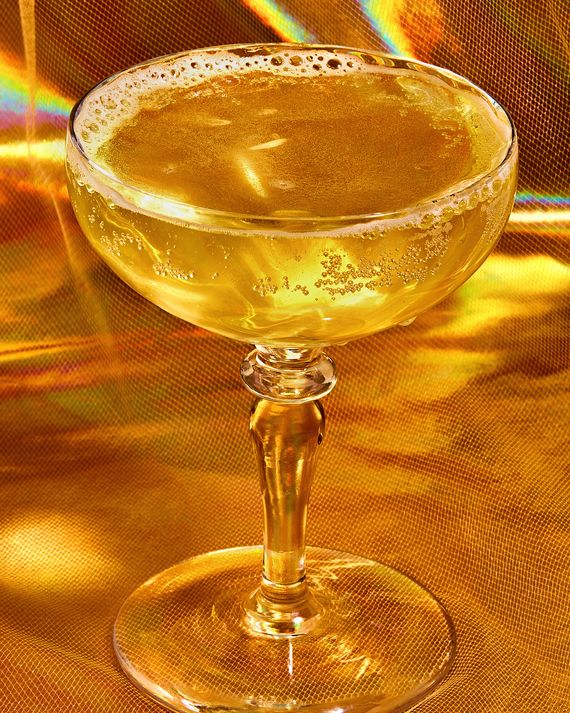 Turn off Route 27 in Southampton and head toward Main Street on Memorial Day weekend, and you may be temporarily blinded by the display of bright-orange umbrellas. That would be the front yard of year-old Union Sushi and Steak, which owner Ian Duke is decorating extensively with the iconic trademark of Veuve Clicquot Champagne.
"When you open a restaurant, you have to decide who you are going to cater to," says Duke, who owns four restaurants in the Hamptons. And this year, he's targeting customers who are saying, "Nothing is going to ruin my summer."
It's been a hard year for an industry synonymous with celebration. The Comité Champagne, the French region's alliance of grape growers and wine-makers, was forced to cut its 2020 production to the largest degree since the Depression. Global Champagne sales fell by 18 percent, a loss of more than $1 billion.
Champagne brands, frantic after a year of no bottomless brunches, few festive events, and grounded duty-free airport sales, are now zoning in on the Hamptons, the Berkshires, and other resort locations to recover their sparkle. Their all-in marketing push dovetails with the need for restaurants, bars, nightclubs, fundraisers, and party planners in society circles to turn a profit, and fast.
In high-end destinations across the Northeast, Champagne producers and hospitality executives are going above and beyond to push the drink. The Southampton Inn reduced its bar hours during COVID but installed a fridge by the front desk; owner Dede Gotthelf says guests were requesting Champagne and sparkling wines. She estimates that sales of grab-and-go splits have increased 10 percent, billed directly to the rooms. At Daniel Boulud's permanent residency in the Blantyre Resort in Lenox, Massachusetts, guests can dine in a Champagne Salon "inspired" (read: sponsored) by Dom Pérignon, complete with a "tin-to-table" caviar menu, served under a Baccarat chandelier.
Some Champagne producers are offering more incentives and extra product to bars and restaurants, says Salvatore Biundo, chef and owner at Centro Trattoria in Hamptons Bay. As a result, he introduced a new menu on Mother's Day that increased Champagne offerings from four to ten. Displaying Champagne more visibly has helped sales, he says, as has adding a piazza deck with a fountain and piano. More customers are having a glass of Champagne as they wait for their table. "They're getting a $37 Blanc instead of a $13 prosecco. Hey, I'm not complaining," he says.
And it's not just on weekends: Montauk's new waterside restaurant La Fin is offering a "Recovery Brunch," running daily, starting Memorial Day weekend. It stocks a dozen different Champagne brands, priced from $68 to $488.
A year ago at this time, Southern Glazer, the nation's largest liquor distributor, had lost a whopping 160,000 restaurant, bar, and nightclub accounts, says SVP Lee Schrager. But this weekend marks the return of one of the largest Champagne events in the country, the Guy Fieri–hosted Bubble Q, part of the previously postponed South Beach Wine and Food Festival in Miami (Schrager is a founder of the fest). Champagne brand Moët & Chandon is sponsoring the event for the first time in a decade, donating 360 cases. And those 160,000 accounts across the nation? The majority have returned, says Schrager.
Why Champagne and not, say, gin, chilled? As reports that at-home drinking increased during the pandemic proliferate, hospitality insiders are hoping that people are ready to transition to something that feels a little lighter and more celebratory. While Cosmopolitans continue their campaign to be crowned the Drink of Summer, Champagne is timeless.
"Drop two raspberries into a Champagne flute and the guy holding it sticks out his pinky and thinks he's elegant," says event planner Lawrence Scott, who is known for his extravagant East End parties. It's particularly crucial this summer for producers to have their Champagne brand featured, says Scott, because so many venues still aren't using a full bar. Some cocktail hours are seated, or servers are bringing around a tray offering a single type of drink. At some events, he says, there will be "rolling carts" of liquor, with only a few brands onboard.
Rita Jammet, head and "chief bubble officer" of La Caravelle wines, a boutique Champagne brand stocked at Boulud's new midtown eatery Le Pavillon, has seen "a very definite and strong buying pattern from women." La Caravelle hosted Zoom cooking classes and Goldbely promotions with chefs like Marcus Samuelsson, Laurent Tourondel and Gabriel Kreuther during the pandemic, which increased their female customer base, she says.
The brand's Champagne rosé and splits are female favorites, says Jammet. Sales of the Champagne rosé from January to April of 2021 are running 50 percent ahead of last year's total. "The color brings joy and optimism, which we have badly needed throughout the pandemic," she says.
There are other reasons restaurateurs are rooting for Champagne's success, too. As Abraham Merchant, the owner of Philippe on the Upper East Side puts it, "Once [diners] start off their meal with a glass of Champagne, they move on to wine, and then they'll be drinking all night long."