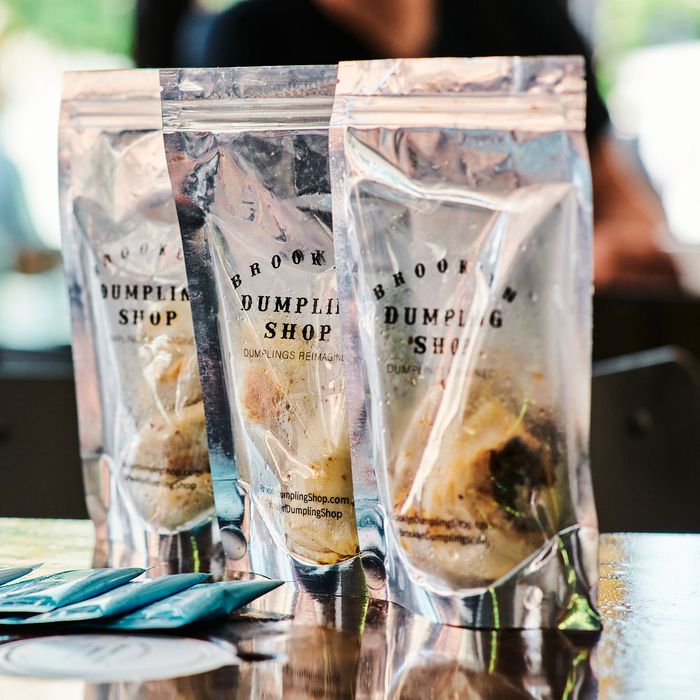 Photo: Christian Rodriguez
At 3:30 p.m. on Wednesday afternoon, dozens of New Yorkers lined up at the corner of St. Mark's Place and First Avenue for the opportunity to buy dumplings from machines. By then, the much-anticipated Brooklyn Dumpling Shop had been open for just over three hours, and the line showed no signs of slowing. "This could be like Shake Shack," the man in front of me said, or at least I think he did — it is hard to eavesdrop through masks.
New York City is full of dumplings. The East Village is full of dumplings. St. Mark's Place itself has multiple dumpling options. But there are no dumplings like these dumplings, because these, the restaurant's website tells me, are "dumplings reimagined." The latest project of Stratis Morfogen, the restaurateur behind the similarly-not-in-Brooklyn Brooklyn Chop House, Brooklyn Dumpling Shop (BDS) is an automat that specializes in unexpected dumplings with multicultural fillings, with a rotating cast of 22 available at any given time.
There is a lamb gyro dumpling, a chicken-Parm dumpling, and a peanut butter-and-jelly dumpling. There is a menu of Breakfast Cro-'sumplings (sadly not yet available), and several non-traditional soup dumplings, including matzo ball and French onion. There is a selection of dessert dumplings, like ginger apple, or Nutella, which can be served with or without ice cream. What there is not is human service, and that is the point.
Here is how it is supposed to work: You make your selections at a touchscreen kiosk, where you also swipe your card to pay. Meanwhile, somebody — a human, though not one you interact with — deposits your order into one of 23 glowing white breadbox-size cubbies. A leaderboard shows which orders are being prepared, and when your number is ready, you approach the state-of-the-art dumpling wall, scan your receipt (or your phone), and the appropriate cubby opens automatically to reveal your dumplings. This process, BDS's Instagram bio promises, requires "ZERO Human INTERACTION."
Fresh off 14 months of ZERO Human INTERACTION myself, I am a connoisseur of not interacting, which qualifies me to say: There was definitely, at least at 2:46 p.m. on Wednesday, some interacting. First, I fumbled with the credit-card scanner, requiring help from a human, then then there was some receipt confusion, and when my order was ready, it was short one pouch of dumplings — a matter quickly remedied by another human. Let's call it a fluke — the restaurant had been open, at that point, for less than two hours. "Everything is extremely smooth," Morfogen assures me several hours later. "It's actually scary how smooth it is, and I've opened about 33 restaurants in my career."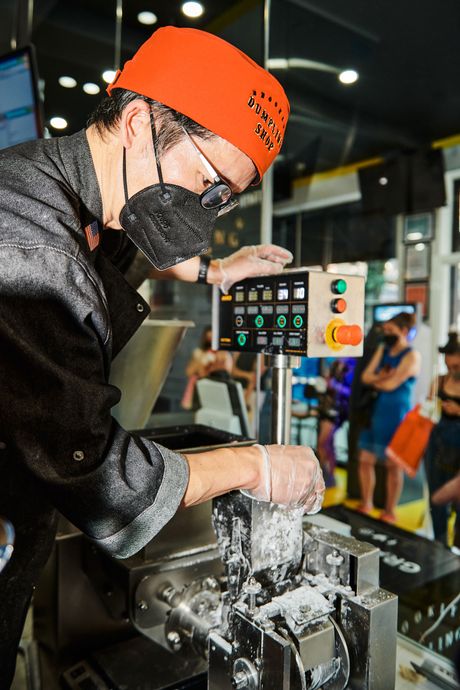 It will, he promises, only get smoother. Eventually, BDS will be open 24 hours. You can't order online yet ("we can't add more business to the operation right now"), but soon, it will be frictionless; you'll order, pay, and scan all directly from your phone. This is the future, Morfogen is confident. It is also distinctly like the past.
Automats flourished in the first part of the 20th century, thanks largely to Horn & Hardart, which introduced Americans to the joy of high-quality, low-cost convenience. Diners chose their dishes, each displayed in its individual cubby, dropped in a coin, and retrieved the food, which was immediately replenished. (Despite the name, Smithsonian notes, automats were in fact quite well-staffed.) That the eating experience was cafeteria-style only added to their egalitarian allure. "Automats were a home away from home for New Yorkers who did not have money to burn," waxed the Times, "But people who did have money to burn ate there, too." And then they stopped: By the second half of the century, automats were falling out of favor; the last U.S. automat, a Manhattan Horn & Hardart, closed in 1991.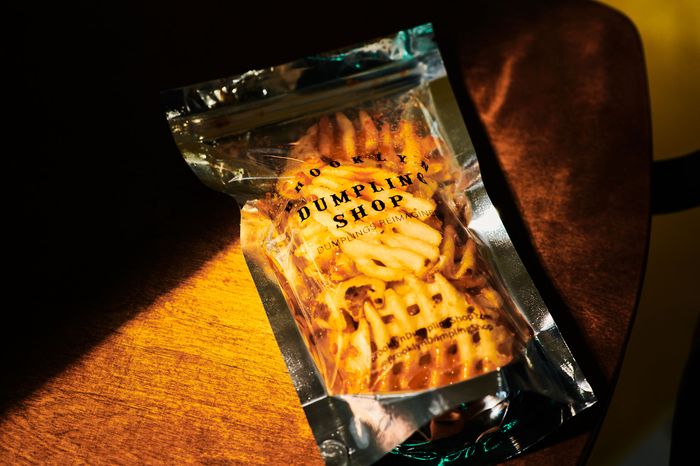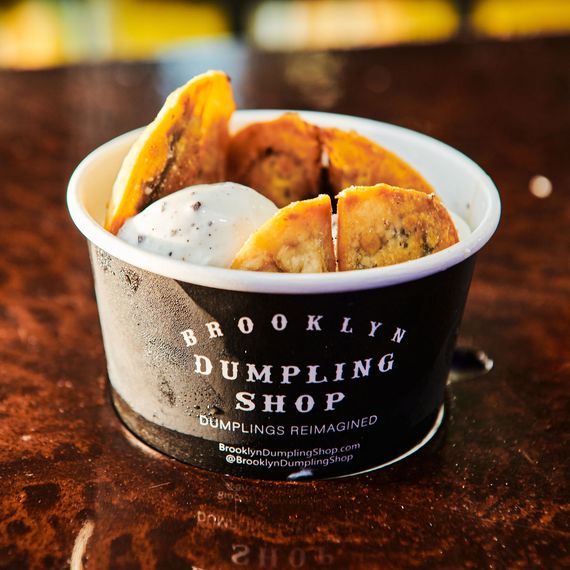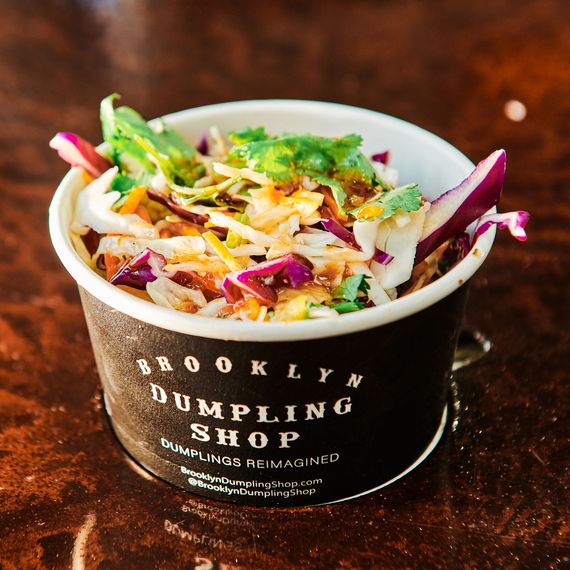 And yet the automats (I hear) were wonderful, as evidenced by the fact that we cannot give them up, despite the fact that attempts to revive them flop consistently. In 2006, we got takeout-only Bamn!, also on St. Mark's Place, where several handfuls of quarters (there was a change machine) could buy you teriyaki-chicken sliders, pizza dumplings, and assorted French fries for the three years until it shuttered. Sprinkles' 2014 attempt at a New York City 24-hour "cupcake ATM" also permanently closed (the concept lives on elsewhere). Eatsa, a quinoa-bowl concept imported from San Francisco, opened in midtown in 2016, where it lasted just one year. "Personally, I think the founders of Eatsa have overestimated the draw of technology," suggested the Washington Post's Tim Carman, when the brand's fledgling empire began to crumble. "Or, perhaps more to the point, they couldn't imagine that people might be repelled by a restaurant that resembles a giant smartphone." After a lonely year of heavy Zooming, is this the future that anybody wants?
Absolutely, argues Morforgen. The problem with all those other modern automats was not the basic concept, he explains, but the execution: "I realized that we should be able to bring the automat back in a high-tech version where the consumer controls the whole experience from the palm of their hand." Yes, contemporary automats have tried and failed, but "I don't think they embraced technology the way my team and I did," he says.
And at the same time, he goes on, a true automat believer, those other places didn't understand what he does, which is that "you need a balance of personal and impersonal." At Brooklyn Dumpling Shop, you can see a brigade of human dumpling makers working behind glass in what he calls "the dumpling lab." People want a fully automatic automat, but they also, he feels strongly, demand a human touch. There will always be two human greeters and two cleaners disinfecting, although he does plan, by September, to add two robots to the kitchen. And while previous latter-day attempts have been takeout-only, BDS has abundant seating.
There is another big reason Morforgen is betting on the modern automat: Cost, which he brings up immediately. It is not that people don't like human interaction. It is that human interaction is expensive. "The automat is the most cost-effective, efficient way to distribute a product," he says. "I don't need cashiers. I don't need logistical personnel. When I walk into a Starbucks or a Chipotle, I cringe. I don't understand why we still have cashiers at any fast-food restaurant." Haters say he's taking away jobs, but the way Morforgen sees it, that's exactly backward: Most restaurants fail, but because this model is going to succeed, "we're going to be saving jobs."
Certainly, he's found a small army of believers. BDS sold 139 franchises worldwide before it opened a single location. He estimates 50 percent of those are in college towns, suggesting if he's right about this, the new automat is going to have a very different demographic than the old ones: students in search of extreme late-night convenience. Remember doing things, for fun, in public, sometimes at night? It was fun! The dumplings themselves might have been underwhelming (too soft and too starchy, vaguely airline-like), but they are also not the main attraction. The pleasure of the new-old automat, at least right now, is the promise of returning to a life where you just might be busy enough, outside your home enough, to need the convenience of an automat at all.