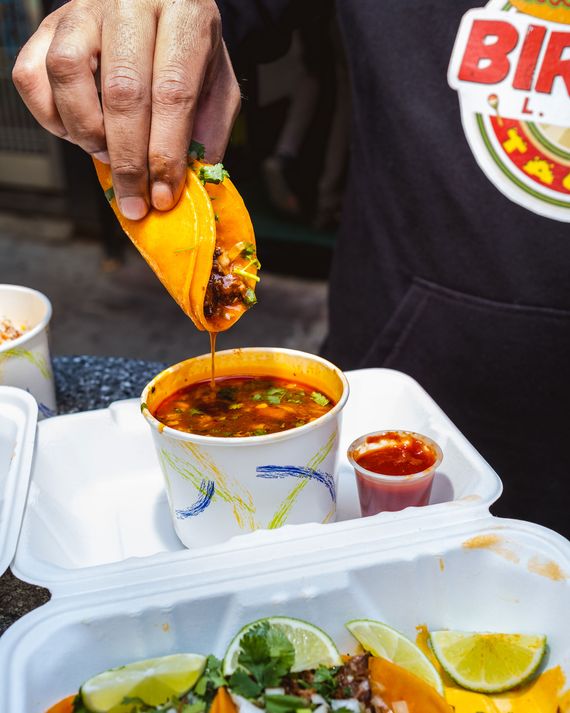 The crunch tacos being dipped into rich consommé broth at Birria LES.
Photo: Lanna Apisukh
Stop me if you've heard this one before: A pair of Muslim Bangladeshis decide to open a Halal Mexican spot near where they grew up in the Lower East Side, with the help of a Mexican chef, whose birria promptly blows up on TikTok. Typical New York story, right?
This is the origin of Birria LES, a tiny new storefront with a food-truck-sized menu of tacos, mulitas, tostadas, consommé, and esquites on Rivington Street. The restaurant is a partnership between childhood friends Iqbal "Iggy" Ahmed and Emon Ullah, along with another friend, chef Raymundo Garcia, a native of Tlaxcala in central Mexico.
Though Birria LES has only been open for a few weeks, the tiny restaurant — with its seven indoor seats and three outdoor standing tables — is a burgeoning favorite among young Muslims. Its popularity is soaring thanks to TikTok, first from @HalalNYC , in a clip that has over 130,000 views and reads, "#Birria LES is a game-changer for #Halal eats in #manhattan 🌮👌🏼." On the heels of that post in the middle of Ramadan, @muslimfoodies followed up with a more straightforward "here's why this is good" clip, garnering another 310K views in early May.
With only a tiny internet presence and no PR, those views gave Birria LES an early opening crowd. On a recent visit during Ramadan, every table in the place broke fast with dates that Ahmed or Ullah offered to walk-ins. "It was the break we needed," says Ullah, of the video clips that built the restaurant's near-instant fan base.
The duo, now neighbors in East Harlem and both fathers to newborns, also own Mumbai Curry House on Allen Street, but like many small restaurants, it took a serious hit during the pandemic. And Birria LES wasn't the original idea for the Rivington space. When they first signed the lease, pre-pandemic, they opened Street Eats, which closed during the shutdown. "The city," says Ullah, "was a ghost town."
As the shutdown stretched on and birria became more popular, Ahmed and Ullah couldn't shake the craving — fueled, in part, by TikTok and Instagram. Over the course of the year, they realized they wanted a birria fix closer than a Queens food truck, or Brooklyn deli, or even in the East Village. But what, exactly was their birria style?
They spent two months perfecting the recipe with Garcia. Before deciding on their own version, Garcia was their master taste-tester, who helped the duo suss out the best birria in the five boroughs. "We'd bring him stuff from a place in Queens and another place in Bushwick and he'd taste one of them, and say, 'That's not birria,'" Ahmed says.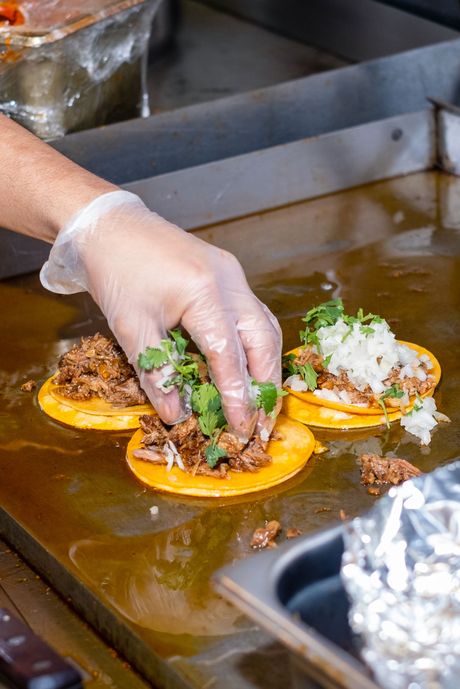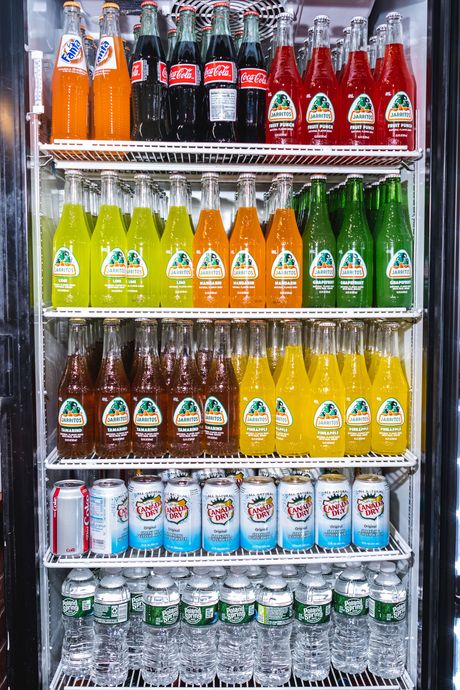 Birria came on the New York scene in full swing this fall, thanks in part to the popularity of the Birria-Landia truck in Jackson Heights, with its bright-red, chile-braised meat tacos and rich consommé for dipping. Often made of beef (though some say it should be goat), birria and its many variations stirs passionate debate among Mexican food lovers.
Stateside, birria seems to have trickled its way east from Los Angeles, where, for decades, fans could find goat, beef, and lamb renditions, a reflection of the varied styles from Tijuana to Michoacán, Tejal Rao wrote in the New York Times back in February.
Garcia says his family has their own recipe — and he says that before 2008, when he settled in New Jersey, he traveled around Mexico in search of different styles of birria. One thing he says all birria-makers agree upon: "The fattier the meat," says Garcia, "the better the consommé."
Back on the Lower East Side, customers can order birria tacos ($4) with consommé ($4 to $6). They'll get a bright red, eat-it-quick-before-it-falls-apart version with more cilantro than most local versions and less chile heat than some others — but they're there, says Garcia. His family's technique involves an interplay of three different chiles for a balance of a sweetness and heat. Garcia says he adjusts the spice levels constantly throughout the ten hours it takes to make each day's batch.
The result is delicious with or without cheese. But the real star accompaniment is the silky consommé, enriched with bone marrow. Crunch fans might prefer the diminutive tostadas ($4) and mulitas ($5), and if you must have a vegetable, there's a cup of cheesy esquites, Mexican street corn ($4-6).
Ullah noted that the place is already drawing a handful of customers from beyond Manhattan. "We just had a guy drive from Pennsylvania," he says. The guest had been wanting to try birria but couldn't find a halal version — until now.
"Halal gives us a chance to try more international foods," Ullah says. He pointed to Nur Thai in Rego Park, a halal restaurant his nephew opened in 2019. But Ullah says Birria LES isn't just for those in search of halal meals; it's for everyone. "Yes, LES in our name is for 'Lower East Side,'" he says. "But it also stands for Love Every Soul."