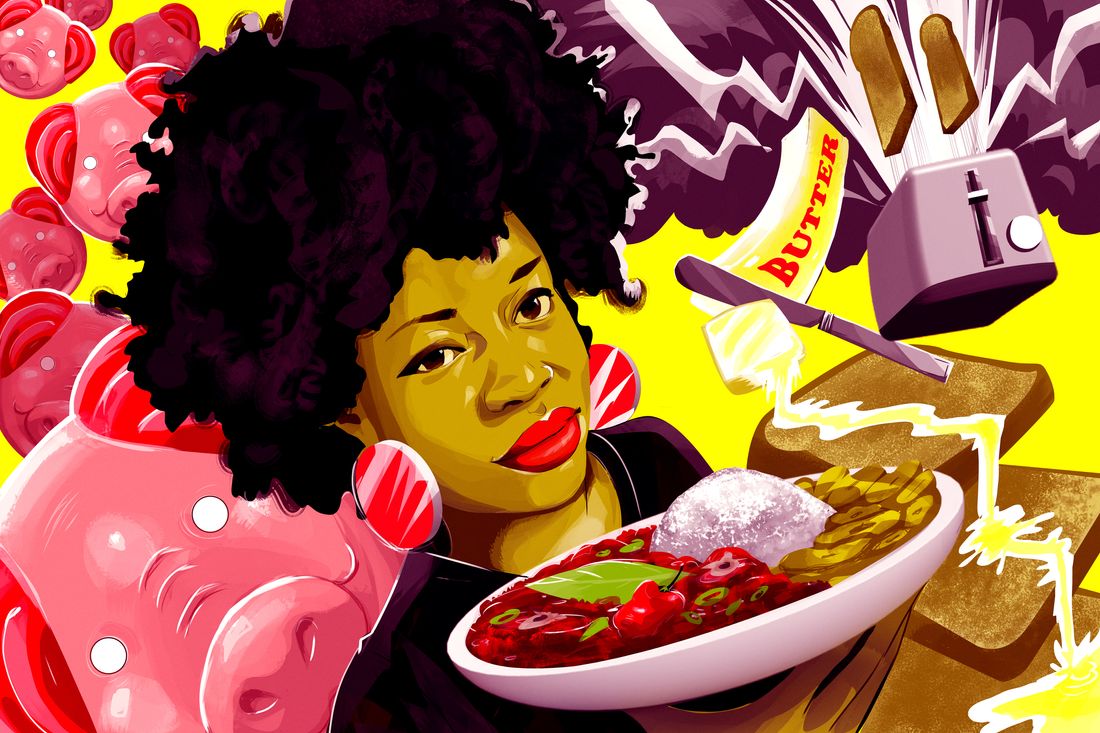 Illustration: Ryan Inzana
Since moving to the U.S. from London in 2016, This American Life producer Bim Adewunmi has been dismayed to find certain aspects of American culinary culture lacking. "This is probably sacrilegious to an American magazine — I don't want to make enemies! — but I think the sweets are better in the U.K.," she says. The radio producer and playwright (her debut, Hoard, premiered in London in 2019) has a bunch of new projects in the works, most of which she'd rather not discuss yet. This week, she investigates the comparative oat lattes of Bed-Stuy, considers whether she can justify the price of an airport Kind bar, and tries to make do with Welch's fruit snacks.
Thursday, May 13
I just moved back to Bed-Stuy after four years in Crown Heights. It came down to the pandemic. Suddenly you discovered the habits of your neighbors that you wouldn't normally know because you were at work, but then work became home and home became work, and my downstairs neighbor, it turned out, loved nothing more than playing incredibly loud gospel music and also frying fish. The fish smell would waft up and the ground would be vibrating from the music he was playing downstairs — the combination was heady. After a year of that, I was like, "You know what, I work in audio! It doesn't make sense to be living in what is essentially a rave, cheap as it is." And it was a steal. But I couldn't keep doing it. It had been four years of really cheap rent — maybe that was my gift. It was time to go elsewhere.
I never knew how long I was going to be living here, but one of my goals, before I leave the city, was to live in a brownstone, and now I am. It's a lovely apartment and it's quiet and I love that.
Around 9:30, I walked down to Nagle's Bagels on Tompkins, and ordered the Veggie Nagle: eggs, baby arugula, feta, and chili jam on a salt bagel and then punched in my reward card. Their bagels are good, they're filling, they're all that stuff, but I was really coming for the chili jam. The chili jam is fantastic. I'm very slowly eating my way across Bed-Stuy, so that I get my bagel here, but I'll get the coffee elsewhere — this is part of me trying to re-acclimatize to the neighborhood — so I crossed the street to Brooklyn Kettle and got an oat latte. "One Dance" by Drake is playing in the store, and I am instantly taken back to the summer of 2016. That was my first summer in New York. I'd come to report the election for BuzzFeed. I remember just dancing a lot to Drake that summer. I look back at it like, Oh God, were we ever so young? Because I am always charmed by the squat shape of the bottles, I also get a bottle of Martinelli's apple juice.
The sandwich filled me all the way up, even though I ended up discarding about a quarter of the bagel. I'm fresh out of Ramadan, and it still feels like my stomach has shrunk in the last four weeks. It takes a while to re-adjust to three square meals. I'm not the most observant Muslim in the world, but one of the things I really, really, really love to do is Ramadan. There is something that I find very soothing and unifying to know that across the world, during this one particular period of the year, all Muslims of a certain age and disposition are doing exactly the same thing.
Then I get to work. I was flying to Minneapolis for a story the next day, so it was a lot of logistics. All through the day, I drank from a bottle of Polar seltzer, a habit I picked up when I moved to the U.S. I am a huge fan of Polar — like, huge — because I mean, it's everywhere, and they have a fantastic range. Every summer they have limited-edition flavors, which I'm very into. Today's flavor is blueberry lemon.
Lunch is a "not really" affair: I have a slice of toast from a semi-disastrous attempt at a Nigella sandwich loaf — I don't know how I messed it up! — toasted and buttered, plus a heavy-handed serving of Bonne Maman raspberry jam. Back in the early days of the pandemic, I attempted sourdough starter like every other Brooklyn media person, but the starters would just not take, and many frustrations later, I moved on to making regular bread. Mostly, I use the no-knead recipe from The Kitchn, and now, every couple of weeks, I think, 'oh, yeah, I need some bread,' and I bake it. This loaf, though, landed on my counter like a brick. I thought, this is a weapon. But is it edible? Yes, it is edible. I don't believe in throwing food out, not usually, so I was like, You know what? Godspeed. We're just gonna go with this. I also crunched a couple of handfuls of Trader Joe's maple pecan granola while I'm waiting for the toast, and I made a cup of Yorkshire tea to go with. And water! The week after Ramadan is always spent telling yourself to drink more now that it's allowed again.
For dinner, I debated cooking the chicken thighs I had in the fridge, but laziness won out and I ordered from Skip's, as influenced by my friend Erin Evans, who'd posted about it on Instagram a few months ago. I ordered some shrimp and fries, plus fried okra. I love okra. All forms of it. A lot.
Unfortunately, I was delivered somebody else's dinner — rice and peas and chicken and mac and cheese of unknown provenance. I felt bad for throwing the meal out … but I didn't know where it came from! I was profoundly disappointed and starving. It felt like a message from the universe, but in my mum's voice: "You have to cook the food you buy!" So I did a slightly modified version of Melissa Clark's famous lemony garlicky chicken, with bone-in, skin-on thighs. It's perhaps the most perfect chicken recipe in the world. I just re-seasoned my Lodge cast-iron skillet so that was a nice test to see if it had worked. It worked! I ended the day just after 2 a.m. with a cup of tea. Yorkshire, with a splash of Lactaid 2 percent.
Friday, May 14
I was up again at 3:20 a.m. The day before travel or a big interview or whatever, I tend not to sleep anyway, especially if there's travel involved. I get very stressed out about missing a plane or a train. I have a tweet that I return to a lot, which is, "My personal kink is arriving at the airport two hours early." I love that shit. I refuse to be stressed out at an airport.
I smashed some avocado with Everything But the Bagel seasoning, chili flakes, onion salt, pepper and the juice from the half-lemon I didn't use in my chicken dinner, and spooned it onto two slices of lightly buttered toast. On one, I also put a little dab of the Fly by Jing Sichuan chili crisp. I ate one slice of the avocado toast as I walked down the stairs to the Uber and ate the other one outside Terminal 4 at JFK. It's my first flight anywhere since January 2020. I know for a fact there's no way I would have done it if I didn't have the Moderna coursing through my body. At the airport, I contemplated getting a coconut and almond Kind bar but … $3.69. So that's a no on principle.
In the air, we were served almonds and Biscoff from the cart — I ate the almonds and saved the biscuits for later, in case I got peckish. Once we landed in Minneapolis, my co-producer at TAL Aviva DeKornfeld and I walked to Hen House Eatery on the recommendation of our hotel desk staff and ordered the Two Eggs and Hen Potatoes with multigrain toast and chicken sausage and just kept asking for coffee refills. Then we had a full day of reporting.
All my reporting for the last year has been done on the phone or via email, so this was the first time I was like, out in the world, and by the end, I was knackered. I don't know how I used to commute and go places and then sometimes go out after work! It is exhausting to be alive and moving.
We got dinner at Tavola, the restaurant in the hotel. We each had the Brussels cacio e pepe, and the fettuccine with burrata, artichoke, tomato, and pesto, and I got a Parts Unknown cocktail, which is Aperol, Cynar amaro, and Galliano l'autentico. It tasted a bit like grown up cough syrup. I ate dinner in my room, mostly prone, in a hotel robe, and got fettuccine on the sheets.
Saturday, April 15
I almost missed my flight back to New York. I was so stressed out. The Ubers were so slow in Minnesota! I realize that I'm a coastal elite idiot — I know this. And then when we got to the airport, the handle on my suitcase broke, so I had to carry it like a baby. I was running through the airport, texting Aviva frantically — she'd already boarded, no problems — and when I got to the gate, the gate agent was like, "Oh, you're the co-worker, she's told us all about you!" At this point, there's sweat dripping down my temple. My entire hoodie is wet at the back. But I made it. I finally got to my seat and proceeded to sweat gently for the next few hours.
Aviva got me a bag of Supernola banana nut crunch because she'd gotten to the gate first, so I ate that very slowly while watching The Assistant (which is quiet and excellent) and also the first 30 minutes of Promising Young Woman, which I could tell was gonna veer left in a way I would not like. I read the Wiki summary as I got off the plane — I was right.
I got home around three, and made a cup of tea with Chobani oat milk. I have tried them ALL, and Chobani oat might be the best milk on the market. It's the mouthfeel. Mouthfeel is a terrible word, but it's just the facts: It feels good in your mouth. It tastes good. There are terrible out milks out there — one in particular. I don't want to slander the wrong people, but it's in an orange box. It is trash, I can't stress this enough.
There was no food in my house, so I ordered from Popeyes: a chicken sandwich and Cajun fries, plus a strawberry Fanta that I didn't drink immediately. Around six, I walked with my friend Neena to another friend's house because she was having friends over in her backyard for her birthday. I nibbled on chips and guacamole — I was still full from the sandwich. Mostly, I chatted a lot and hugged people. In a weird way, we're in a glorious age of consent. Everyone's checking in and checking again, Can we …? Is this okay? Is this okay with you? That's what I'm comfortable with, are you comfortable? I hope that's the one takeaway from this is that we all get so much better at enthusiastic consent. I missed the birthday carrot cake, though. Gutting.
I walked home, sipping more water, and then lazed around on my phone for a few hours doing nothing of consequence. I will tell you this: I don't know how it works out what you like, but the TikTok algorithm has got me down pat. I'm just like, yeah, this is perfect. This is 100 percent the content I'm here for. At the moment, that is a mix of dogs, babies, Black girls being amazing, lots of British comedy, lots of Black British content — the bulk of it is babies and dogs, though, which are two of my prime interests in the world. I mean, fuck Skynet, but I see how Skynet got to where it got to.
Before bed, I took my vitamins and antihistamine with the strawberry Fanta. I also made a cup of peppermint tea, and I ate a couple of biscuits with it — Tate's Coconut Crisp. A top-three biscuit.
Sunday, May 16
My secret shame is I don't care about coffee — it legit all tastes the same to me, or close enough. For the most part? I think it's because I'm not an addict. I just drink it when I feel like I need it. This one is a TJ Maxx or Marshall's buy, maple-nut-crunch-something — I threw out the bag when I decanted it into an amber mason jar. I have no purity sensor whatsoever. I want coffee that tastes like it could be a little milkshake.
I had that with a slice of buttered toast, plus a boiled egg and some ketchup. The bread is from a sandwich loaf I made from a recipe in Real Simple — easy and delicious and no kneading! After that, I ate a tiny bowl of Crunchy Nut cereal, which is unavailable in the U.S., so I have to get it sent from the U.K., and then I went back to bed with a cup of tea.
Generally speaking, I do very little on a Sunday. I'm a big fan of sleeping. It's one of my hobbies, so I tried my best to partake in the hobby and had a lie in. I wasn't very hungry, but I had some leftover ila asepo (Nigerian okra stew with seafood) in the fridge from Divine Flavored Catering, so I grazed on that.
I did eventually go grocery shopping at the huge Foodtown in Bed-Stuy to stock up, and because I was peckish, I got some Welch's Fruit Snacks, even if they are inferior to Percy Pigs and Maynards Wine Gums, which are my top choices. Welch's taste like they've been on a shelf, but Percys don't. Percys are fresh. They're zingy. They leave a cleaner feel on your tongue, they taste more fruity, more gummy — I don't know, there's a richness to them. I sound like such a wanker, I'm sorry. I truly love Percy Pigs.
I munched on fruit snacks while I cooked the ~problematic~ shallot pasta. (A. Roman.) It came out perfect, as it always does. As I like to say: The shallots are blameless and delicious! I made spaghetti, not bucatini, because it's always sold out and I have only one bag left, which I am rationing until I can buy more bucatini again. To drink: limited-edition grapefruit- and melon-flavored seltzer.
Later, before bed, I ate a slice of pecan pie from Foodtown — they do a half pie, which is like a regular-size pie, but cut in half. I was like, what a good idea! Somebody finally is thinking of single people! I had that with a cup of Yorkshire tea.
Monday, May 17
For breakfast, I got an oat latte from Odd Fox Coffee on Throop, but I decided not to get a pastry because I knew I had my Real Simple bread at home. I toasted a couple slices with butter and jam.
On Mondays, I work on my own projects — it's my day to write scripts, to work on my plays, and to sometimes do a bit of life admin. I'm working on a couple of plays very, very slowly, and I have a couple of scripts that I'm working on for TV comedies. This Monday was about revising. Also, it was tax day. I understand: Taxes happen every year! I know this. I'm happy to pay taxes — I love paying taxes! But also, they're so much work, especially because you think to yourself, you know how much I owe, just tell me and I'll pay it! 
For a mid-morning snack, I had pecan pie and a cup of tea with oat milk, and then I treated myself to some watermelon cubes from the fridge. Watermelon is my favorite summer fruit. I can eat a whole one in a single sitting.
Around 4:30,  before the tax panic fully set in, I took a break and  made some sabaayad — Somali flatbread — that I'd seen on TikTok. Of the four that the recipe made, I think one was perfect, flaky, delicious. Twenty-five percent is not a bad return on a first time recipe, from TikTok, that I'd never attempted before! I ate that with the leftover Melissa Clark chicken.
I had another cup of tea before bed, and a couple of biscuits, McVities caramel digestives sent to me in a U.K. care package from my friends Clara and Kirby in London. It's just a perfect biscuit. It does everything you need it to do. It's crunchy. It's salty. It's sweet. It's crumbly, but not too crumbly. You get introduced to digestive biscuits as a child and then they never leave your repertoire.
There's some really lovely things American do with food. I just don't think biscuits and sweets are their strong suit. That could also just be a symptom of Little England mentality in my own head, but I feel like if I found a perfect thing, there's no need to go looking to improve on perfection. Why give yourself the work? There's no need.