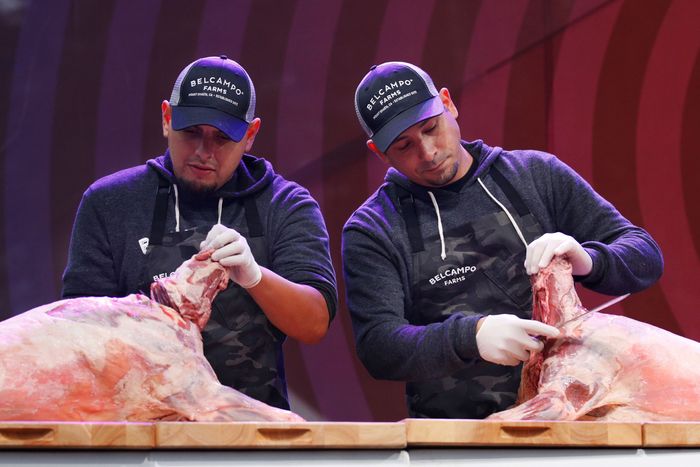 Belcampo butchers in brighter times.
Photo: FilmMagic
Belcampo Meat Co. is a Bay Area meat company that sells organic, sustainably sourced meat. Its co-founder and CEO, Anya Fernald, used to be a vegetarian. Its cattle are free-range and fed on blades of local grass. Its chickens have "unlimited access to pasture, fresh air, and sunshine." It is as glamorous as possible for a meat company to be, with features about its founder's revolutionary vision in the New York Times and the New Yorker; its short-lived Hudson Yards restaurant got a preview in Vogue.
In addition to the farm, Belcampo has its own processing facility, with abattoirs designed by scientist and animal-welfare advocate Temple Grandin, its own whole-animal butcher shops, and its own farm-to-table restaurants. The reason for all this, the website explains, is "so that we can own the supply chain and offer our customers total transparency from start to finish."
But one former employee alleges that Belcampo is not quite as transparent as it claims, sending shockwaves through the online meatworld. Here is what we know so far.
Wait, what happened?
In an Instagram Story, the ex-employee said Belcampo was ordering meat from other, lesser meat distributors and passing it off as their own. (In this way, it echoes one of the many, many recent allegations against the supposedly über-local Lummi Island restaurant, the Willows Inn.) "I apologize to all the customers that I lied to for the past 2 ½ years in order to keep my job," he wrote. "They are lying to your face and charging 47.99/lb for Filet that is either USDA choice and corn-fed or from a foreign country." He posted pictures of boxes from Mary's Organic Chicken and Pasturbird, taken, according to the San Francisco Chronicle, at Belcampo's Santa Monica store.
That sounds bad. What does Belcampo say about it?
In an emailed statement, Fernald didn't dispute the claim that the outside meat was being sold, but said it was an "isolated incident" and didn't affect other locations or online sales. "The individual butcher-shop locations have a small degree of autonomy when it comes to sourcing products for their local customer base or when there are supply shortages on certain items," she wrote, and while the company has "strict protocols in place for for any products purchased from other suppliers that includes making sure these meats are clearly labeled at the point of purchase or in the meat case," there appeared to have been a breakdown. "The preliminary results of our investigation show that unfortunately protocols both for sourcing and communicating product origin to customers were not being followed in our Santa Monica location." The company also noted that the ex-employee had been terminated that week prior to posting.
Wait, but you're saying Belcampo butchers do sell non-Belcampo meat?
Yes. Apparently, the company posted a statement to Instagram suggesting that the reason the mislabeled meat was there at all was because of "supply-chain issues." According to the Chronicle, the post, which has since been deleted, explains that while Belcampo does order from outside suppliers "when we're unable to source a specific cut from our own farm or partner farms, or when we've had a short term COVID-related disruption to our supply chain, we always ensure the production standards as close as possible to Belcampo Farms' own offerings: grass-fed and finished, certified humane, and certified organic," the statement reads. "Typically this ordering represents a tiny fraction of our total volumes."
Only some of the meat in question here, though, fits that criteria. Comments on Belcampo's Instagram have since been turned off.
Huh.
Indeed.
For what it's worth, the Chronicle spoke to two suppliers whose products were, according to the video, being passed off as Belcampo. Neither seemed to have any info as to what was going on. Because producers often sell via distributors, they don't necessarily know who has their products, but "if we find out anyone is misrepresenting our pastured and regenerative practices," said Paul Greive, co-founder of Pasturebird, "we will take swift corrective action." For now, though, he encouraged patience. "We see greenwashing in the meat industry every single day, but I encourage everyone to reserve judgment on Belcampo until we learn more," he said.
Any updates?
On Wednesday night, with the meatworld still roiling, Belcampo returned to Instagram, reiterating that the company is still "actively investigating."
Already, though, it has made changes: according to a new page on the company's website, "Belcampo is now exclusively selling Belcampo Farms and partner farms verified products in all of its shops, we are no longer allowing any external sourcing of product by the restaurants." (Emphasis theirs.)