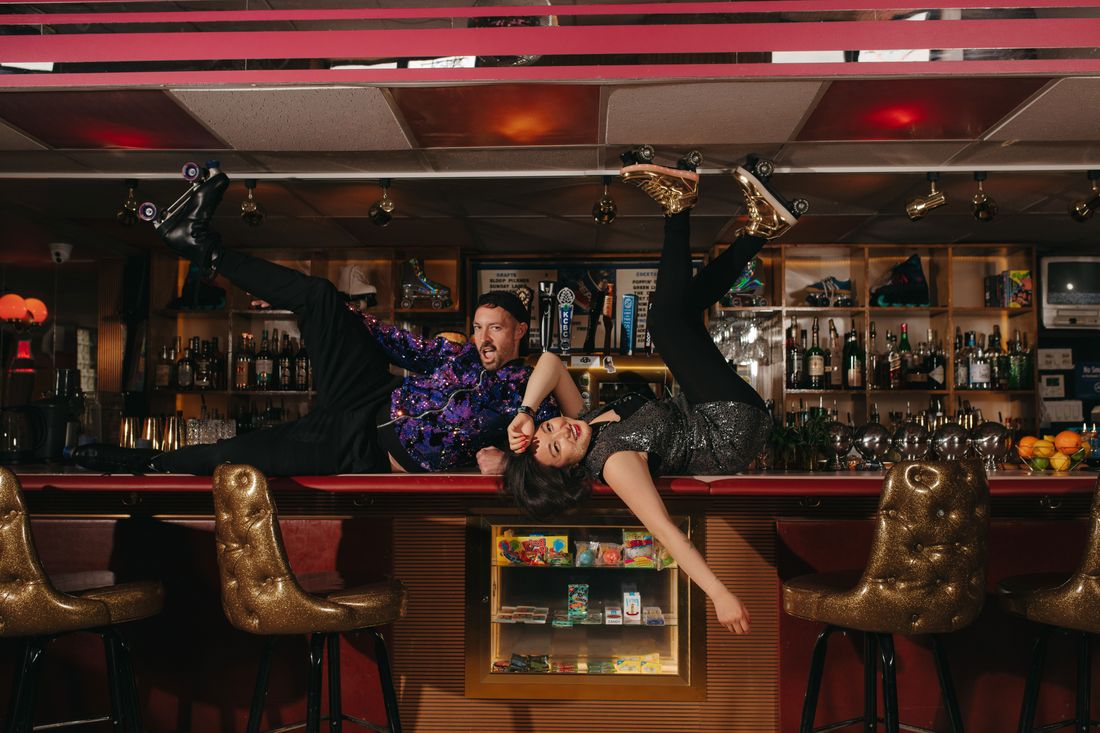 All Night Skate co-owners Mitch McCann and Olivia Hu
Photo: Caroline Tompkins
For a certain generation, the phrase "All Night Skate" immediately calls to mind a very specific childhood memory: a sugar-addled, lightly chaperoned overnight skating party at the local roller rink. (Think of it as a sleepover on wheels.)
It's also the name of a new bar off the Rockaway Avenue C train stop, from owners Olivia Hu, Danny Waits, and Mitch McCann, who set out to pay homage to the All Night Skates of their youth.
"I remember bringing my sleeping bag right on the rink," says Hu, who also co-founded the nearby bar Old Timers. "Yes, it's about roller-skating, but it's also about those sweet memories from a time before driver's licenses, when you and your friends didn't have many places to go," she says. The team hopes to capture that same lighthearted spirit at their new venture.
"The whole concept is very escapist; I think that's what people are craving after this year of stagnancy," says McCann, who previously helped open the popular Bushwick coffee shop Little Skips (McCann and Waits are married and met Hu while she was a bartender at the Bushwick bar Sunrise/Sunset). "We're fun-loving and silly; we want this bar to be a place where people can get out of their heads and feel more free."
Despite the fact that nightlife went dark (or in some cases, underground) during the pandemic, businesses like All Night Skate, which opened in August of last year, are hoping to bring some shimmer back to going out.
"Skating is such an inclusive thing that everyone enjoys — all age groups, all demographics. It's such a positive energy," says Waits, who has worked at Baby's All Right and Brooklyn Bowl. "People aren't just coming here to get drunk — they want to come with their friends and meet new people, especially their neighbors."
The timing for a roller-rink-themed business is right. There was a resurgence in skating in the past year, as people pursued new methods of transportation and socially distanced activities during the pandemic. (If you're new to the hobby, it's also worth reading about how roller rinks played an important role in civil-rights history.)
The team at All Night Skate tried to channel their nostalgia without leaning too heavily into kitsch. The double-decker room looks like it could be a set from Saved by the Bell, complete with a black-light mural with the same confetti-esque patterns you might find on the perpetually sticky carpet of suburban roller rinks. Both the confetti art and the mural above the bar were designed in collaboration with local artist Lena Hawkins.
The bar itself is lined with colorful roller skates and a vintage Pepsi concession sign, outfitted with a brightly lit display of candies like Fun Dip and Ring Pops. Liquor bottles sit in cubbies, à la a skate-rental area. Cocktails, developed by Hu, have names like "The Chaperone" or "Prom Night," and the "Poppin' Off" has a playful Pop Rocks-and-chili rim.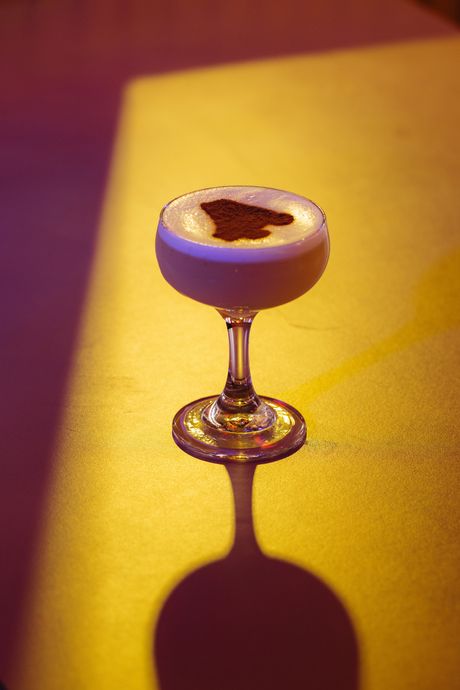 Cheeky details abound: There's a portrait of Alf eating a cat in the style of the iconic Goya painting Saturn Devouring His Son, and guests can take a break at diner-style booths to select tunes from a jukebox, calibrated with on-theme retro songs as well as current music.
The space has some sentimental touches, too. For one, Hu's family name in Mandarin is memorialized via a neon sign. Certain details, like the checkerboard tiles, are original to the space (a former diner); the team made an effort to restore the room where they could. Through the process, they became close friends with the original owner, Earl Wilson, whose mother, Louise, ran the restaurant.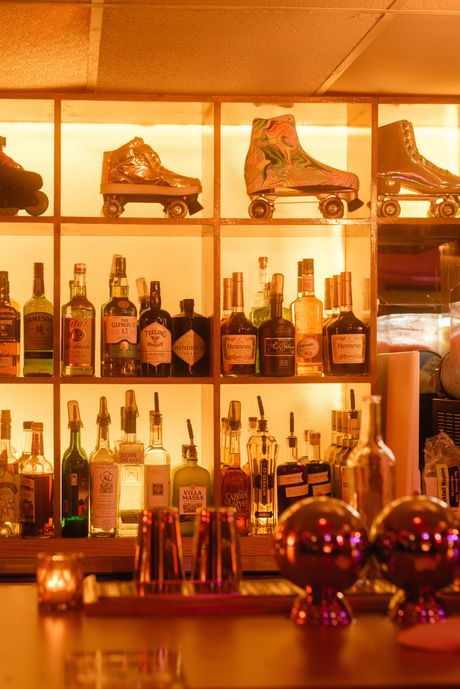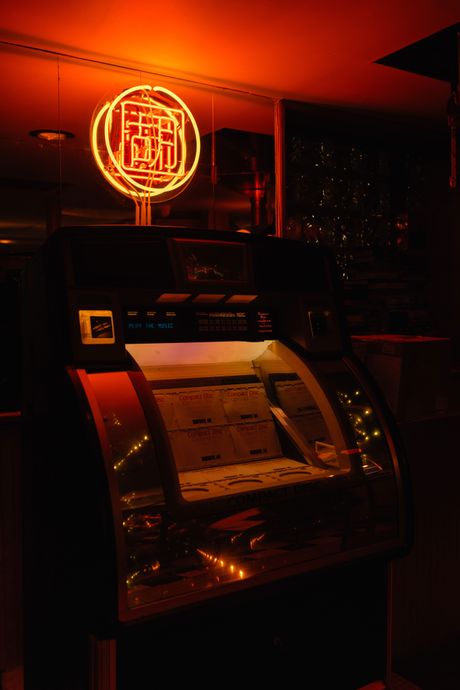 "At first he seemed apprehensive of the project … but as we got to know each other he really wanted to help us, and ended up lending us their old disco ball," says McCann. That ball now hangs in homage to Louise, who recently passed away, and the team hopes to add a drink to the menu named in her honor. "Getting that approval from Earl really meant a lot to us," says McCann. "We really want this to be a place where longtime neighbors will feel like VIPs, not a space that's exclusive in any way."
Snacks come courtesy Mama Yoshi, a Japanese-influenced pop-up from Yukiko Muneyasu and Miles Tickler. The menu features comfort food, such as cauliflower or chicken katsu sandwiches, egg-salad konbini, hot dogs (vegan versions available), onigiri, and karaage. "The space is so specific and thought-out, we were immediately drawn to it," says Muneyasu. "It takes you back to a specific place and time."
While the bartenders at All Night Skate don't service customers on their roller skates ("It would be a balancing nightmare and a safety issue," says Hu), guests are encouraged to wear them. In fact, those who do get 10 percent off their drink orders, provided they act in accordance with the latest reopening regulations.
"Trying to prevent movement during the pandemic was obviously the main goal, so we haven't had many skating events yet, but we hope to when it's safe," says Waits, adding that roller-skating groups have even made it a hangout destination. Hu's dream is to host a roller disco, complete with Jell-O shots — drinks, she says, that are "solid enough" to be wheeled around on trays.
In the meantime, roller squads can whirl around outside, and come in for a break. "If anyone gets too wobbly, we plan to have one-size-fits-all slippers behind the bar," says McCann with a laugh.
All Night Skate is located at 54 Rockaway Ave., Brooklyn; (347)-240-6263