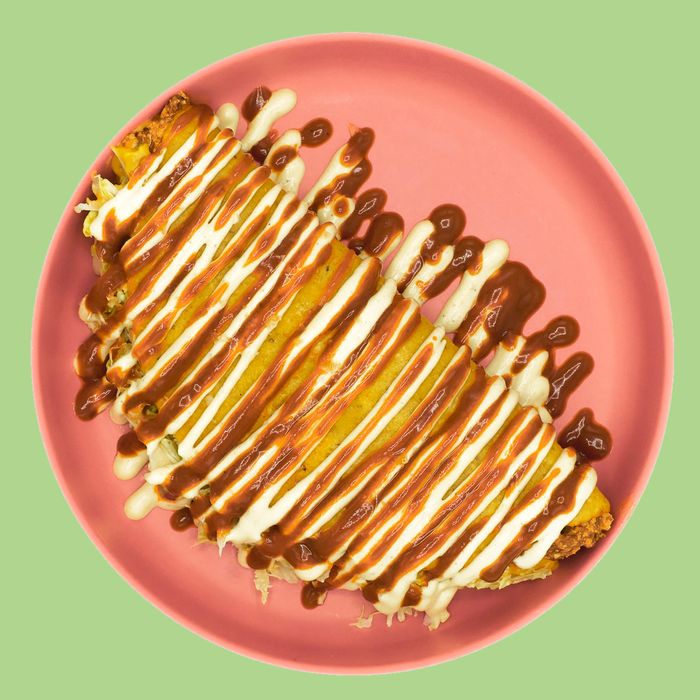 Xilonen's crunchy taco.
Photo: Emron Mervin/Xilonen
Unlike cheeseburgers, say, or twirled platters of spaghetti carbonara, the taco isn't usually one of those dishes that slides easily into one's carefully curated Instagram feed, at least not mine. The best tacos are messy by nature and lend themselves less to fussy posing and Photoshopping than to the more elemental, immediate pleasure of stuffing a tasty morsel of food down the back of your throat. But at Xilonen, which opened a few months ago on the bustling northwest corner of McCarren Park, you may find yourself pausing for a moment or two in wonderment as the stately parade of vegan tacos, tamales, and quesadilla creations arrive at the table, each of them more artfully decorated than the last with a rainbow of unexpected things like purple potatoes, rows of baby carrots, and colorful salsas and cremas made with cashews or sunflower seeds or even chopped carrot tops.
Xilonen (pronounced shilonen) is the Aztec goddess of young corn, in case you didn't know, and this stylish little establishment is an offshoot of the popular Michelin-starred Oxomoco, which has been doing a steady business for a few years now peddling fine margaritas and a variety of upmarket Mexican-themed goodies to the young burghers of Greenpoint. As with the lush raftered space at Oxomoco ("Luke Skywalker's childhood home," one of the servers called it when I dropped in), no expense seems to have been spared on the décor of this slightly smaller operation. There are tile floors inside and a sinuous, twisting bar, and the façade of the building is painted white with a stylish black X across the side. A series of white café tables are set up along the sidewalk where you can watch the passing scene, along with a row of sturdy outdoor dining huts that look like they could weather an arctic blizzard.
Chef-owner Justin Bazdarich calls Xilonen a "plant-based" establishment, and our server described the compact one-page day menu (breakfast begins at 10 a.m.) as "75 percent vegan." Luckily, the non-vegan portion includes eggs, and the scrambled-egg tostada, which landed first at our table, was a thing of beauty constructed with a generous mound of fluffy eggs and a sprinkling of sesame seeds, all set over a purple-corn tortilla and a scrim of guacamole. The vividly orange carrot tostada is a thing of beauty too (the baby carrots are brushed with maple syrup and placed on a row of pinto beans and what the menu describes as a "carrot-top salsa verde"), and so is the elaborately decorated "crunchy taco," which was stuffed with a faux red chorizo made with tofu and smoked pecans, among other things, and drizzled with an '80s-style zigzag pattern of dark, spicy "fuego" salsa and a crema made from crushed cashews.
Do these inventive interpretations of the classic Mexican favorites pack the same kind of two-fisted punch as the non-plant-based variety? If you're a fan of the gooey, melty joys of queso and shaved cheddar, possibly not. "I'm sorry, but vegan cheese is still a weak point," one of my tasters whispered as we examined the virtuously named "charred cabbage tostada" (topped with perhaps a little too much charred cabbage) and a purple-potato taco garnished with a properly chewy, though slightly wan-tasting, substance described on the menu as "griddled cheese." But if you're in the mood for a little heft, try the steamy sweet-potato version of al pastor, or a stack of the crispy-edged masa pancakes, or — should it return to the menu — a slice of the superb lemon-olive-oil cake for dessert decked with carefully arranged slices of citrus that glittered pleasingly in the early spring sunshine, as we snapped our pictures and the bustling sounds of the city bloomed around us.